I was born on August 7th, 1993 to what would become four of seven children. "Your son has swallowed amniotic fluid and developed pneumonia. He's a fighter, and he can pull through this," the doctor said to my parents. After a few blood transfusions and tests, over a three month period, I pulled through and went home.
Growing up I had three brothers diagnosed with Duchenne Muscular Dystrophy, from eldest to youngest: Mahmoud born in 1989, Abdel Kareem in 1990, and Ahmed in 1995. Duchenne is a terminal genetic disorder characterized by progressive muscle degeneration and weakness. I began assisting my parents in being a main caregiver to my brothers when I was 8-years-old. Mahmoud and Abdel were 12-years-old when they were diagnosed, but Ahmed was a bit younger, diagnosed at 7-years-old. Unbeknownst to my mother, she was a carrier of Duchenne, but due to the lack of medical advancement in the field at the time, she was unaware.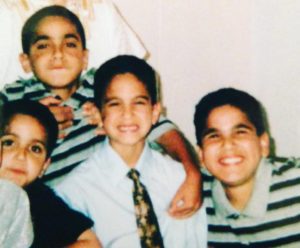 In my health and wellness blog, I share a story of each brother. At 16-years-old, I had lost all three of my brothers to the disease. I can't begin to express how much my brothers have inspired me. Mahmoud was 15-years-old when he passed in 2004, Abdel Kareem was 19-years-old when he passed in 2009, and Ahmed was 14-years-old when he passed in 2010. I honor them well into the future that awaits me by continuing to spread each one of their legacies with the help of the Muscular Dystrophy Association, the Make-A-Wish Foundation, The Special Olympics, OWN: The Oprah Winfrey Network and more. Interacting with the medical community, promoting and raising awareness for healthcare projects, and representing causes have influenced my vision to secure a voice in healthcare. I attended The City University of New York's Baruch College in 2011, and I majored in corporate communications with hopes to work in the health and wellness industry.
On April 15th, 2012, on my way to work, I was approaching an intersection with a green light ahead. As I passed the green light, a tractor trailer crashed into my passenger side, leading my car to lose control. The tractor trailer allegedly passed a red light and didn't spot my 2011 Honda Accord. Luckily, I only suffered a minor injury of a bulging disc in my L5. A few months into physical therapy, it didn't feel like I needed to be there as much anymore. With the doctor's permission, I was granted release of treatment, with a check-up with my primary care provider.
"Those are the scars from the blood transfusions and tests…They told us you weren't going to make it"
Since I was a huge wrestling fan, I knew the story of "Stratusphere Yoga." WWE Hall of Famer and 7-Time WWE Women's Champion, Trish Stratus, established Stratusphere based on her past injury. It helped her body move and control her herniated disc. I was inspired by her story and started yoga classes with my co-worker and instructor Meg. So, after a few months of committing to the classes and practicing on my own, I was in control of my body and felt brand new. Yoga introduced me to being one with your body. Yes, I was the only man in the class and was in the back, but I learned about having peace with my body.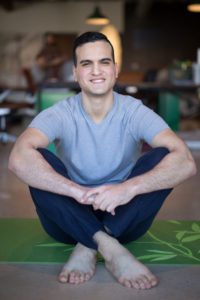 Throughout the years, I continued to practice yoga to maintain true balance. I increased my flexibility, core strength and agility. It changed my thinking process, breathing and vision. I started to think about things that were in front of me and learned to focus with every breath. Most importantly, yoga helped me see things with purity, wisdom and love. I practiced it every morning, about three to five times a week.
Everything I learned from yoga was going to be tested on June 21st, 2014. I was sitting in my father's office, I heard a loud noise and everything went dark. Shortly after, a Jeep was on top of me with the roof all over my body. Pain in my chest, head and back, along with anxiety, were all happening at once. I stood up out of my chair and walked to the ambulance. The Jeep had lost control in the parking lot.
"Malek, remember you can be a voice for people, just like I am"
After numerous tests, I was cleared and sent to visit a physical therapist and chiropractor again. I re-injured my bulging disc, and my cervical spine needed work. The doctors were shown the surveillance video and called it a miracle that I was alive. "Your neck and posture will be affected from this as you get older. You will need to have surgery on your back. However, remain with treatment and be glad you're not paralyzed" the chiropractor said.
I kept surviving for a reason. I lost my three brothers for a reason. After many moments of questioning all that has happened, I became resilient.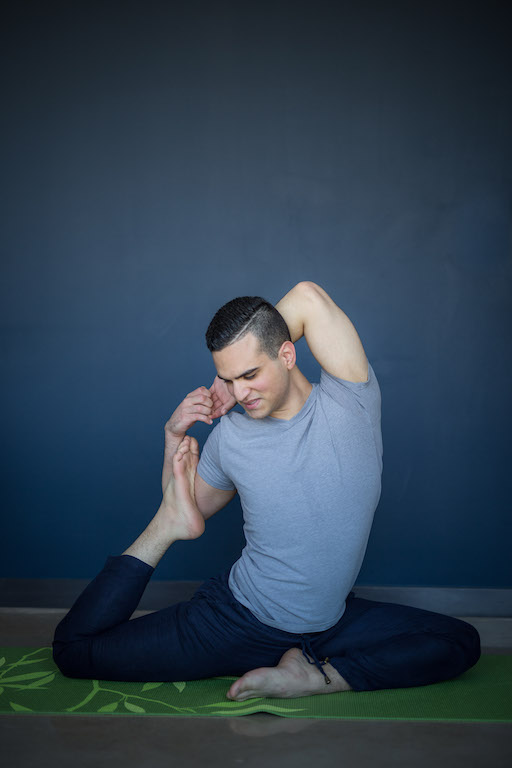 "Malek, remember you can be a voice for people, just like I am. You may not see it now, but there are people out there that you can inspire, just like me," Mahmoud said. "You are in control of your life. You can create and be innovative. Be grateful to be living," Kareem told me. "Give me a hug, and let's play," Ahmed echoed. They were still a part of me, and I used their words as motivation.
I stayed committed to treatment for the next few months and continued to practice yoga. I learned how to improve my flexibility by reaching farther. Although some members of my family find it to be comical, I am the first man in my family that can drop into a split. I started a trend on Twitter called #DudesDoYoga and connected with Trish Stratus. She motivated me and nicknamed me her ambassador. More men should try yoga to increase their stamina, endurance and balance. I'm far from athletic, and if I did it, so can you. Plus, it can impress that special someone.
Having been accustomed to the medical field growing up, I witnessed the strong, admirable relationships of doctors and patients that deserved better recognition. After graduating in May 2015 with a bachelor of arts and interning in New Business for McCann HumanCare, a medical marketing and advertising agency, I decided, without a doubt in my mind, to put all of my energy into the medical community by taking part and joining hospitals and organizations.
One day before yoga class, a young woman approached me and asked, "What is that bracelet on your left wrist?" I told her, "It's a bracelet my little brother Ahmed made for me before he passed." As I looked down at my wrist, I noticed three tiny scars I never noticed before.
"Mom, what are these scars on my wrist?" I asked. She looked alarmed at first, but after pulling my arm towards her, she smiled. "Those are the scars from the blood transfusions and tests from when you were born. They told us you weren't going to make it," she recounted. "But I did," I said.
Photos by Alex Hilmy of Hilmy Productions