Story and photos by Pete Garcia.
It isn't hard to figure out what's most important to Reuben and Jason Garcia. There's a huge and beautifully-framed portrait of it by the doorway to their office. It's family. And it's that belief in family that's been the foundation to Regional Home Health, which the two Alice brothers run today. What their parents, Francisca Garcia and the late Dr. Ruben Garcia, started in 1983 as a small and diverse agency, is now one of the longest running home health care businesses in the Coastal Bend.
"Growing up, helping people and taking care of people is what my parents were all about," Reuben said. "My mom being a nurse and my dad being a physician, helping people, especially the elderly, was just our lives." The two took more of an active role in the business after their father died last year.
And now that the brothers are running the business — Reuben the agency's administrator and Jason a field supervisor — the two are taking everything they learned from their father, all of the wisdom still being provided by their mother, and making a go of things.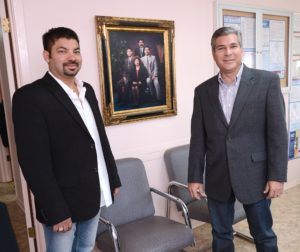 "We've been around this all of our lives," Reuben said. "This is something we learned from our parents and all of the people who made Regional Home Health what it is today." Regional Home Health Agency thrived in the 1980s, survived the turbulent 1990s — when other similar businesses were shuttered by the federal government — and it's still consistent in the home health industry today.
Serving 11 South Texas counties, Regional Home Health tends to some 700 clients. Headquartered in Alice, the counties it services include Aransas, Bee, Brooks, Duval, Jim Hogg, Jim Wells, Kleberg, Live Oak, Nueces and San Patricio.
When it first began, the agency had a broad spectrum of services. Since then, the Garcias have narrowed the business' focus to only home health, in which it hires attendants or providers to provide clients with personal care services. The providers don't handle any form of health care like wound treatment or therapy. However, through personal care services, the providers can handle anything from helping clients bathe, dress, exercise and eat to assisting with routine errands like shopping, meal preparation and handling medications.
"We guarantee our clients that they're going to have somebody there working for them," said Garcia. "If that provider can't be there, we're going to find someone who can be. Our goal is to provide our clients with the best possible care." And in some cases, the services of the providers can make a world of difference for some clients.
"I don't think it is a big percentage, but we have some clients that literally don't have anyone," Reuben said. "Most people have family and friends, but these clients don't have anybody… no family, no friends, no relatives… nothing. They're out there by themselves and they're elderly. It's sad."
As much as Regional Home Health provides for its clients, it also offers providers a safe work environment and steady income.
"Our providers know that they're going to be treated right," Reuben said. "They also know that they're going to get paid on the 1st and 15th of every month." Providers who are hired to tend to clients must first clear a background check. They are then taught what is expected of them as a provider.
That approach to preparing its providers is one that's kept Regional Home Health around when many other similar agencies were shutdown. Naturally, the agency is tireless in ensuring it is operating under the most current state laws and guidelines, some of which are updated weekly and sometimes daily by state agencies. And in this industry, following laws and guidelines is the difference between staying open and shutting down.
"The art of staying in compliance is very hard work," Rueben said. "What we know about keeping up with things and remaining compliant is something we learned from my mom, who's managed to stay on top of all the changes by the state over the last 30 years. Basically, if you can't stay in compliance, you can't stay in business."
Over the years, Regional Home Health has managed to rank among the 99 percentile in compliance.
Currently, Regional Home Health is working to implement the state's most current mandate — the Electronic Visit Verification or EVV. It's a setup which will require providers to check-in and check-out electronically from client visits. Traditionally, most home health agencies simply replied on paper time sheets. Using a land line at the client's residence or another device, providers will log-in their visits. That information will be easily collected by the agency and provided to the state for verification.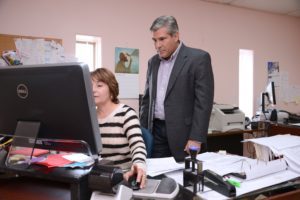 It's a giant technological step forward for Regional Home Health, but one its information and technology department is handling in-house.
"It's going to help us see a lot more of the day-to-day happenings between the providers and their clients out there in the field," Regional Home Health IT administrator David Flores said. "Going out and making sure our providers are where they need to be is something that we just can't go out and do on a daily basis. EVV is going to allow us to monitor what's going on and make sure our clients are being cared for."
And that's really what Regional Home Health is in business for.
"The heart of our business is personal service," Flores said. "It's not about numbers and information. It's about taking care of people like they're family."