Most patients seek help for behavioral health problems in primary care. This in part is due to patient's being un- or underinsured for behavioral health services even when they have medical coverage. Another reason is that there is a growing shortage of mental health providers and limited access to public mental health services for patients without major mental health conditions, in particular in rural areas.
In spite of the fact that many patients look for help from primary care, behavioral health problems often go undetected or untreated in the primary care setting. Until recently, most primary care residency training programs had limited educational opportunities in the area of behavioral or mental health. Recognition may also be complicated because patients may somatize their symptoms of depression and anxiety, particularly patients with underlying medical conditions. Research shows that patients with chronic medical conditions, like diabetes, have higher rates of behavioral health problems. However, when done effectively, treating behavioral health problems in primary care presents opportunities for early intervention and prevention of more disabling medical and behavioral health conditions.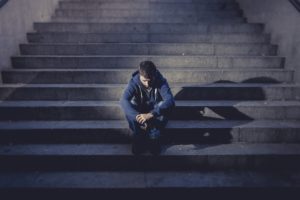 Integrated behavioral health is defined as the systematic coordination of physical and behavioral health services. Integrated models may vary from integrating primary care within a community mental health center to integrating behavioral health services within a community health center. Within each model of integration, the elements of collaborative care adopted by the Chronic Care Model (E Wagner) are evident. Wagner's model includes the concepts of care management, evidence based treatment, outcome tracking, and expert consultation for patients who are not improving. Care management may include patient education and empowerment, ongoing monitoring and co-management by multiple providers.
The four quadrant system of care conceptualizes a framework for designing integrated programs. The four quadrant model is built on the concept that the type of care people should receive depends on where that care is best delivered, as well as the severity of the patient's physical and behavioral health needs. This model acknowledges that patients are likely to interact with many systems of care and that these systems of care need to be coordinated and integrated.
What does integrated behavioral health look like at CommuniCare?
The model of integration within CommuniCare Health Centers is a behavioral health program within a federally qualified community health center. Our model emphasizes the concepts of the Chronic Care Model, but also the importance of creating networks of care within the community and working within an interprofessional team of behavioral health providers.
The networks of care are partnerships with various community agencies for resources and services that we currently do not provide within our program. These partnerships allow for seamless transition and access to care to meet our patient's needs. Examples of community partnerships are those with the Community Mental Health Authority, County Health Care System, Inpatient Psychiatric Facilities, United Way Agencies, Homeless Facilities and Programs, and Substance Abuse Programs to name a few.
In addition to the strengths of an integrated primary care model, interprofessional teams provide more effective and efficient behavioral healthcare. The patients benefit from receiving care from professionals with various areas of expertise. Teamwork provides coordination of all aspects of patient care. Interprofessional teamwork occurs when team members from various professions learn from and about each other to improve collaboration and the quality of care.
Their interactions are characterized by integration and modification, reflecting participants' understanding of the core principles and concepts of each contributing discipline and familiarity with the basic language and mindsets of the various disciplines.
Other benefits of working within an interprofessional team are the opportunities for professional growth and job satisfaction. Each team member enhances the breadth of knowledge and appreciation for skills and knowledge of other health professionals, above and beyond their roles in team work.
CommuniCare utilizes various tools for initial screening and outcome tracking. They include the:
Patient Health Questionnaire (PHQ)-2
Patient Health Questionnaire (PHQ)- 9
Patient Stress Questionnaire  (PSQ)
Mood Disorder Questionnaire (MDQ)
Vanderbilt Attention Deficit Hyperactivity Disorder (ADHD) Scale
Edinburgh Post-Partum Depression Scale
Fagerström Tobacco
Michigan Alcohol Screening Test-Short form
On initial assessment, most of our adult patients rate the symptoms of their depression and anxiety as severe, as measured by the respective Beck Inventories. Of the patients who completed the initial and three month follow-up, there was an average reduction of eight points on their aggregate Beck Depression Scale scores. Their aggregate scores went from revealing severe to mild symptoms. Seventy percent of these patients had reductions in scores.
Another practice has been to incorporate behavioral health protocols into primary care. Recently, all practitioners were instructed how to handle any patient expressing suicidal ideation.
For more information and resources visit the Hogg Foundation for Mental Health at www.hogg.utexas.edu, Improving Mood Promoting Access to Collaborative Treatment (IMPACT) at www.impact-uw.org, and Integrated Behavioral Health Project at www.ibhp.org. 
For more information on CommuniCare visit www.communicaresa.org or call 210.233.7070. CommuniCare's corporate office is located at 3066 East Commerce Street in San Antonio, TX 78220.
CommuniCare would like to acknowledge the Methodist Health Care Ministries and the St. David's Foundation for the funding of our Integrated Behavioral Health Program.