¿Sabe qué es un Copago, un Deducible o una Terapia Escalonada?
Antes de adquirir un seguro medico, o incluso una vez adquirido, es posible que se encuentre con palabras extrañas que determinan algunas de las características que usted y su familia debe tener en cuenta. Muchas veces, la falta de información o incluso el idioma pueden ser limitantes para entender estas definiciones, es por eso que Pharmaceutical Research and Manufacturers of America (PhRMA) ha lanzado el sitio, un centro de recursos en español sobre la atención de la salud, el seguro de salud y consejos para la compra de cobertura de salud.
Este sitio web cuenta con un completo glosario de las palabras que usted necesita conocer antes de contratar sus servicios de salud. Hoy usted conocerá las palabras comunes.
1. Copago: Un copago es un monto fijo que un paciente debe pagar, con su propio dinero, por ciertos servicios o medicamentos. Los planes especifican cuál será este monto para diversos servicios relacionados a la salud, tales como visitas a un médico o especialista, visita a la sala de emergencias, o medicamentos recetados.
2. Coseguro: El Coseguro es un porcentaje de los costos que el paciente debe pagar con su propio dinero. Dado que el Coseguro es un porcentaje de los costos totales, es difícil estimar y planearlo de antemano.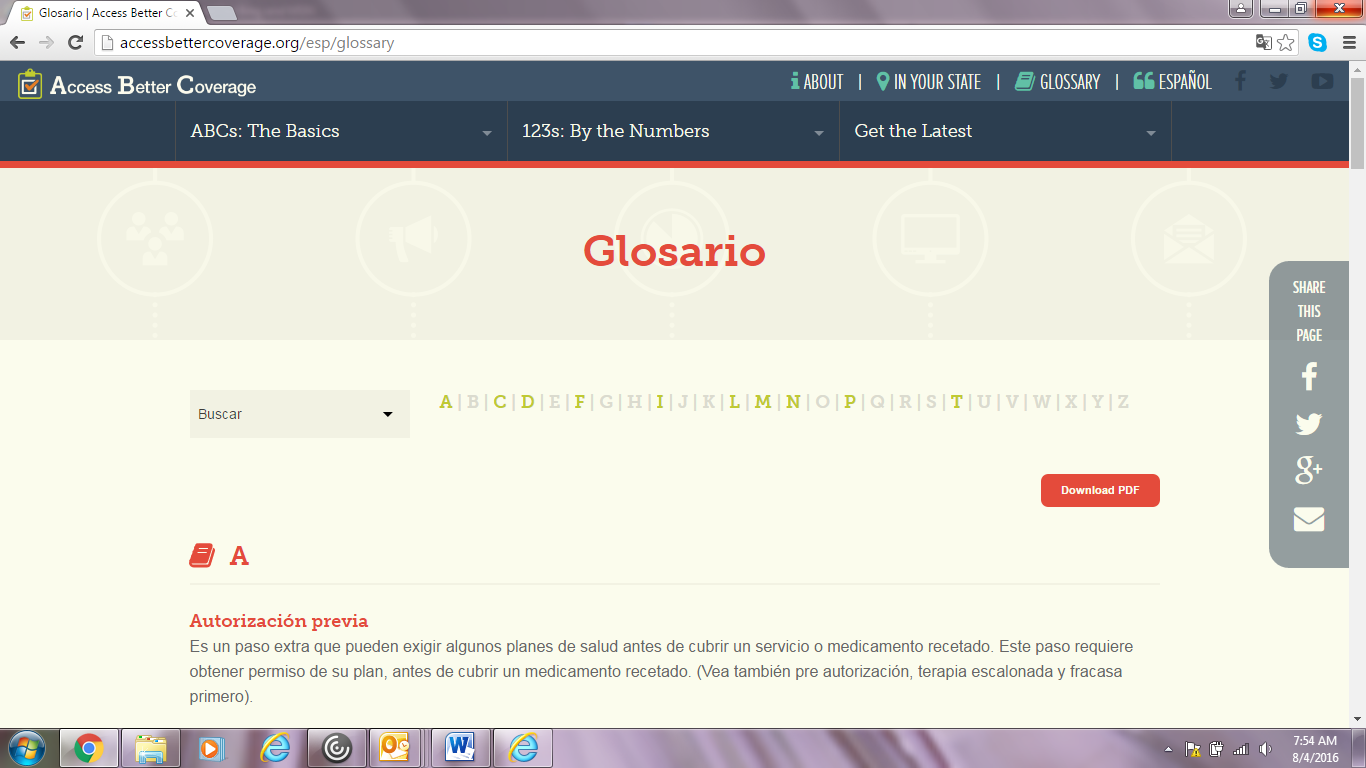 3. Deducible: Es el monto que los pacientes deben pagar anualmente con su propio dinero antes de que el plan de salud pague por algún gasto. Este monto no incluye las primas. Por ejemplo, si el deducible es $1,000, el plan de salud no pagará nada hasta que el paciente haya pagado $1,000 fuera de bolsillo.
4. Niveles de Medicamentos: La lista de medicamentos cubiertos por un plan de seguro está dividida a veces en niveles, usualmente tres o cuatro. Los niveles más bajos (Nivel 1 o 2) típicamente exigen copagos, o montos fijos de $10-$50 dólares. Los niveles más altos (Nivel 3 o 4) probablemente exigen un coseguro, o porcentaje del costo del medicamento, siendo, por lo tanto, más difíciles de predecir.
5. Terapia escalonada: Las aseguradoras pueden exigir que los pacientes utilicen ciertos medicamentos, antes de permitir que el paciente obtenga el medicamento que el médico originalmente recetó.
"Sabemos que en el sistema de salud existen muchos términos y palabras que muchas veces no son claras para los usuarios. Con este glosario detallado y en español, queremos asegurarnos que los usuarios los entiendan y estén informados a la hora de adquirir cualquier seguro médico," expresó Fernando Senra, representante de PhRMA.
Para más información visite accessbettercoverage.org/espanol