By Edmond Ortiz
Physicians de-stress in many different ways. Golfing, basketball, tennis, racquetball, mountain climbing, reading — they're all just some of the methods healthcare professionals use to take their minds off long, sometimes chaotic hours on the job.
Dr. Lonnie Schwirtlich, it just so happens, likes fishing, cycling, swimming, backpacking, among other activities.
He also enjoys surfing. Sometimes, it's in exotic places like the Maldives. He and a group of friends, longtime professionals in their career fields, go away a few days each year to locales such as Mexico or Fiji to catch up and literally get away from it all.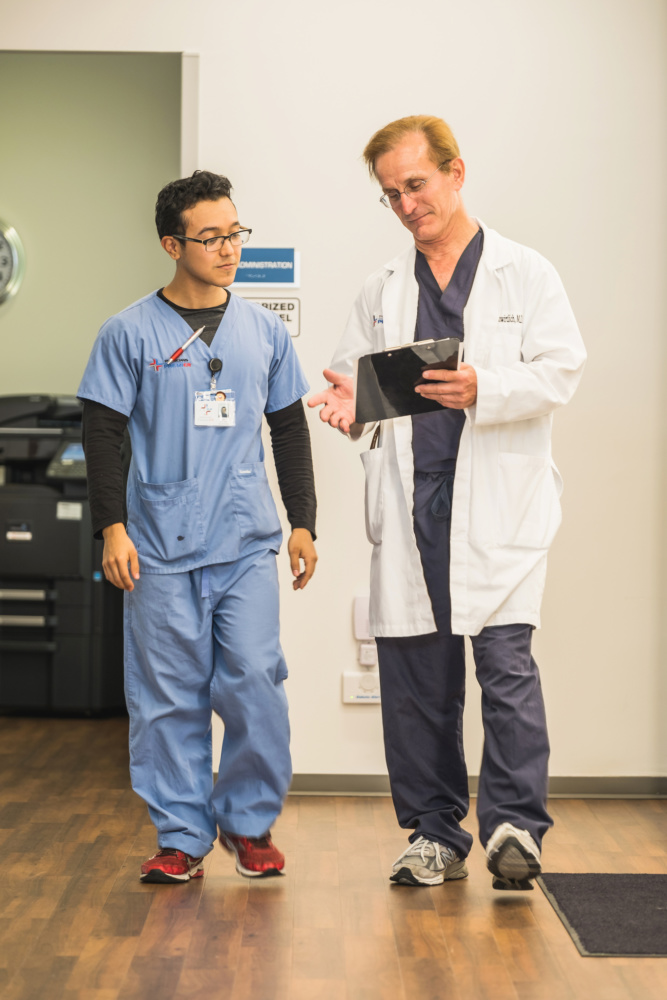 Schwirtlich's has spent more than 30 years as an emergency medicine doctor, with many of those years in the Corpus Christi area.
He is affiliated with numerous hospitals in the region, including Christus Spohn Hospital Corpus Christi-Memorial, and Dubuis Hospital of Corpus Christi.
He and five other physicians, as a group, oversee Physicians Premier Emergency Room, a freestanding ER in Corpus Christi.
Schwirtlich grew up in the Calallen/Corpus Christi area. As a child, Schwirtlich had formed his brand of compassion, tending to a wounded bird here and there around the home.
But outside of his family, Schwirtlich as a child was especially impressed by one specific person — his pediatrician, Dr. James Simpson.
Schwirtlich, as a teenager, reconnected with Simpson while working at an H-E-B grocery store.
"(Simpson) was an awesome guy, simply the most fantastic guy," Schwirtlich recalls, enthusiastically.
Saving up money earned at the H-E-B job, Schwirtlich was offered an opportunity to follow Simpson at his pediatric practice, becoming a student of sorts there.
Schwirtlich remembers helping to document cardiological examinations of Simpson's patients. Those and other findings would then be used in a study of pediatric cardiology.
"(Simpson) really took me under his wing," says Schwirtlich.
After working his way through high school, Schwirtlich earned an associate's degree at Del Mar College, and a bachelor's degree in chemistry from the University of Texas at Austin.
He continued to help Simpson with research. When it came time to head for medical school, Schwirtlich applied with several such institutions around Texas.
Baylor College of Medicine was the first institution to contact Schwirtlich, and they agreed to an interview.
Baylor College was impressed enough with Schwirtlich's academic performance, and his work at
Simpson's practice, that he got to enroll in an accelerated program.
Schwirtlich finished medical school in three years, by 1980. He knew then emergency medicine was a way to go.
Recognizing the growth of the Rio Grande Valley and the Texas Coastal Bend, Schwirtlich was familiar with the plight of people needing emergency medical attention.
He saw the gamut of afflictions — from the typical illness and water-related accidents, to gunshot wounds and emergencies arising from chronic diseases such as diabetes.
Regardless, Schwirtlich opted to proceed with a busy residency schedule.
"We're right there in the trenches, seeing our patients. All you have to do is look into their eyes, and that does it."- Dr. Lonnie Schwirtlich
"People told me 'you're gonna be on call everyday, no breaks, but you'll be done in a few years, a shorter period of time and you'll be making money'," he recalls.
Schwirtlich worked 5,000 hours in his residency. He became a board-certified emergency room physician in 1987 with a focus on service in a rural setting, or outside of one of the mayor Texas metro areas.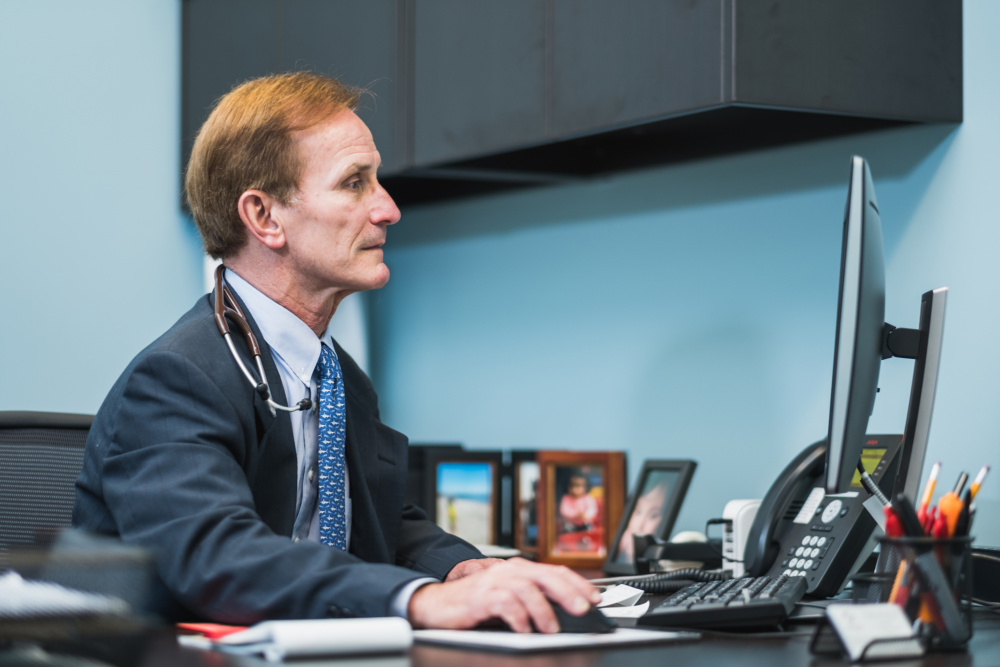 Schwirtlich worked in emergency rooms around the state, but mainly along or near the coast. He then moved to South Padre Island.
Then, he went on to practice in the Valley Baptist Health System, working in the system's Harlingen and Brownsville facilities.
He continued to receive acclaim for his work, and was being appointed to positions such as ER director in some places. He was medical director at Valley Baptist's Harlingen and Brownsville medical centers.
From the mid-1990s to the mid-2000s, Schwirtlich practiced emergency medicine in Corpus Christi.
Over the last 20 years, Schwirtlich has seen plenty of evolution in techniques, best practices and technology in ERs.
He also has seen first-hand the challenges that many people, especially the uninsured and underinsured, have had in getting proper emergency care in a timely manner and being able to pay for it.
In some cases, patients would rather drive to an emergency room in another town than wait hours and hours in the ER closest to them.
Schwirtlich also laments the stressful work conditions and long hours that tend to make some physicians, nurses and other support ER staff work elsewhere or completely leave emergency medicine altogether.
"Conditions are challenging," he says. "We had a hard time attracting specialists or keeping them."
So, Schwirtlich gathered with other like-minded physicians in the Corpus Christi area and set about to improve the provision of emergency medical service for the region.
That's how Physicians Premier ER came to be. It quickly became a successful model for freestanding ERs that offer the Coastal Bend an array of emergency medical services and technology. On the company's website, long waits for patients are a "thing of the past."
Physicians Premier has four Corpus Christi locations, one in Portland, one in Houston, and others spread out to even San Antonio, Austin and Bastrop.
More locations are planned for around the Houston, Austin and San Antonio areas. Physicians Premier is equipped enough that, if needed, it can quickly refer a patient to the closest hospital for more comprehensive care.
Schwirtlich, and a few other physicians also have had the resources to invest in another endeavor, Halcyon Medspa and Wellness Center.
"We'll win this battle (with the insurers) because we do these things more efficiently, faster and for a lesser amount of money." – Dr. Lonnie Schwirtlich
He serves as medical director for the Corpus Christi-based Halcyon, which offers multiple cosmetic and spa services, and massage therapy.
But Schwirtlich's first professional passion is for improving emergency medicine. The American College of Emergency Physicians' grades emergency medical services state by state every few years.
In 2014, Texas got a D+ overall, and an F in access to emergency care.
Schwirtlich says that must change: "People get sick. They need to be seen as quickly as possible."
Schwirtlich says, in his opinion, health insurance companies do not think highly of freestanding ERs, whose numbers have increased in recent years.
"(Insurers) think patients are spending too much money," he adds.
Schwirtlich is on the board of directors for the Texas Association of Freestanding Emergency Centers. That group has been lobbying the Texas Department of Insurance for patient-friendly reforms.
Quality emergency care continues to inspire Schwirtlich.
"We'll win this battle (with the insurers) because we do these things more efficiently, faster and for a lesser amount of money," he adds.
"We're right there in the trenches, seeing our patients. All you have to do is look into their eyes, and that does it."
To learn more about Dr. Lonnie Schwirtlich and Physicians Premier Corpus Christi, please call (361) 980-0911.