Dr. Steven Cyr M.D., is Recognized Among Castle Connolly Top Doctors® for San Antonio, TX Region in 2018
A San Antonio, TX Board Certified orthopedic surgeon specializing in spine surgery, Dr. Steven Cyr M.D., is a Castle Connolly Top Doctor for 2018.
SAN ANTONIO, TX,

July 24, 2018

— Castle Connolly Medical Ltd., America's trusted source for identifying Top Doctors, has selected San Antonio's specialist Dr. Steven Cyr M.D., for inclusion in its highly selective list of Castle Connolly Top Doctors this year.
Castle Connolly Medical Ltd. publishes its list of Castle Connolly Top Doctors® at www.castleconnolly.com, as well as in a wide variety of printed directories, partner publications and on partner/affiliate websites. All told, more than 44,000 physicians – approximately 5% of the nation's licensed physicians – have been selected as Castle Connolly Top Doctors in their regions for their specialties.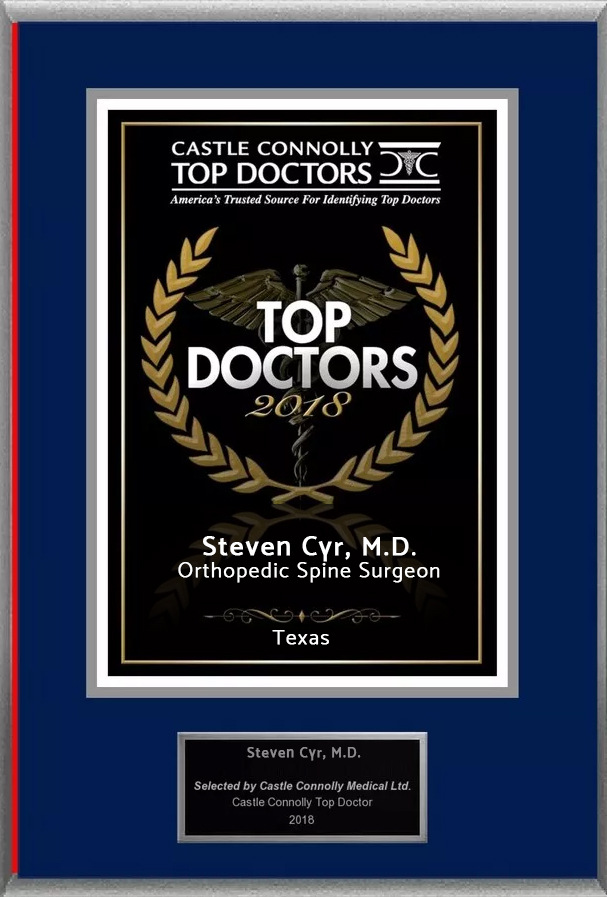 Castle Connolly Top Doctors® are selected by Castle Connolly Medical Ltd. after being nominated by peer physicians in an online nomination process. Nominations are open to all board certified MDs and DOs and each year tens of thousands of doctors cast many tens of thousands of nominations. Honorees are selected from the nominees by the Castle Connolly physician-led research team based on criteria including their medical education, training, hospital appointments, disciplinary histories and more.
About Steven Cyr M.D.
,:
a short profile about the honoree:
Steven J. Cyr, M.D., is a Board Certified Orthopedic Surgeon who received extensive training to specialize in the delicate science of Spine Surgery. Anyone who knows Dr. Cyr well will tell you that he is a man driven for quality and excellence. His high standards can be seen throughout his educational process and career. Dr. Cyr's devotion to excellent patient care is now available to patients in the Houston community at Westchase Clinical Associates. He is excited about expanding into Houston and honored to treat patients with all conditions affecting the cervical, thoracic, and lumbar spine both in Houston and San Antonio.
To find out more or to contact Dr. Steven Cyr M.D., of San Antonio, TX, please call 210-487-7463, or visit www.saspine.com.