Heads Up on Preventing Brain Injuries
By: Dr. Michael Fuentes
With the Winter Olympics on the horizon, many of us will be watching and celebrating
these snowy, athletic feats worldwide. But, a downside of this popular event includes the head
injuries that have been known to come with it.
In the past, American Jackie Hernandez slid unconscious against the snow after hitting
her head during a snowboard cross event. British halfpipe skier Rowan Cheshire suffered a
concussion during a training session — the first of three head injuries she received in the next 18
months. Czech snowboarder Sarka Pancochova cracked her helmet during a fall during the
slopestyle final. And, snowboarder Trevor Jacob suffered 25 concussions by the time he was
only 20 years old.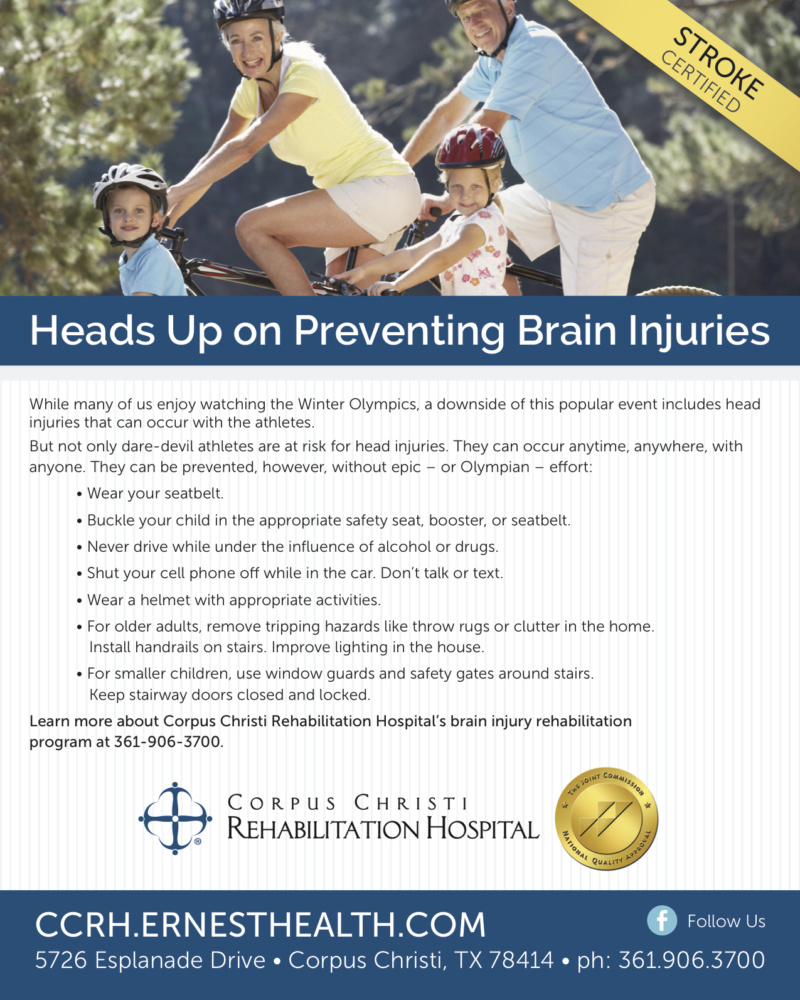 While the majority of us don't live the dare-devil lifestyles of many of these athletes,
we're all at risk for head injuries. Brain injuries don't discriminate and can occur anytime,
anywhere…with anyone.
Brain injuries result from bumps, blows or jolts to the head. The symptoms of brain
injuries can range from a brief change in mental state to an extended period of unconsciousness
or amnesia.
Regardless of the severity of the injury, all brain injuries are serious. Your brain is the
consistency of gelatin. It's cushioned by fluid inside your skull. When you suffer a blow or jolt to the
head, it can forcibly slide your brain back and forth, which can stretch and damage the brain cells and
create chemical changes. It also can lead to bleeding in or around the brain, which can cause symptoms
such as drowsiness, confusion, blurry vision, headaches, nausea, dizziness, or difficulty in concentrating
and remembering things.
Brain injuries can affect individuals not only physically, but emotionally and behaviorally as
well. In the United States, more than 5 million people live with disabilities caused by brain injuries.
The most common cause of brain injuries is caused by falls, which tend to happen more with
children under the age of 14 or with adults older than 65 years of age. Following falls, motor
vehicle wrecks are the second-leading cause of brain injuries.
We're all at risk for brain injuries, but with a little planning they can be prevented without
epic – or Olympian – effort. Consider these precautions:
Always buckle up in a car – wear your seatbelt. Every time.

Make sure you buckle your child properly in a car. Use the right child safety seat, booster




or seat belt based upon your child's age and weight.

Never drive while under the influence of alcohol or drugs.

Shut your cell phone off while in the car. Don't talk. Don't text. Distracted driving causes




wrecks.

Wear a helmet. And, make sure your children wear helmets with appropriate activities.




This could include various sports like bike riding, skateboarding, skating, horseback




riding, skiing, snowboarding, sledding, or any other activity where a head injury is more




likely to occur.

Help make living areas safer for older adults. Remove tripping hazards like throw rugs or




clutter in hallways. Use non-slip mats in the bathroom and grab bars near the shower or




toilet. Install handrails on all stairs. Improve lighting throughout the home.

Help make living areas safer for smaller children by using window guards and installing




safety gates around stairways. Keep doors closed and locked that lead to stairs. Set up




outside play areas on shock-absorbing material like sand or mulch.
Board-certified in physical medicine and rehabilitation, Dr. Michael Fuentes is the Medical Director of
Corpus Christi Rehabilitation Hospital. The hospital provides specialized rehabilitative care to patients
recovering from disabilities caused by injuries, illnesses, or chronic medical conditions. For more
information, visit CCRH.ernesthealth.com, call 361-906- 3700 or visit the hospital at 5726 Esplanade
Drive, Corpus Christi, Texas.