Is It a Cold or the Flu?
By Dr. Michael Fuentes
Oh no, here it comes again. The cough, sore throat, stuffy nose. It's that time of year when the cold and flu become prevalent. But how can you tell the difference?
A common cold and the flu are similar because they're both respiratory illnesses. Even though they're caused by different viruses, they share many of the same symptoms. This makes it hard to know for sure which you may have unless you visit your doctor.
Symptoms for both illnesses can include a cough, sore throat, runny or stuffy nose, fever, muscle or body aches, headaches and fatigue. However, flu symptoms tend to be worse than cold symptoms, and people with colds are more likely to have runny or stuffy noses.
A cold usually doesn't result in serious health problems, but the flu can. While most folks can recover from the flu in less than a couple weeks, it can lead to respiratory complications like bronchitis, pneumonia, and bacterial infections. In the worst cases, these complications can lead to hospitalization.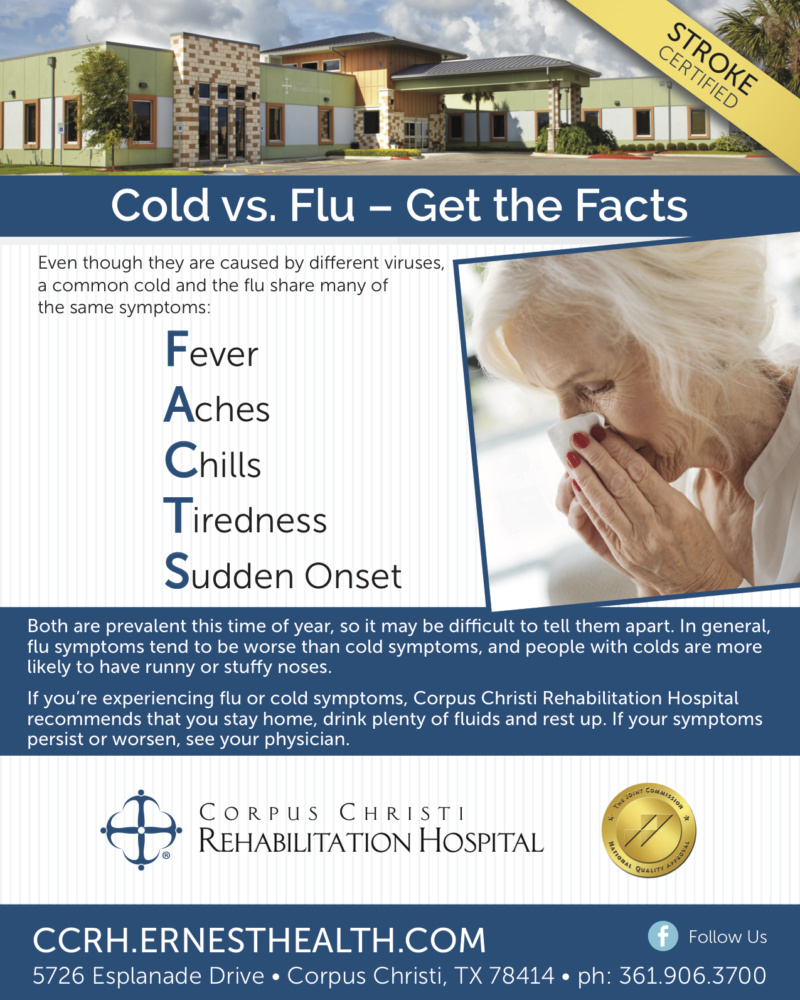 While anyone can get severely sick from the flu, groups at higher risk for complications include adults older than 65, young children, pregnant women, people with chronic medical conditions, or individuals with compromised immune systems.
According to the Centers for Disease Control and Prevention, the flu typically is seasonal, unlike a cold that can be caught year-round. The United States experiences seasonal flu epidemics every year, with flu viruses being most common during the fall and winter months. Flu activity peaks between December and March.
Prevention is essential to avoiding the flu or a cold. With the flu, I always recommend a flu vaccination as your best form of defense – especially for those who are at higher risk for complications. Beyond that, many of the same techniques work in avoiding the cold or flu. Some suggestions include:
Stay away from anyone who is sick, and stay away from others when you are sick.

Wash your hands thoroughly and often throughout the day with hot water and soap. Use an alcohol-based sanitizer if hand-washing isn't possible.

Don't share utensils, cups, toothbrushes, towels or any other personal items.

Keep your hands away from your nose, eyes, and mouth.

Cough or sneeze into a tissue or the inside of your elbow.

Limit what you touch when in public, such as stairway rails. Wash your hands soon after touching.

Get plenty of sleep, eat right, and exercise regularly.
If you still manage to catch a cold or the flu despite your best efforts, my recommendation would be to stay home, drink plenty of fluids, and rest up. For a cold, use over-the-counter medications like antihistamines or decongestants to help relieve some of the symptoms. For the flu, your doctor may prescribe an antiviral drug to help shorten the duration of the illness and prevent complications.
A cold usually doesn't result in serious health problems, but the flu can.
And, with both, always contact your physician if your symptoms persist or worsen. You know your body best. If it doesn't feel right, get it checked out. It's always better to be safe than sorry.
Board-certified in physical medicine & rehabilitation, Dr. Michael Fuentes is the Medical Director of Corpus Christi Rehabilitation Hospital. The hospital provides specialized rehabilitative care to patients recovering from disabilities caused by injuries, illnesses, or chronic medical conditions. For more information, visit CCRH.ernesthealth.com, call 361-906-3700 or visit the hospital at 5726 Esplanade Drive, Corpus Christi, Texas.