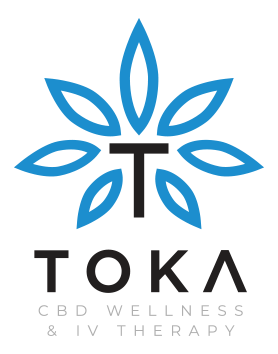 MEDIA CONTACT:
Reyne Hirsch reyne@outsidetheboxmedia.net – 513.378.4985
"Developed with Pharmaceutical Science. Rooted in Functional Medicine."
HOUSTON (August 14, 2020) – TOKA CBD Wellness & IV Therapy, an upscale, woman-owned and physician operated CBD, drip and medical spa, is now open in the heart of Houston's vibrant Montrose district at 3407 Montrose near Westheimer.
The 2,300-square-foot spa-like wellness treatment facility offers a variety of holistic treatment plans, natural products, injectables and intravenous (IV) drips to support a healthy immune system, improve sleep habits, relieve muscular pains and encourage quality skincare. The relaxing, rejuvenating and purposeful treatments and products are specifically designed by a team of medical and CBD professionals to meet customers' needs and improve overall health.
"There are so many CBD products on the market that simply don't work," said TOKA owner and healthcare executive, Joanna Davis, RN, BSN. "Through extensive research and testing, we are able to provide the highest quality and most effective items and IV blends on the market to support a variety of common problem areas for most people. Our goal is simple – to make people feel like the best versions of themselves, naturally."
TOKA's IV Therapy drips offers a convenient support system to traditional medicine to deliver micro-nutrients and vitamins in a safe manner. In addition to customizable drips to fit clients' needs, the physician-developed IV Menu includes 14 vitamin-filled treatment blends including the following: "Immune" with high doses of zinc and vitamin blends to increase immunity; "Glow" to maintain inner and outer radiance; "Hydration" to energize and detoxify; "Performance" for increased strength, endurance and muscle recovery; "Libido" to improve focus and physical performance; a "Hangover Relief" blend of B-12, B complex, magnesium, B-6 and calcium to relieve headaches and nausea; "Hangover Relief Plus" – a double dose of the original with added glutathione for bonus detoxification; "Myers Drip" to reduce anxiety, headaches and muscle cramps; "Recovery" to decrease inflammation and speed up healing potential; "Slim & Trim" super metabolism booster; "Cleanse" to eliminate toxins; "Migraine" with a special doctor's blend of magnesium, Zofran, Toradol and B complex; "PMS" to relieve cramping; "Platinum" to combat chronic inflammation, insomnia, fatigue and stress who boosting immunity and physical performance; and NAD (nicotinamide adenine dinucleotide) IV treatment therapy to battle aging, increase energy and promote overall cellular repair in the body. Each treatment is approximately 40 to 45 minutes making IV therapy a convenient health ritual.
Each TOKA brand-named product and oil is made with 100% organic CBD hemp oil and available for sale in the medial spa to support sleep aid, pain relief, energy, libido, and skincare. Additional services at TOKA include Botox ($11/unit) and dermal filler injectables as well as top-of-the-line CBD products specifically formulated for dogs and cats.
TOKA accepts reservations, walk-in appointments as well as special membership pricing. Hours of operation are Monday through Friday from 10 AM – 6 PM; Saturday and Sunday from 11 AM – 6 PM. For more information or to schedule an appointment, please visit tokacbd.com or call 346-240-3992.
ABOUT TOKA
TOKA is a women-owned, Houston-based wellness and IV therapy medial spa supported by doctors dedicated to offering safe and holistic treatments. TOKA is located at 3407 Montrose Boulevard, Suite A5, Houston, Texas 77006. For more information, please visit www.tokacbd.com or call 346-240-3992. Follow @TokaCBD on Facebook, Instagram and Twitter.
###