[dropcap size=small]
T
[/dropcap]
he 21st Century Cures Act was passed by both the House and Senate with huge bipartisan majorities, and it was signed by President Obama on December 13th. The aim is to speed development of and access to new therapies.
A section of the legislation addresses regenerative medicine, including $30 million in funding. The focus on accelerated approval will allow these therapies to reach approval and insurance coverage more quickly.
Patients For Stem Cells (PFSC), as a grassroots group, has been working for the past five years to ensure cellular therapy becomes more accessible to patients. We asked our thousands of followers to urge their representatives to include cellular therapy in the act, and lawmakers listened. Provisions were included in the act to encourage ongoing input from patients on the implementation of the act.
Our continued focus will be to make sure patient input reaches the government agencies and regulators who will be implementing the act.
Patient Voices
Sarah Hughes met with her Texas Representative Pete Olson, who recounted her story on the House floor. He was visibly moved by her courageous lifelong battle with idiopathic systemic juvenile arthritis, which left her near death at 22-years-old. Her own adult stem cells, expanded to reach a therapeutic dose by Celltex Therapeutics, put her disease into remission and allowed her to recover and enjoy a normal life. Sarah and her mother also testified at the FDA hearing on stem cells in September 2016.
Doug Oliver played a key role in ensuring regenerative medicine was included in the legislation. He regained his vision, after 10 years of blindness due to macular degeneration, thanks to his own stem cells. Doug's story has reached millions through interviews with the national press and countless affiliate television and news media outlets.
"I believe we as patients are entering a new era of opportunity to have our voices heard"

-Doug Oliver, founder of the Regenerative Outcomes Foundation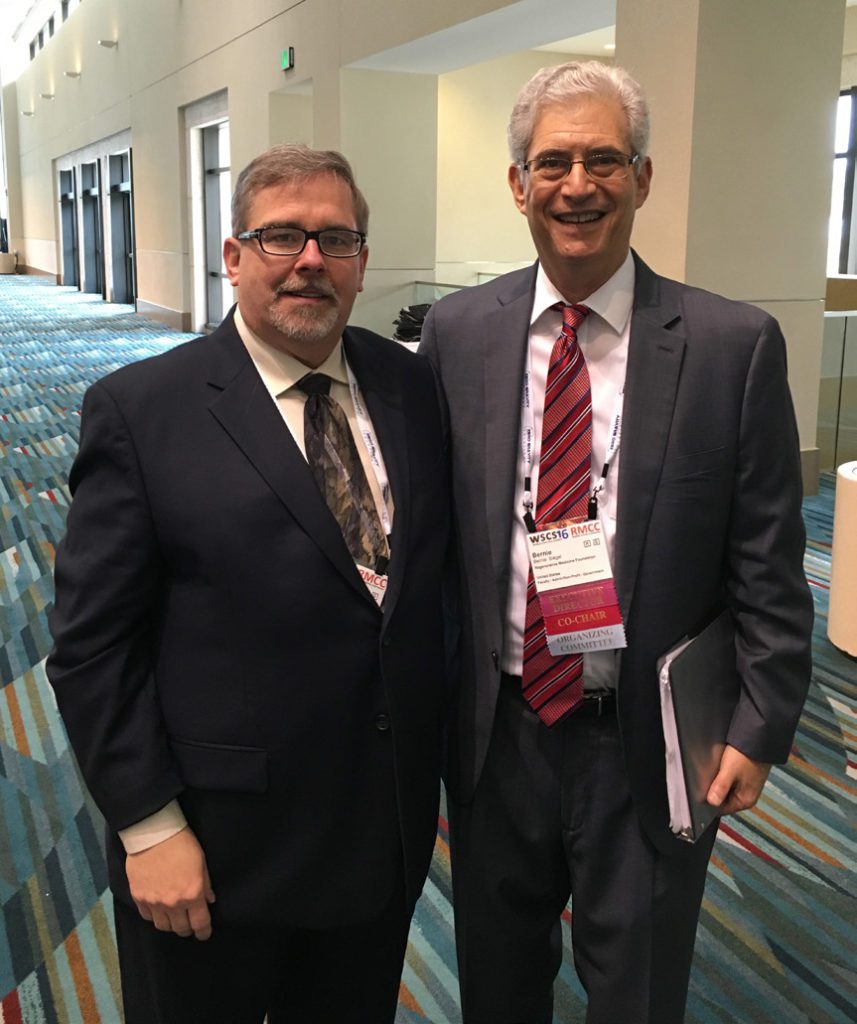 The news reached Tennessee Senator Lamar Alexander, who invited Doug to Washington D.C to help craft the legislation. Doug has a master's degree in social work, extensive career experience in medical social work, compliance consulting and clinical case advocacy.
Combined with his personal patient experience, this made him uniquely suited to advise Congress to boost funding, initiate regulatory reform and solicit ongoing patient input.
Bernard Siegel, Founder of the World Stem Cell Summit, is pictured on the right with Doug. Bernard invited him to speak at four sessions at the conference, where he was well received by those in the industry.
Doug summed up his vision, stating: "I believe we as patients are entering a new era of opportunity to have our voices heard. The opportunity is right for patient advocates to consider a strategy to take advantage of what appears to be heightened interest in, and receptiveness to, patient input as true stakeholders. The Cures Act provides a mandate for this type of policy shift."
He believes it's time to work together with the FDA. He hopes both patients and regulators will benefit by this new strategy, and reach mutual goals of safety, efficacy and access to treatments as soon as possible. His suggestions comes from discussions with top FDA officials.
Recognizing that stem cell clinics need to self-regulate in participation with policy makers if they are to best serve patients, The Cures Act provides an incentive for that to happen.
To further his work for "everything patients," Doug has founded the Regenerative Outcomes Foundation, a 501(c)3 nonprofit offering stem cell clinics guidance in ethics, continuum of care, promotion and methods for optimizing patient outcomes. The first course will be offered March 8th-10th 2017 at Belmont University in Tennessee. Presenters include industry experts, as well as patients. SammyJo Wilkinson, one of the founding members of PFSC, said "I was honored by Doug Oliver's request to speak about my stem cell patient experience. He has initiated so many positive changes, that now I feel we can roll up our sleeves and go to work on making this life-saving therapy more widely available."
Patient advocacy remains Doug's core focus. He moderates Vision Quest Advocacy Network for patients who wish to learn about cellular therapy for eye diseases. To ensure the patient engagement provisions of the Cures Act get implemented, he will be launching surveys seeking input from all of us on what we want to see happen with the new stem cell legislation. PFSC subscribers interested in stem cell therapy will be kept informed on how to participate in this historic endeavor.
For more information visit patientsforstemcells.org.