CHANGE THE STORY ON CANCER, ONE CARD AT A TIME
The Cure Cancer Card is available online now!
Shopping Days: October 12 to October 21, 2018
The SA Cancer Council is again teaming up with local businesses to fund cancer research at the Mays Cancer Center, UT Health San Antonio MD Anderson. For 10 special days, October 12-21, shoppers who purchase a $50 Cure Cancer Card (previously called the Partners Shopping Card) will get a 20 percent discount at over 220 retail, restaurant and service locations.
The entire $50 goes directly to the Mays Cancer Center for research to improve the diagnosis, prevention and treatment of cancer, and that money is used only in San Antonio.
The many participating merchants include Julian Gold, The Container Store, Bjorn's, Tory Burch, TUMI, Williams Sonoma, Cappy's Restaurant, Auntie Anne's, Satel's, Sunset Ridge Home & Hardware, Hanley-Wood, and so many more. Hair salons and dog salons, jewelers, meat markets, sweet shops, fitness, bicycles and sportswear are also featured. For the full list of participating businesses, go to SACancerCouncil.org/cure-cancer-card.
How Do I Buy a Card?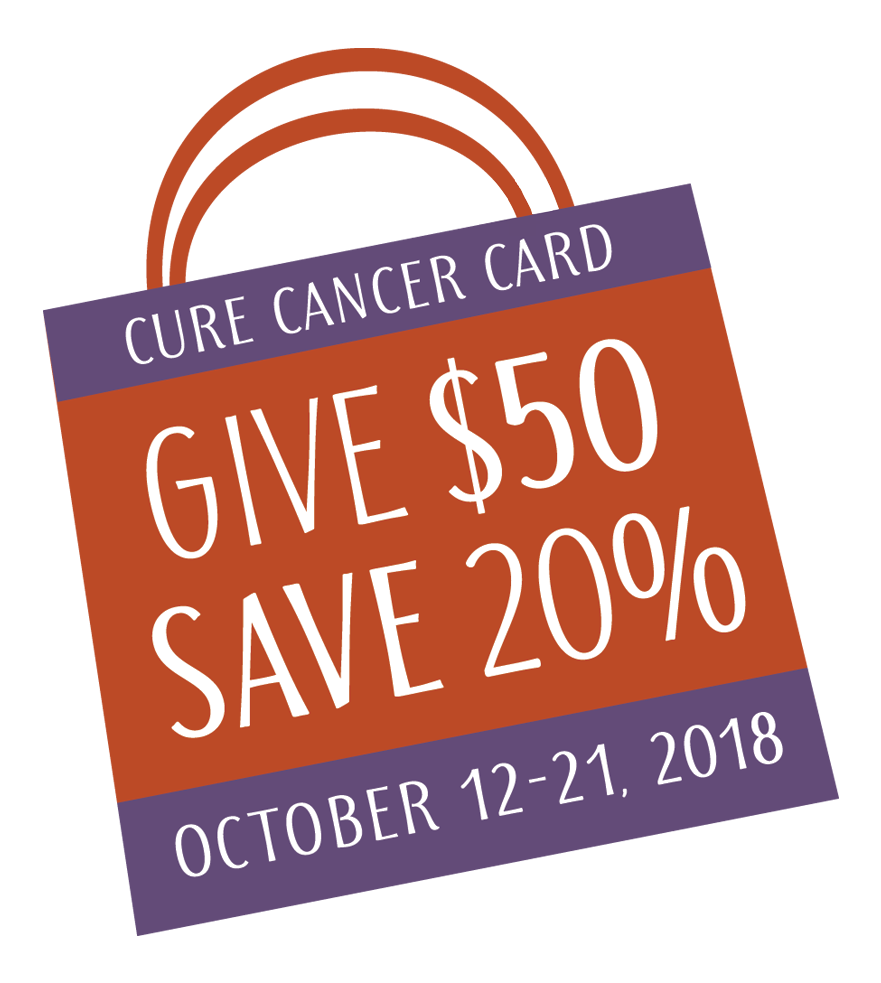 The Cure Cancer Card is available for purchase online now at SACancerCouncil.org and, in late September, at participating merchants. You may also purchase a card from anyone involved with the SA Cancer Council, a team of all volunteers who have been supporting cancer patients and cancer research for over 30 years.
The card is valid during the designated October 12-21 period.
"During this special time in October, shoppers in San Antonio, Boerne and Comfort can help change the story of cancer for today's patients and for future generations," said Liz Conklyn, chair of the Cure Cancer Card program. "Together, we can fund breakthrough research to better prevent, diagnose and treat cancer. With the help of such generous stores, restaurants, salons, etc., you can be part of the fight against cancer."
The SA Cancer Council's shopping event has raised $2 million since 2006. To ensure that 100 percent of card sales go completely to cancer research, generous sponsors underwrite all of the program's costs.
"This is the same card program we have sponsored in years past," Conklyn stressed. "We changed the name to Cure Cancer Card because we wanted the name of the card to more clearly and quickly reflect its mission. Even if someone does no shopping at all, they have still given $50 towards changing how we treat and prevent cancer."
Over the past 30 years, the SA Cancer Council's various fundraising and special events have generated approximately $4.7 million for research and patient assistance at the Mays Cancer Center. Council members also have the opportunity to volunteer through such activities as helping patients and assembling clinical trials kits to free nurses for patient care.
To learn more about the SA Cancer Council, visit SACancerCouncil.org/
Facebook: SACancerCouncil
Facebook: UTHealthSA
Facebook: MaysCancerCenter
For additional information, contact (210) 450-5571 or email: SACancerCouncil@uthscsa.edu.