In 2004, physicians and clinicians at the Pro-Care Medical Center began caring for the San Antonio and Austin areas with superior health services for family care. In its inaugural years, speciality practice led the way in accomplishing this, but four years after opening, a shift occurred.
Beginning in 2008, Pro-Care Medical Center transitioned their focus toward generalized family practice that incorporated an array of medical and rehabilitative services. This transition propelled Pro-Care to the top tier of medical practices in Texas. Indeed, Pro-Care was one of the first practices in the state to meld family medicine with the exceptional musculoskeletal care skills of chiropractors and superior practitioners.
By working with extraordinary medical practitioners, Pro-Care has been able to further the standard of care in the San Antonio and Austin areas, and Dr. Elizabeth Clark is one of the physicians dedicated to furthering the standard of excellence. For 20 years, Dr. Clark has practiced medicine and helped restore patients back to their optimal health. A leading expert and practitioner of osteopathic medicine, Pro-Care's Dr. Elizabeth Clark received her medical degree at the Kansas City University of Medicine and Biosciences. Following her schooling, Dr. Clark successfully completed her residencies in aerospace medicine and preventative medicine at the Brooks City Base.
In exemplary manner, Dr. Clark represents Pro-Care's position of utilizing evidence-based medicine, meaning Dr. Clark and her fellow providers employ proven medical treatments and methods to aid in their patients' recovery. Coupled with this, Pro-Care providers acquire and practice the latest knowledge in scientific and medical journals to ensure their decision making is on par with the latest advancements in healthcare. In the way of employing the latest medical knowledge and education, Pro-Care's patients are blessed to have Dr. Elizabeth Clark by their side. A renowned, national lecturer, Dr. Clark regularly speaks on a number of topics such as aerovac of battlefield wounds to workplace exposure of contaminants.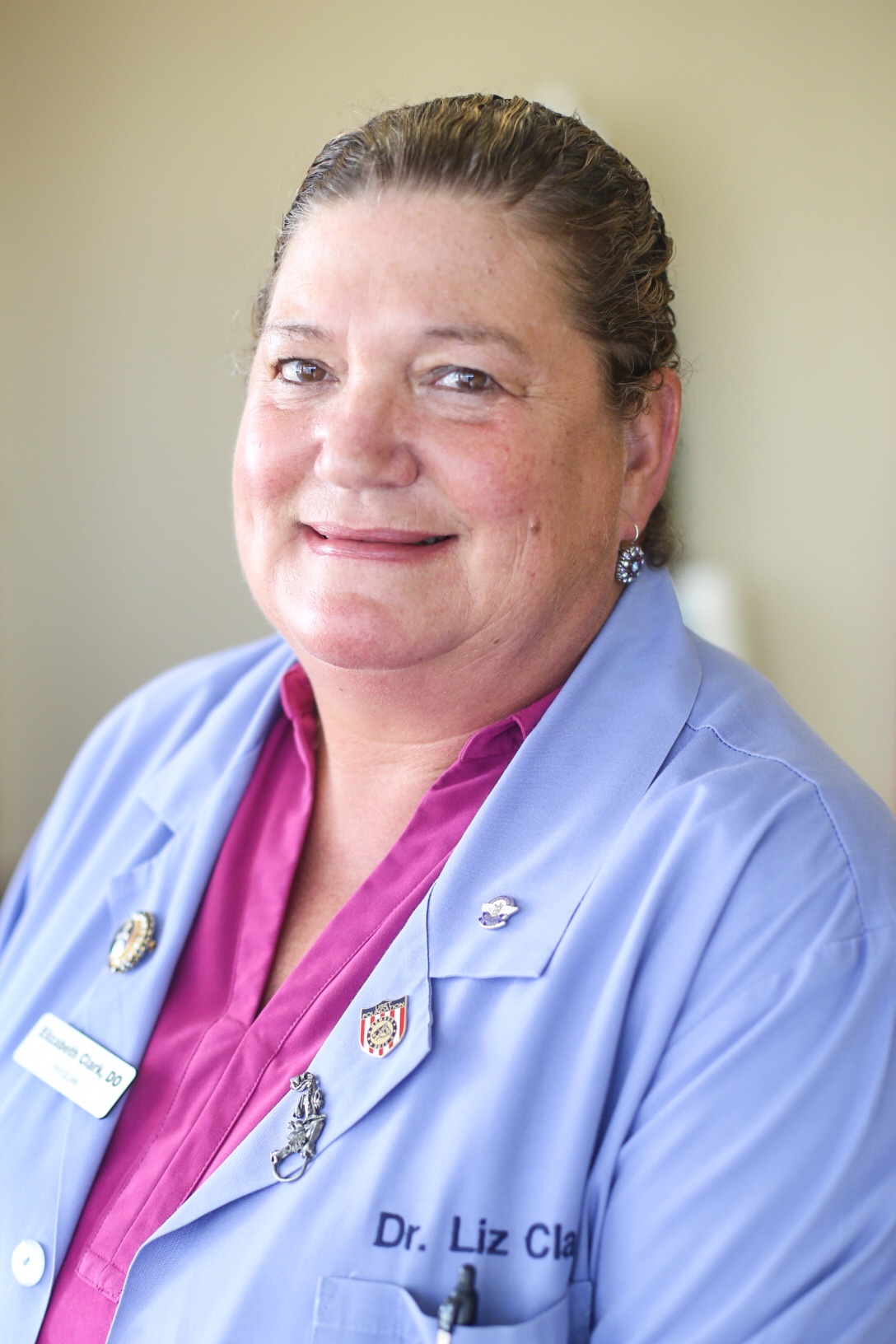 Certified by the American Osteopathic Board of Family Physicians and the American Osteopathic Board of Preventative Medicine, Dr. Elizabeth Clark has proudly brought her exceptional skills to help heal San Antonians at the Pro-Care Medical Center off of Poteet Jourdanton Freeway. With the skills of Dr. Elizabeth Clark and her colleague Dr. Marc Goldhagen, Pro-Care's location off of Poteet Jourdanton Freeway will be able to boast some of the finest medical practitioners in the city, and San Antonio patients will undoubtedly benefit from the skilled hands and educated minds of Pro-Care's finest. A board-certified osteopath and primary care doctor, Dr. Elizabeth Clark, DO, specializes in aerospace medicine, family medicine, occupational and preventive medicine.
Through her work, Dr. Clark focuses on treating the causes of patients' maladies, not only alleviating the symptoms. By doing this, she is able to ensure that patients, once treated, are be able to continue living a fulfilled life, rather than masking their symptoms. Utilizing her extensive experience and skills, Dr. Clark offers patients an array of medical services including, but not limited to, treatments for arthritis and general orthopedics to custom orthotics, devices employed to help alleviate or correct an orthopedic problem a patient may have.
While she is humble, Dr. Clark has earned an impressive list of notable awards, though her demeanor solely suggests a caring physician. In 1999, Dr. Clark received the Charles E. Bass award for being an outstanding student in Tropical and Travel Medicine. A decade later, in 2009, Dr. Clark was awarded the Star Spangled Medallion for Service and the Outstanding Osteopathic Professional award. Alongside these awards, Dr. Elizabeth Clark has also received the Legion of Merit, Bronze Star, the Meritorious Service Medal and the Defense Meritorious Service Medal, among many others during her service in the military.
Proficient in both English and Spanish, Dr. Clark is committed to developing long-standing relationships with her patients that allow her to truly listen to their concerns and needs. Dr. Clark firmly believes that by creating a partnership with each of her patients she is better able to maintain and further their lifelong health. Whether she was serving the nation or helping heal patients, the mainstay of Dr. Clark's career has been her dedication to solely providing exceptional care to all of her patients.
When not caring for patients, Dr. Clark dedicates herself to her intense passion and delight of working with horses. Indeed, she is responsible for caring for, feeding and sheltering 10 horses. Naturally, given her caring nature, Dr. Clark is deeply committed to enjoying her time and life with her family.
Dr. Elizabeth Clark regularly welcomes new patients inside her offices at Pro-Care Medical Center in San Antonio, Texas. For the best in osteopathic medicine visit Dr. Elizabeth Clark at the Pro-Care Medical Center in San Antonio off of Poteet Jourdanton Freeway.
For more information visit www.procaremedcenter.com or call 210.504.4189. Dr. Elizabeth Clark helps heal the community at Pro-Care Medical Center's location at 9727 Poteet Jourdanton Freeway, Suite 101 in San Antonio, TX 78211.