Provided by:
R-Myna Evans
DHR Health creates SIDU and Emergency Room Extension to keep patients safe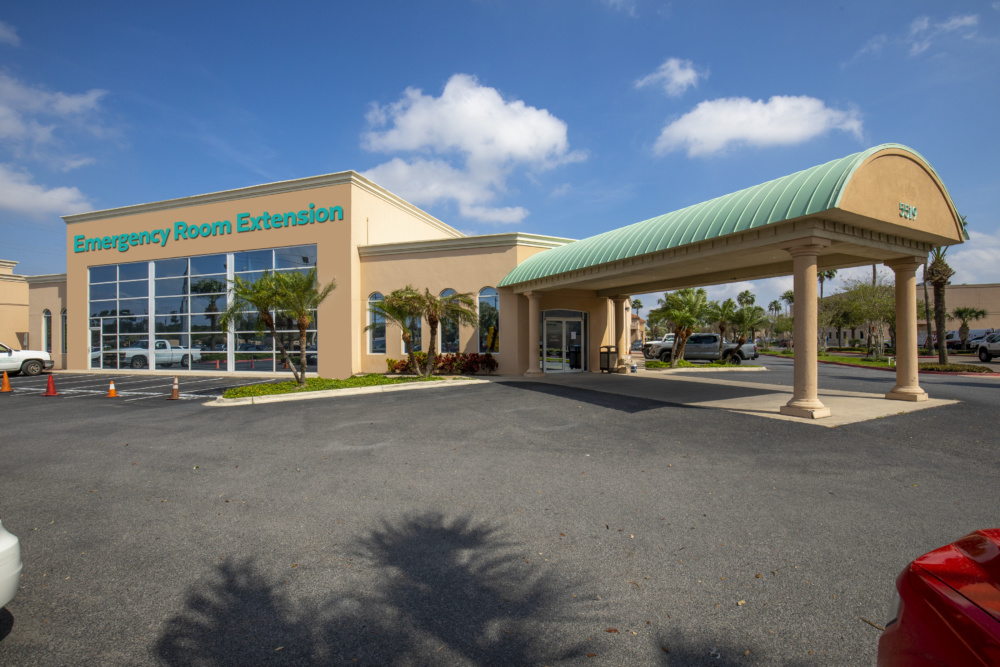 Edinburg, TX –– When COVID-19 affected the area, DHR Health immediately anticipated the needs of the community and  developed a Physician Task Force Team, a team of physicians working together to promote the safety of patients, staff, and visitors during this pandemic.  As DHR Health remains open, a Serious Infection Disease Unit (SIDU) and an Emergency Room Extension have been created to prevent disease spread within the hospital and clinics. 
"The Physician Task Force is in charge of reviewing and presenting the most current literature about COVID-19 treatment on a daily basis," states Carlos Garcia-Cantu, MD, Chief of Staff at DHR Health.  "This is extremely important for us since guidelines are continuously changing."
The DHR Health Main Campus, Specialty Clinics, Hospitals, Emergency Room and Urgent Cares remain open, taking all the necessary precautions to create a secure and safe environment throughout all campuses.  As true visionaries of innovative methods, DHR Health has provided separate locations for COVID-19 positive patients. 
"We work hard to make DHR Health the place that you and your family can get your healthcare needs in a safe and protective environment," states Armour Robert Forse, MD and Chief Academic Officer at DHR Health.
"In order to protect a possible contact with COVID-19 patients, we at DHR Health have made an extra effort to prevent this scenario by creating a complete separate ER Extension Unit to see and evaluate all the suspected coronavirus cases without having to go inside the regular emergency department for an evaluation," states Javier Cortinas, MD, Executive Physician for Emergency Services at DHR Health.  "Our decision to do this early on has allowed us to safely care of our patients."
With the creation of the SIDU, it has allowed segregation of COVID-19 positive patients in a safe and professional environment in order to receive highly specialized treatment off campus and in complete isolation from facilities.  DHR Health has also created a separate Emergency Room Extension, where any COVID-19 suspicious patients are triaged and placed at an appropriate level of care.  Both units are in complete isolation from the hospital, with separate ambulance entrances and have provider coverage with specialized care 24/7.
As leaders in healthcare, DHR Health has implemented COVID-19 testing for 100% of surgical elective cases.  This level of care prevents exposure to patients admitted to the hospital, who require elective surgeries, or those who are there for labor and delivery, radiology studies, laboratory services, and appointments at one of the specialized or subspecialized DHR Health Clinics. 
"We carefully assessed all the potential treatments for COVID-19 on a continuous basis and used them to benefit our patients accordingly," said Ricardo Garcia, MD, Chairman of the Infection Control Committee at DHR Health.  "We worked together with the DHR Health Institute for Research Development and a protocol for Convalescent Plasma Transfusion was successfully implemented."  
To help provide patients continuity of care, DHR Health is offering TeleHealth services so that providers can conduct appointments via audiovisual services such as videoconferencing through the internet, streaming media, or through wireless communications.  Additionally, patients who are experiencing non-life-threatening symptoms but need immediate attention can visit one of DHR Health's three urgent care locations.
While also seeing the medical needs of patients, the Physician Task Force Team works day and night to ensure that DHR Health is prepared with the best practices to keep the Rio Grande Valley safe from this pandemic.  Doctors are reminding patients to pay close attention to their health and to contact their healthcare provider when experiencing unusual pain or symptoms. 
DHR Health remains focused on improving the health and well-being of the community and is working to ensure that the community is safe by providing outstanding healthcare in the safest manner possible. 
For more information about DHR Health's SIDU or Emergency Room Extension, please call R-Myna Evans at (956) 362-3100 or visit our website at DHRHealth.com.