Useful information for readers is a cornerstone for any publication, and Texas MD is no different. We sat down with WellMed at Springtown Way's lead physician Dr. Teresa Smith-Knuppel to discuss different difficulties seniors may face, the role of medical professionals in medication management and tips on helping seniors manage their meds.
TXMD: What are the challenges seniors face in organizing and managing their medications?
Dr. Smith-Knuppel: I can't overstate the importance of making sure seniors are managing their medications. A well-managed medication regimen can vastly improve quality of life and help maintain independence. Taken incorrectly, medications can lead to costly emergency room visits, hospitalization, nursing home placement and death.
TXMD: How many different medications do seniors typically take?
Dr. Smith-Knuppel: If you look at the data, more than 40 percent of people over 65 are taking five or more medications, including over-the-counter drugs and supplements.
TXMD: We're used to the idea of the elderly taking more pills each day, but what are the health hazards?
Dr. Smith-Knuppel: We don't always prescribe the same types of medications because older individuals may respond differently than a younger person. As the body ages, everything slows down including liver function and kidney function. Individuals may not be able to clear medications quickly from their system. That can cause more side effects and potential interactions.
TXMD: How can older patients keep their physician informed about potential interactions?
Dr. Smith-Knuppel: A physician should know every medication a patient is taking. Bring the bottles in a bag or a list of all medications, including herbs and supplements. Blood work twice a year or more, depending on the patient's health, keeps physicians informed about potential interactions.
TXMD: How do you help seniors manage their vitamin and supplement in take?
Dr. Smith-Knuppel: I try to educate my patients that lots of vitamins can be expensive and potentially harmful. Just because the bottle says "natural" doesn't mean it doesn't have side effects and potential interactions.
TXMD: Can physicians streamline the medications a new patient is taking?
Dr. Smith-Knuppel: Streamlining is the first thing I do with a new patient who has a long list of medications. I look at all the medications, the side effects, the benefits and the interactions. I try to find a way we can have the patient on fewer medications and still treat the medical condition.
TXMD: What are some tips to help older adults take medication safely?
Dr. Smith-Knuppel: A lot of patients have no idea why they are taking certain medication. Truly, the most important thing is to be educated and informed. Stay alert to drug interactions and make sure the patient knows the potential side effects. Don't be afraid to ask a doctor about current medications and why they are prescribed. It's important to limit the number of doctors seen, unless a specialist is an integral part of the treatment plan.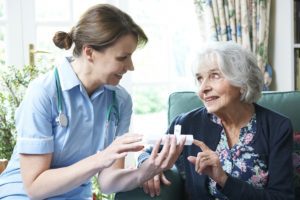 TXMD: What role can a pharmacist play in helping seniors manage medications?
Dr. Smith-Knuppel: The pharmacist can be very valuable in terms of medication interactions and being over medicated. They may catch a potential interaction. They serve as another check and balance in helping to educate a patient about medication. We also encourage patients to use one pharmacy.
TXMD: What reminder systems can help seniors who show signs of confusion and forgetfulness?
Dr. Smith-Knuppel: Make sure the patient knows how to take the medications as directed and how to store their medication. I encourage caregivers to come in with the patient. It's always helpful to have another set of ears in the room. If they have trouble remembering, pill organizer boxes, dispensers and alarms are helpful. Dosing can be tied to when they eat, brush their teeth or go to sleep. There is no substitute, however, for having a responsible caregiver who is proactive about medications.
TXMD: What are the challenges of the high cost of medications and insurance problems?
Dr. Smith-Knuppel: As a physician there is nothing more frustrating than having a patient end up in the hospital because they can't afford their medication. Some patients who are on a fixed income have to decide between eating and taking their meds. It can be hundreds of dollars for inhalers and there is no generic option. Under Medicare Part D, seniors are allotted so much money for prescriptions for the entire year. Usually by the end of the year, there is a gap in coverage known as the doughnut hole. There are resources out there to help patients deal with the cost of medication. We try to prescribe affordable medications and do everything we can so they don't run out of medication. As physicians, we have to wear different hats when the end goal is to keep people healthy. Being a social worker helps. It's not as simple as writing a prescription and handing that to a patient.
TXMD: When should a patient seek out a second opinion?
Dr. Smith-Knuppel: Anytime patients are not sure they are getting a clear answer from a provider, we encourage them to call us and come in for an explanation. It's their health. It's important to seek a second opinion if they are concerned about it.