High School Students Are Changing Lives Through "WALK AGAIN" Fundraising Projects
Approximately 1 in 200 Americans have suffered from amputation, and 1.7 of them have received prosthetics, and the number is currently increasing. This challenge is considerably worse globally, where access to healthcare is challenging. Imagine a world of isolation; imagine a world of exclusion from activities due to a lack of mobility. Consider what an important component freedom is to our mobility. We are motivated by the inspiring stories of those individuals who rise above the challenges presented by a lack of mobility. Advances in medicine, technology, and the availability of the necessary resources have made it possible for many people with mobility challenges to live full and rewarding lives.
Now, picture what your life would be like if you suffered from a condition affecting your mobility and you had no access to doctors or medical equipment. That is the grim outlook faced by thousands of amputees in less-developed areas all over the world. Giving these amputees hope for a brighter future by providing prosthetic limbs and the necessary access to physicians and healthcare is the mission of Walk Again, a fund-raising organization created by three high school students.
Walk Again was founded in 2017 by Sneha Reddy, a high school junior at Incarnate Word Academy in Corpus Christi, Texas; Nischal Chennuru, a high school sophomore from Columbus Academy in Columbus, Ohio; and Pranai Reddy, also a high school sophomore from Incarnate Word Academy in Corpus Christi, Texas. While spending time visiting family in India, these students had seen many children and adults with missing limbs in the rural areas of Nellore District in Andhra Pradesh. They observed that these individuals were suffering from more than just a lack of mobility; they observed that these amputees do not have a livelihood. Being without a limb affects all aspects of their lives. Adult amputees are unable to work and their ability to interact socially is severely compromised. Child amputees are unable to play with other children and their families struggle to provide for their special needs.
Empathetic to their plight, Sneha, Nischal and Pranai began to explore how they might be able to help these amputees. Speaking with their family led the students to research the limited availability and expense of prosthetic limbs. They learned that roughly 7 out of every 1,000 people living in India are amputees. Each year, roughly 25,000 people in India lose a limb due to diabetes, accidents or other hazards. Especially in rural areas, a significant number of amputees, both children and adults, do not have the means to travel to cities where qualified rehabilitation teams are located. Sadly, they neglect their handicap and often develop deformities as a result of that neglect, which are difficult to correct without surgery. Sneha, Nischal and Pranai realized that, if they could create hope of access to a prosthetic limb and the necessary attention from a physician through charitable intervention, they could change lives. These students resolved that they would find some way to help.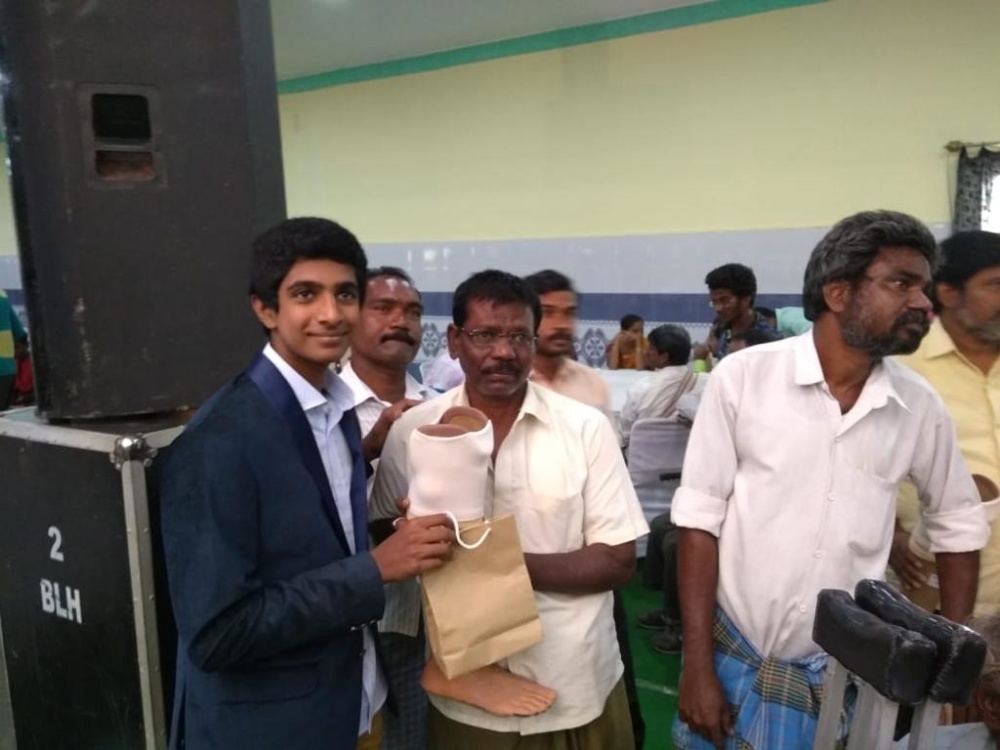 Further research revealed a charitable organization that was devoting time and money to addressing this issue, Freedom Trust. Dr. Sunder, a rehabilitation professional with a distinguished career of humanitarian achievements in the field of medicine, founded Freedom Trust in 1997 to cater to the needs of the physically challenged in terms of their mobility and livelihood. For over 20 years, Freedom Trust has been relentlessly working for the cause of such physically challenged persons living in rural areas and has helped them with mobility aids. Inspired by the activities of Freedom Trust, Sneha, Nischal and Pranai founded Walk Again with the goal of raising a modest amount of money and contributing those funds to the Freedom Trust.
Their fundraising efforts began on a small scale with sewing and selling handmade tablecloths and donating the proceeds to Walk Again. The original goal was to change just a few lives for the better by supplying prosthetic limbs to amputees who would not otherwise have access to these much-needed devices and the associated medical care. Sneha contacted Dr. Sunder for collaboration, and he began providing motivation and guidance for the Walk Again team. As the students learned more about the magnitude of the problem and all of the hard work that is required to help these amputees, their enthusiasm for raising money for this cause continued to grow.
Sneha, Nischal and Pranai organized a charity golf tournament and devoted many hours to writing letters, raising awareness within their communities and requesting donations to Walk Again. Those fundraising efforts were so successful that helping a large number of amputees became a reality. Their passion for helping others soon became contagious. Together, these three students mobilized others in their schools, and the fundraising momentum climbed to the next level. Through the joint efforts of Walk Again and Freedom Trust, a screening process began to identify 100 amputees in the rural areas of Nellore District, Andhra Pradesh, India who would be suitable candidates for a prosthetic limb.
Funds raised by Walk Again and contributed to Freedom Trust were used in several different ways to benefit these amputees. First, Freedom Trust representatives traveled to the rural areas around Nellore and worked with local agencies and organizations that assist the disabled to gather information on amputees who are in need of help. Next, a camp was organized in an optimal central location within these rural areas so that prosthetic engineers and a coordinator / social worker could meet these amputees in need of assistance and select the best candidates for a prosthetic limb. Once an amputee was selected for participation in the program, the engineers worked with the amputees to obtain a detailed set of measurements to use in manufacturing, fitting, and adjusting the prosthetic limbs.
The measurements were then used to purchase the materials to build and specially design prosthetic limbs. Prosthetic technicians utilize a combination of high density polyethylene, vulcanized rubber, and wood to create a prosthesis that is both lightweight and durable and is suitable for barefoot walking in the uneven terrain of these rural areas. Once this process was complete, a second camp was organized in the same central rural location to meet with the amputees and complete a trial fitting of the prosthetic limbs. Each prosthesis is customized for its recipient, and a perfect fit is crucial to the comfort and efficiency of the artificial limb. Funds are also allocated for the cost of training the amputees to use their new prosthetic limbs.
Sneha, Nischal and Pranai traveled almost 10,000 miles to participate in the realization of their goal for Walk Again. After several weeks of work to make arrangements for the event, on December 27, 2018, a welcome banquet and distribution ceremony was held in Anil Gardens in Nellore, Andhra Pradesh, India, in which 100 prosthetic limbs were delivered to amputees living in rural areas of Nellore District. A crowd of roughly 1,200 people enjoyed a day of good food and fellowship. The gathering included not only the amputees and their families, but also a Rural Agricultural minister and other community leaders, Dr. Sunder and other representatives of Freedom Trust, and many others who helped make the event possible. The event was a tremendous success and the culmination of many months of collaborative efforts by Walk Again and Freedom Trust.
The students were able to personally hand the prosthetic limbs to their recipients at the ceremony. "It was a surreal experience with no comparison," said Sneha Reddy. "The expressions of joy and gratitude on the amputees' faces left a permanent happiness in my heart and filled me with inspiration for future projects." A larger scope of charitable efforts is on the horizon for Walk Again. "We plan to expand to help amputees all over India and other countries as well, if possible."
It is truly amazing to witness the impact that a prosthetic limb can have on the life of its recipient. It is so encouraging to see the young generation taking challenges head-on to deliver the hope and motivating others to do the same. It also challenges organizations and businesses towards their social responsibility. These children give all of us the hope that our future is in good hands by spreading their message on a global platform.