The changing healthcare landscape presents both challenges and opportunities for healthcare providers. Understanding how consumers select healthcare facilities and individual physicians today can ease some of the pangs of the inevitable change. While scientific studies over the years have tried to identify patient choice determinants in selecting healthcare providers, very few focus on today's active consumer and rapidly changing selection tools.
Changing trends are reported by consumer and healthcare reporting groups, such as the Harvard Business Review, Nielson, Forbes, the American Marketing Association, Medical Economics and others. Assessing the data can be daunting, but here are some of the highlights.
Whether the search is for a pediatrician, primary care physician or specialist, the approach begins in much the same way. Beyond ensuring acceptance of health insurance, individuals continue to rely heavily on word of mouth referrals from friends, family or other respected sources. While social media and mobile technology have facilitated access and rapid reach to such referrals, this important selection component remains virtually unchanged from past years and among the most trusted data available.
Supporting data plays an important role in solidifying a patient's ultimate selection. Supporting data may represent different types of information delivered from a number of different sources, though it consistently conveys the merit of a particular facility or physician. How much data each potential patient requires may vary based on age or health condition, but most require more than a referral and base their ultimate decision on a combination of factors, according to a recent report in the Journal of the American Medical Association.
The search for supporting data today begins online and is often launched for both hospital and medical facilities as well as, and most importantly, the physicians in whom an individual will entrust their care or that of a family member. Referred to as "e-patients," many of today's patients, and particularly those of tomorrow, will increasingly turn to online information and resources to make healthcare decisions.
As reported in Forbes, Dr. Bertalan Meskó, medical futurist and author of "The Guide to the Future of Medicine: Technology and the Human Touch," discusses how "healthcare is moving beyond the hospital and shifting toward patient self-knowledge and empowerment." As Meskó puts it, "healthcare cannot really advance without physicians letting their patients help themselves."
Harnessing the vast visibility of the web, reviews and star ratings have also steadily climbed over the years to the top of the selection criteria list for consumers. This may serve as both referral and supporting data when positive reviews and top star rankings are visible on multiple sites. While general business directory sites allow consumers to leave reviews, some carry more weight than others in the selection process. Those specific to healthcare — HealthGrades, Vitals, UcompareHealthCare, RateMDs and ZocDoc — are deemed the most credible and trustworthy when selecting a healthcare provider or physician.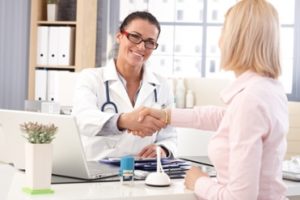 Google reviews are also respectfully considered, as Google's commitment to maintaining the integrity of its business pages and authenticity of reviews has become the gold standard. Editorial and advertorial content has not only remained a strong marketing support tool and influencing agent, it has today ignited a "content marketing" movement.
According to a report by the Harvard Business Review, "content marketing and brand publishing has unfolded rapidly because it responds to consumer preference." The article underscores a consumer's preference to meaningful content over an advertisement and the power in sharing knowledge to build brand loyalty. Inexpensive opportunities to disburse educational and other informative content online abound and are far less expensive than many traditional advertising tactics. Blogs, Q&As and expert articles give patients an opportunity to not only learn about a physician's services, but they also see them as an educator and expert in their field.
And then there is the obvious and often overlooked subliminal effect of repetitive marketing, branding and messaging. Often times, the tipping point in making a final decision is unclear, as consumer's themselves may not recognize that certain words or images resonate more strongly than others. What speaks to individuals may vary. Is it the idea that a hospital system is leading medicine, advancing health or that it is giving life to possibility?
Providers commit to and invest in a message, communicating it broadly through print, online, outdoor, television advertising, sponsorships and more. Each reinforces an earlier referral, review, editorial or other seemingly organic informational content. This is why it can often be difficult to measure the effectiveness of various marketing components in obtaining new patients. Ideally, multiple components are used, all supporting one another. Smaller budgets may find the greatest value in the multitude of online opportunities.
Though, registering a new patient is just the beginning. Patient loyalty and second generation referrals depend on a number of factors. From personal rapport and confidence in physicians to courtesy and competency of administration and support staff, patient loyalty remains multifaceted.