Kick Start Your New Year's Weight Loss and Fitness Goals with a Personal Trainer
Millions of people will be planning to lose weight and get healthy as the New Year rolls in. In fact, according to The Nielsen Company, staying healthy and losing weight have been the top New Year's resolutions for the last couple of years in a row. Roughly 67% of adults in the country report planning to exercise more in the New Year. The problem, however, is that the success rates for those resolutions is dismal, as most people will abandon them just days or weeks after making them. One good way to increase the odds of succeeding at meeting the weight loss goals and being healthy is to work with a personal trainer.
"Working with a personal trainer means having someone in your corner who understands your goals and how to help you personally make them a reality," explains Coach Sarah Walls, personal trainer and owner of SAPT Strength & Performance Training, Inc., who is also the strength and conditioning coach for the WNBA's Washington Mystics. "A trainer can help hold you accountable, devise a plan that is unique to your needs and abilities, and can help keep you motivated for the long haul. You will have a better chance of succeeding at your New Year's fitness goals working with a personal trainer."
Millions of people will experience what psychologists refer to as "holiday remorse." This is when the guilt feelings settle in for all the overeating and not exercising that took place over the holidays. This will prompt many people to vow to get exercising more and lose weight as the New Year begins. This year, one of the trends will be in hiring a personal trainer to help people meet those goals.
According to the Bureau of Labor Statistics, there are nearly 300,000 fitness trainers and instructors in the country. Yet not all of them are created equal, and not just anyone will be a good fit for every person. It's important for those who will work with a personal trainer to reach their fitness goals to find the right one for them. Here are some tips for choosing the best personal trainer for you:
Experience. Always opt for a personal trainer who has experience working with people like you, who has helped them achieve the types of results you are after. Inquire about the types of clientele they have helped, and if possible, get some testimonials. Perhaps you can stop by and see them in action and meet some of the people they have helped, too. Their experience is going to be needed in order to help define your program and motivate you to see it through. Be sure to also inquire about their training, certifications, and professional training experience.
Specialties. Take a look at the types of training and workouts that the trainer specializes in to see if it meets your needs. Do they only tend to work with new moms to help them lose the mummy tummy, or do they have a range of clients they have helped with their fitness needs?
Options. Most people who work with a personal trainer need some level of flexibility so that it fits their schedule. Does the personal trainer offer options that will fit your demographics and preferences? If you prefer online workouts, is that option available?
Philosophy. What is the personal trainer's philosophy regarding fitness? Do they believe in no pain, no gain, that fitness is more than just about looking good, or that you should strive to be your best and not compete with anyone else? Since fitness philosophies tend to run the gamut, it's a good idea to find out what the person stands for who you are considering working with.
Continuing Education. With the field being relatively new, there's always new research and methods that are emerging. Find out if the personal trainer keeps up on this and how they stay current on the new research in the field.
Workload. Find out a bit about the trainer's client load. You probably don't want to work with someone who schedules to the point of a client load that extends to 11+ per day (unless they only work with clients a few days a week). How much energy, attention, and preplanning can they really muster to give you what you need? Many trainers only focus on the dollar value of each hour and careen from one client to the next without a progressive plan, making up the session as they go. Look for someone who highly prizes writing training plans for their clients and who runs their business in a professional, organized, and sustainable way. Be very wary on any trainers who do not plan their client's workouts ahead of time.
Personality. Finally, it's important that you actually like the person who will be your personal trainer. It's hard to be motivated by and held accountable by someone whom you don't care for. If you will be having in-person training sessions, rather than all online ones, it's a good idea to meet the person and see how your personality gels with theirs.
Passion. Look for someone who seems to love what they are doing. If they don't love it, you probably will not get their best and cannot then achieve the best you are capable of (especially if they are working too many client hours and not thrilled by their client base).
"Once you find the right personal trainer, you will be amazed at how much more success you have at reaching your goals," added Coach Walls. "Whether you want to lose 10 pounds or 100, or you just want to feel healthier, there is a program that will help everyone meet their fitness goals. It's my job to devise the plan and help you get there. Kick this New Year off the right way, by working with a personal trainer!"
Sarah Walls has over 15 years experience in coaching and personal training. Owner of SAPT Strength & Performance Training, Inc, founded in 2007, she offers coaching to develop athletes, adult programs, team training, and has an online coaching program. She is also the strength and conditioning coach for the WNBA's Washington Mystics, and has over eight years of experience working as an NCAA D1 strength and conditioning coach and personal trainer. To learn more, visit the site: www.saptstrength.com.

SAP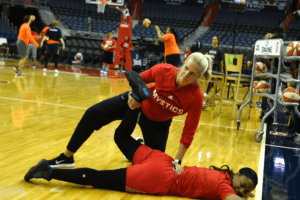 T Strength & Performance Training, Inc.
Located in Fairfax, Virginia, SAPT Strength & Performance Training, Inc. is a high performance training club that specializes in helping to develop athletes of a
ll ages. They offer athletic training programs for youth, college students, and amateurs. The company was founded in 2007 by Sarah Walls, a professional strength and conditioning coach and personal trainer with NCAA D1 experience, who is the strength and conditioning coach for the WNBA Washington Mystics team. To learn more, visit the site: www.saptstrength.com.