As a physician who frequently deals with life and death situations, it is hard to believe that Dr. Joel Reyes at one point did not even want to go into medicine. Born in Baguio City, Philippines, he grew up in a family where music was always in the air and politics, both Filipino and American, was the talk in the household. His mother was a teacher for several years, as was his father who was even the principal of a high school at one point.
Even though in 1983 they were successful owners of a restaurant and a poultry business, they decided to immigrate the whole family to the United States in order to give their children better opportunities.
Growing up in Northern California, Joel was heavily involved in music playing, first the flute, drums and then the clarinet. In middle school, his teacher gave him the school tenor saxophone, an instructional book, directed him to the practice room and told him to learn how to play. He played the saxophone throughout high school and considered music as a career until one summer when he was visiting his aunt in a hospital intensive care unit. This visit inspired him to look into medicine, and he decided, after graduating second in his class, that he would become a doctor.
He entered and successfully completed New York University's pre-medicine program, but he could not quite quit the music. In 1998, he received a bachelor's degree in music performance, Jazz/Contemporary Studies. After a year off and working in New York City, he moved to Kirksville, Missouri to attend the Kirksville College of Osteopathic Medicine, now the A.T. Still University. During this time, he received a scholarship through the Air Force's Health Professions Scholarship Program. After two years in Kirksville, he successfully completed his clinical medical school training in various hospitals in St. Louis and Kansas City, Missouri, subsequently receiving his Doctor of Osteopathic Medicine degree in 2003.
His first official assignment through the military was his pediatric residency at Keesler Medical Center, an Air Force hospital at Keesler AFB in Biloxi, Mississippi. That is where he met his future wife, Dr. Erika Gonzalez, who was also a pediatric resident in the program. In August 2005, Hurricane Katrina swept through the Gulf Coast, and as a result, the hospital and program was shut down. After picking up the pieces and moving, he finished his residency in the Naval Medical Center – Portsmouth in southeast Virginia.
In the summer of 2006, he started a pediatric critical care medicine fellowship at the Texas Children's Hospital, but after a year, Reyes transferred to the program in the University of Texas Health Science Center at San Antonio in order to be closer to his wife, whom he married in 2007. He completed his training in 2009 and was back in uniform as one of two pediatric critical care physicians in the whole U.S. Air Force.
Reyes served as a pediatric intensivist at Wilford Hall Medical Center and then the San Antonio Military Medical Center, and eventually, he took over as the medical director of the Pediatric Intensive Care Unit at SAMMC from 2011 to 2015. Starting in 2011, Reyes began working at Doernbecher Children's Hospital in Portland, Oregon on his free time.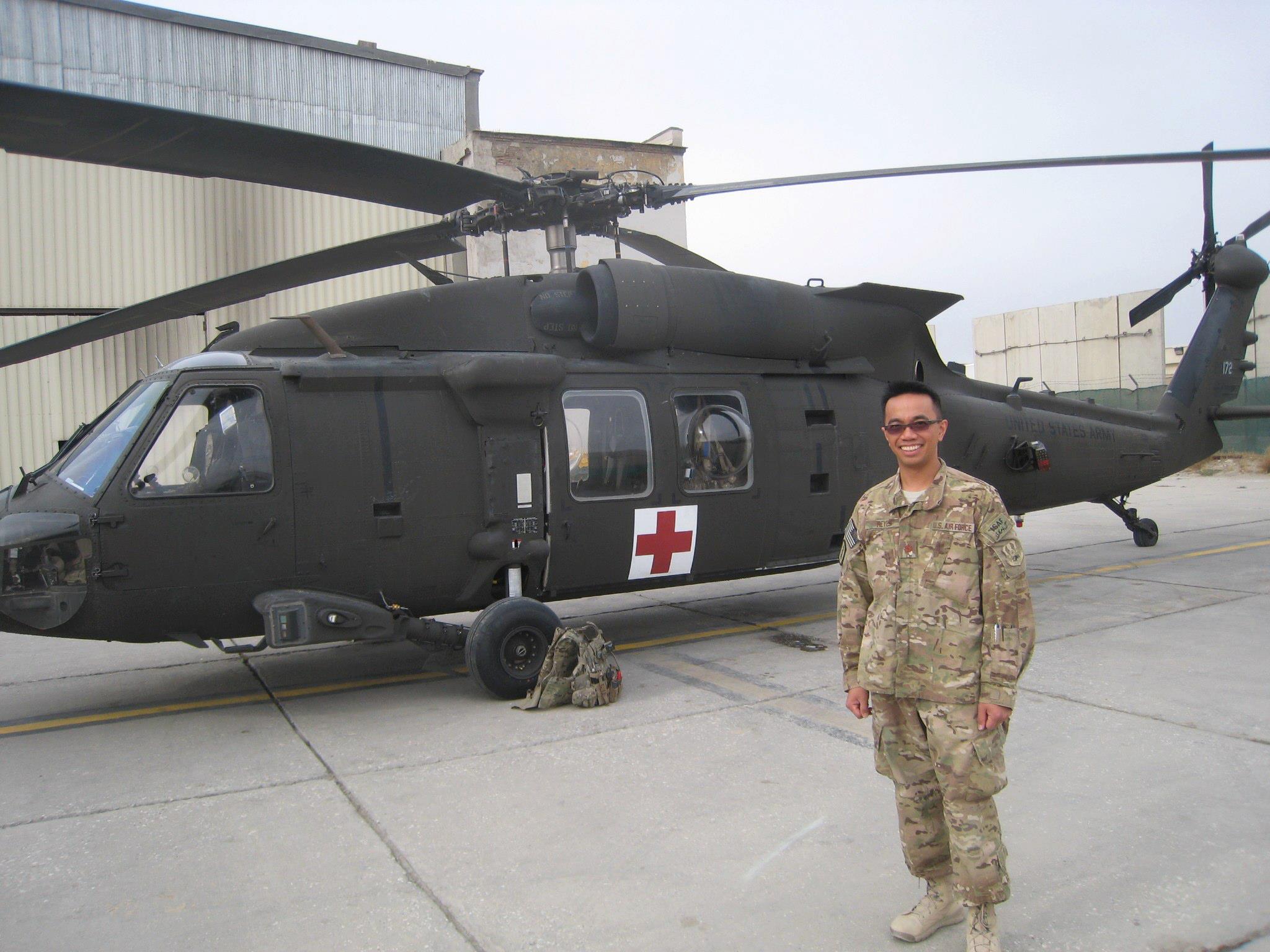 In 2012, he was deployed to Bagram Airfield in Afghanistan to serve at the Craig Joint Theater Hospital. Although he was there primarily to take care of the civilian Afghan children caught in the crossfire, as an intensivist, he was also able to assist in taking care of the critically injured American and NATO ally troops. He returned home after six months, just in time for the birth of his second son. A year after returning from his tour, Reyes was also moonlighting at the Children's Hospital of San Antonio, and he continues working with that group as a pediatric intensivist and has an appointment as an Assistant Professor of Pediatrics through the Baylor College of Medicine. In 2015, after 12 years of service, he separated from the military at the rank of Lieutenant Colonel and was awarded the Meritorious Service Medal.
In addition, he started working at the PICU in El Paso Children's Hospital at the end of 2015, which he finds especially rewarding because of the huge need of pediatric specialists in that city. He also now helps with the operations of South Texas Allergy & Asthma Medical Professionals, an allergy clinic located at Westover Hills.
Dr. Reyes is very active with the San Antonio Hispanic Chamber of Commerce and sits on the Executive Board as the chairman of the Healthcare & Biosciences Committee. He also recently joined the ARTS San Antonio board of directors and sits on the Artistic Planning committee helping bring great performers and artists to the city. He is passionate about exposing more children to the arts. He currently lives in San Antonio with his wife Dr. Erika Gonzalez-Reyes and their two 4- and 6-year-old sons, and he continues to love playing music, especially making up songs with his boys.
For more information visit www.staampallergy.com or call 210.616.5385. STAAMP Allergy is located at 10447 TX-151 in San Antonio, TX 78251.