[dropcap size=small]P[/dropcap]harmaceutical Research and Manufacturers of America (PhRMA) continúa ayudando a los usuarios de habla hispana con sus dudas de cobertura en salud a través de su completo sitio web en español, en donde PhRMA ofrece y explica de forma clara y sencilla, toda la información necesaria en cobertura en salud para usted y su familia.
A la hora de contratar un seguro medico, es importante que usted evalué las diferentes opciones de cobertura de medicamentos que cada compañía le ofrece. Para eso tenga en cuenta las siguientes 5 recomendaciones:
1. Conozca los medicamentos que están cubiertos en su plan: A través de un formulario especial, usted puede obtener la lista única y detallada de los medicamentos incluidos y no incluidos en su plan.
2. Si usted encuentra que un medicamente no esta incluido: Evalué otros planes que puedan cubrirlo, de lo contrario, usted tendría que pagar el costo completo del medicamento, o seguir un procedimiento largo para intentar hacer que su asegurador lo cubra.
3. Considere los niveles del medicamento que necesita: Los medicamentos están divididos en 4 o 5 niveles dependiendo de su precio y complejidad. La cantidad que usted paga en la farmacia, es con base al nivel en el cual esté el medicamento. Para consultar mas acerca de estos niveles, PhRMA se lo explica en su video ¿Cómo los seguros de salud cubren los medicamentos? en AccessBetterCoverage.com/espanol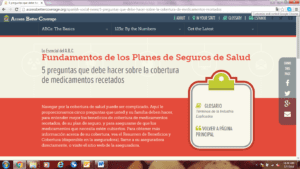 4. Tenga en cuenta que muchos planes de seguro tratan de limitar el uso de ciertos medicamentos: Su asegurador puede ofrecerle la opción de probar un tratamiento menos costoso antes de darle acceso al medicamento recetado por su médico, lo que se conoce como "terapia escalonada".
5. Algunos trámites pueden tomar tiempo: En ciertos casos, su asegurador podría requerir autorización previa por parte de su médico para suministrar ciertos medicamentos. Estos trámites pueden se complejos, alargando su tiempo de espera antes de obtener el medicamento que necesita. Para consultar mas acerca de estas limitaciones, PhRMA se lo explica en su video ¿ Cómo los seguros de salud tratan de limitar el uso de medicamentos? en AccessBetterCoverage.com/español
"Tener acceso a los medicamentos es uno de los grandes desafíos de los usuarios de los planes de salud. Es por eso que queremos que ellos conozcan cómo funciona el proceso y a qué tienen derecho en su plan de salud. De esta forma, pueden evitar largos trámites y así obtener mas fácilmente los medicamentos que necesitan" manifestó Fernando Senra, representante de PhRMA.
Para más información visite accessbettercoverage.org/espanol.