Conjunto legend Leonardo "Flaco" Jimenez is nearing his 77th birthday. While his calendar is still full — packed with fan appearances, award shows, charity benefits, music festivals and interviews — his trademark Hohner accordion doesn't get played as much these days.
After back surgery, a fall that resulted in a broken hip, and a subsequent fall that broke multiple ribs, Flaco is under doctor's orders to "take it easy" and "slow down." That means slowing down on performing and touring, and focusing on recovery.
"He said I was overworking myself by touring here and overseas," Flaco said of his primary care physician, Dr. David Champion. "He puts everything on the table and lets me know what's going on. I think he's been one of the best doctors I've had in my entire life."
That's no small praise coming from the accordion legend, a Conjunto and Tejano music star whose storied career — both as a solo artist and with the renowned groups the Texas Tornados and Los Super Seven — includes five Grammy Awards, a Lifetime Achievement Award from the Grammys, a National Heritage Fellowship from the National Endowment for the Arts, multiple Tejano Music Awards, 13 albums and thousands of sold-out shows.
"I think he's been one of the best doctors I've had in my entire life." – Flaco Jimenez
Coupled with this, Flaco has performed tours that spanned the globe and done collaborations with The Rolling Stones, Bob Dylan, Dwight Yoakum, Buck Owens, Ry Cooder, Augie Meyers and many others. Flaco is credited with bringing the accordion's distinctive sound into the mainstream by mixing his father's pioneering conjunto musical style with rock, country and bluegrass.
His latest, non-musical endeavor is sharing his healthcare journey with his team of care and telling his story as a paid spokesman for WellMed. Flaco is a patient in the WellMed Network with Dr. Champion as his primary care provider.
WellMed, a 25-year-old healthcare company founded in San Antonio, is perhaps best known for its WellMed primary care clinics that can be found in neighborhoods across San Antonio, as well as in numerous other markets in Texas and Florida. But the healthcare company also supports some 6,000 independent physicians, including Dr. Champion, in the delivery of healthcare to nearly 200,000 Medicare-eligible patients.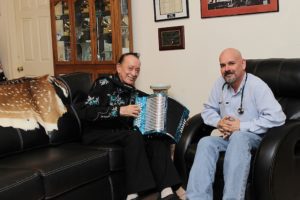 Flaco signed a waiver regarding patient confidentiality in agreeing to have Dr. Champion share his healthcare story. Flaco was "inherited" as a patient by Dr. Champion from a former physician at San Antonio Premier Internal Medicine on the South WW White Road.
At first, Dr. Champion couldn't believe it when the "King of Conjunto" was sitting across from him in an exam room. A casual musician himself, Dr. Champion was more than familiar with the musical legend and his work.
"I saw the name but didn't put it together at first. Then I looked up and thought, 'No, that's not him. Is it? Nah, can't be.' Then I realized it was Flaco, and I was a little star struck," shared Dr. Champion with a smile.
Since that first meeting, Flaco and Dr. Champion have developed a level of trust between them that extends beyond the patient-doctor relationship. "He's a musician like I am so we get along really well. After all of my questions have been answered, we'll talk about music," beamed Flaco.
As part of the WellMed Network, Dr. Champion coordinates Flaco's healthcare needs in line with the WellMed Care Model, which focuses on prevention and coordinated care. When it looked like back surgery was on the table, he spent the extra time with Flaco to talk through the ins and outs of the procedure. "He lays it all out on the table," Flaco said of his doctor. "He listens to me. He doesn't try to speak above me or around me. We have a conversation and we continue talking until I understand the plan."
"Even if just one fan is there…I will be too." – Flaco Jimenez
In early 2014, Flaco underwent back surgery for three herniated lumbar disks. Soon after, he fell and broke his hip, which required yet another surgery.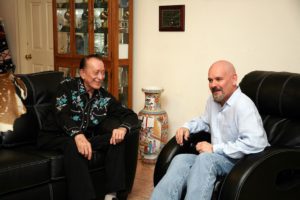 Each time, Dr. Champion came to the hospital and managed his care with the hospital staff. Yet another fall resulted in broken ribs, but Flaco was home within three days. He is still recovering and seeing Dr. Champion regularly, with his son Leonard Jr. accompanying him to appointments. Leonard Jr. coordinates with Dr. Champion as his father's caregiver, and he manages his appointment schedule and medication routine. Leonard does the same for his mother, Flaco's wife Adela, who also sees aWellMed physician at the southwest military clinic.
Flaco and Dr. Champion continue to work together to help Flaco stay as healthy as possible, so he can get back to what he loves—playing music for his fans. With careful management and medical support, he could return to touring the country, and world, at an age when most are retired. "Even if just one fan is there," Flaco says, "I will be, too."
He counts his doctor as one of his fans. And, Flaco says, the feeling is mutual.