Although Eric Castillo had no previous high school football experience, it didn't stop him from chasing his dream of playing at the college level.
His experience as the oldest walk-on at 30-years-old for the University of the Incarnate Word football team, along with the obstacles and personal demons he had to overcome to get there, is relived in the documentary, "The Power of a Dream,"premiering at 6 p.m. Sunday, July 26th at the Palladium IMAX. Produced by Taylor Trash Productions, the film features Heisman Trophy winner Ricky Williams and NFL superstar Lenny Walls.
"I think his leap of faith to the football field was secured by his determination and drive created from all that he lost up until this point in his life," Williams said. "It's something about how football works with camaraderie that awakens something in everybody. Eric built a bond with a lot of people based off his work ethic. His story will change the direction in many lives as he continues to share it to the world by paying it forward."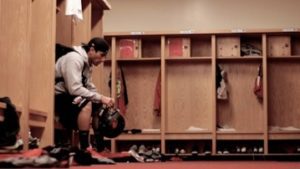 At 19-years-old, Castillo was running a successful landscaping company and had contracts with major homebuilders. He also married but soon found himself battling alcohol addiction.
"I was drinking heavily at that time," Castillo said. "I ended up losing all my contracts, my wife and two sons."
He almost nearly lost his life as well, when in an angry, drunken state, he punched his hand through a window. He almost bled to death until his brother, who is a firefighter, happened to be visiting and applied first aid. Castillo whiled away his time in front of the TV at his parent's home until he took up running. He also researched videos to learn to regain use of his hand. Working out soon became his passion, and he began training others.
"I still felt there was something more I needed to do," he said. "That's when I decided I wanted to play football."
He applied at several junior colleges until considering UIW, but he was denied until former Mayor Ed Garza wrote a letter of recommendation. "I got a call the next morning saying I had been accepted," Castillo beamed.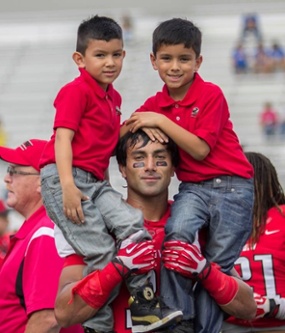 It was now time to pay his dues. "I was the ball boy on the sidelines, but I didn't care," he said. "I volunteered for everything because I was living my dream."
After three years, Castillo's hard work paid off when he was one of 95 players selected for the Division I camp. It wasn't until the last game of the season that all he had worked for became a reality, albeit brief, when head coach Larry Kennan called him in to play.
"I worked three years for 10 reps, but it was worth it," Castillo recalled. "But that wasn't the highlight. I had gotten my sons back, and they were there to see me play."
Admission to the July 26 premiere is $15 with $5 of each ticket benefiting Breaking Down Walls, a nonprofit that provides San Antonio Youth affordable sports learning programs and mentorships.
Tickets can be purchased through Event Brite. For more information visit www.thepowerofadream.net or call 210.833.8786.