Looking at Eric Castillo's 6-foot-1, 190 pound shredded physique, it's hard to imagine he once tipped the scales at 230, back in the days when he admittedly was not in the best shape.
"This was during a time when I was drinking a lot and not living a healthy lifestyle," he said.
Today, you'll find the 32-year-old speed and agility coach for high school and college athletes pushing his body beyond its comfort zone.
"People thought I was crazy. They said I was too old"– Eric Castillo
Going to the maximum extreme, however, isn't something new to Castillo, whether it be in the gym, on the track or chasing a dream — just as he did when, at 30-years-old, he was the oldest walk-on for the University of the Incarnate Word football team despite having zero high school experience on the field.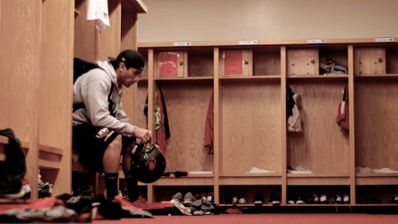 "It was a goal I knew I had to achieve," he said. "People thought I was crazy. They said I was too old."
Castillo's inspiring story of determination and perseverance along his road to playing football and the obstacles he encountered, including a battle with alcohol addiction, are chronicled in the documentary, "The Power of a Dream," which premieres at 6 p.m. Sunday, July 26th at the Palladium IMAX in San Antonio.
Produced by Taylor Trash Productions, the film also features Heisman trophy winner Ricky Williams and ex-NFL cornerback Lenny Walls. As Castillo continues to help young athletes pursue their dreams, he offers advice to seniorTexas MD readers about the benefits of maintaining their functional fitness.
For more information, visit www.thepowerofadream.net.
Read Eric Castillo's tips on functional fitness here!