Evelyn Nicol may be 94-years-old, but she is actually number one. Erasmo De La Rosa is 85-years-old, but in truth, he is number seven. They are members of an exclusive, but growing, club of South Texans whose lives were dramatically improved by the Transcatheter Aortic Valve Replacement (TAVR) procedure at Christus Spohn's Shoreline campus.
Evelyn was the very first patient to benefit from the procedure, and Erasmo was the seventh.
TAVR is a minimally invasive procedure that implants a new aortic valve in the heart. The procedure is usually done via a small incision that allows access to the femoral artery in the groin area so that a catheter can be used to bring the new valve up to the heart for insertion.
It's a procedure that works well with older patients for whom an open heart procedure is either too risky on its own, or they also have other medical conditions that make this surgery technique preferable.
Since TAVR was approved by the U.S. Food & Drug Administration in 2013, nearly 60 patients have undergone the procedure at Shoreline, with uniformly good results. Christus Spohn is the only health system in the Coastal Bend to offer TAVR.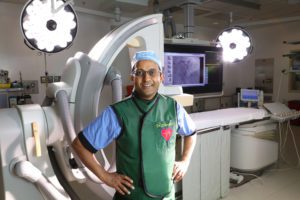 Dr. Srikanth Damaraju set up the TAVR team at Christus Spohn, and it really is a team, with as many as 15 doctors, nurses and technicians in attendance at each TAVR procedure. The surgery itself is done in only an hour or so, but the pre-planning takes up to four weeks for each patient. The team consists of four cardiologists, three cardiovascular surgeons and three cardiovascular anesthesiologists.
"We meet with every patient, learning everything we can about not only their heart issues but other medical issues they are dealing with," Dr. Damaraju says. "Then, our whole team sits down in conference to talk about the individual patient's circumstances. Each person is unique, with their own specific situation. There's no one-size- fits-all approach here."
An interventional cardiologist, Dr. Damaraju came to Corpus Christi in 1998 with his wife, Dr. Shamim Badruddin-Mawji, who is also a cardiologist. A native of India, he went to medical school there, and he completed his medical residency at Baylor College of Medicine in Houston, followed by an Interventional Cardiology fellowship at the Texas Heart Institute in Houston.
"By the time you get to be in your 70s, 80s or 90s, that aortic valve has opened and closed literally billions of times." -Dr. Srikanth Damaraju
"I've worked with Christus Spohn since I came to Corpus Christi," he says. "They have been great and encouraged us to embrace the latest procedures and technologies. Their commitment has allowed me to start a number of interventional cardiology programs here, and TAVR is the newest program."
Dr. Damaraju notes, "The aortic valve is about one inch in diameter, and it allows the heart to eject blood and then close to keep the blood from leaking back in. That's critical to the constant blood circulation which keeps us alive."
"The heart beats 110,000 to 120,000 times a day," adds Dr. Damaraju, explaining that, "By the time you get to be in your 70s, 80s or 90s, that aortic valve has opened and closed literally billions of times. When we are young, the valve is very flexible and soft. But as we get older, it has worked so hard for so long that it becomes almost like scar tissue, with the opening becoming smaller and smaller. It can get to the point where the valve opening is the size of a pinhole, making it very difficult, almost impossible, for it to do its job of moving the blood in our system."
When the aortic valve becomes that inefficient, patients experience extreme fatigue. "At night, while they sleep, the valve can keep a reasonable blood flow going," Dr. Damaraju says. "But once they get up and start moving around, the valve becomes over-worked almost instantly. It can lead to heart failure, and we see some patients who are admitted to the hospital almost monthly due to these kinds of heart failure issues."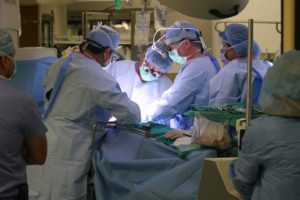 The good news, Dr. Damaraju says, is that people are living longer. The problem is that the longer you live, some things finally wear out, and the aortic heart valve can be one of them.
"For some 50 years, surgeons have been dealing with these issues by cutting open the chest, for open-heart surgery, and putting in new valves. But, TAVR allows us to put in a new valve through a minimally invasive procedure. The new valve is fully collapsible so it can be delivered by the catheter, and then it is expanded, increasing blood flow almost immediately."
The Shoreline campus' TAVR program began in 2014, just months after FDA approval, and Evelyn, who lives in Corpus Christi, was the first patient to have the procedure.
"I have had a long, full life, but I have been in and out of the hospital a lot," she shares. "A couple of years ago, I nearly died because of these heart issues, but my family told me to keep fighting. The doctors at Christus Spohn kept me alive and really worked with me. I met Dr. Damaraju and his team. They started to talk with me about this new TAVR procedure, which had never been done before in this part of the country. They told me that I would be the first patient to have it. Dr. Damaraju said, 'Evelyn, you are strong, you're able to do this.'"
Evelyn recalls that her family really wanted her to undergo the procedure, and she said yes. "It's been a good decision. I feel good and have not been hospitalized since I had the procedure. I keep in touch with them at Christus Spohn; they like to check up on me," explains Evelyn, adding, "I've been lucky to have such wonderful people working with me, and they've stayed right with me all the way."
"They told me that I would be the first patient to have it. Dr. Damaraju said, 'Evelyn, you are strong, you're able to do this.'" -Evelyn Nicol
"I've had serious health issues since I was born," Evelyn says. "I was told that I wouldn't be strong enough to go to school, that I wouldn't be strong enough to go to college. But, my parents were stubborn and went out of their way to see to it that I could manage on my own. I was the youngest of six children, and everyone in my family kept saying 'You can do it Evelyn!' My brothers encouraged me to be a runner as a young girl, and I won a race and beat all the boys! I wound up going to North Texas State in Denton, taught school for a number of years in Corpus Christi and then got married, and I've lived here for almost all of my life."
"I'm a fighter," Evelyn declares with a smile. "I'm proud to have been number one in having this TAVR procedure. I've met some of the other people who have had it, and it's made a difference for them too."
"I'm used to being in charge of my life, and it's not easy being 94-years-old. But, I'm glad I'm still here," Evelyn shares with a grin.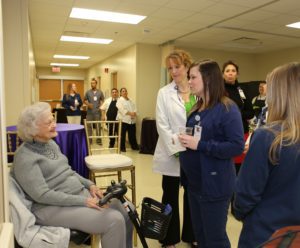 For Erasmo De La Rosa, who lives on seven acres of country heaven outside Orange Grove near Alice with his wife, Guadalupe, it got down to not being able to take a shower without leaning against the wall and resting.
He grew up in San Diego, Texas, joined the Navy, married Guadalupe, and then lived and worked in Corpus Christi, before retiring "for the first time" in 1985. They bought their place in the country and have lived there for 31 years.
After working for another five years to keep busy, he finally "really retired," but then he began to suffer from unusual fatigue and shortness of breath, which led to bypass surgery in 1998. But even after the surgery, his family doctor, Dr. Michael Neff in Corpus Christi, kept telling him, "I can still hear a murmur in your heart."
As time passed Erasmo's condition didn't improve. "I got to the point where I couldn't walk more than 200 feet without stopping and resting. Taking a shower was an effort and, finally, even getting out of bed was exhausting," Erasmo recalls.
For a man who prided himself on taking care of all the chores, cutting the grass and clearing brush, the situation had become untenable.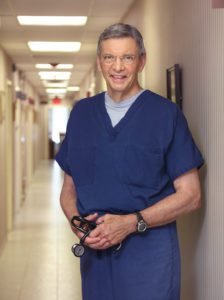 "Dr. Neff told me I needed to make an appointment with a cardiologist, so I went to see Dr. Ray Graf in Corpus Christi. We did some tests and he told me about this new TAVR surgery and said I might be a good candidate for it," Erasmo recounts. "Then, we consulted with Drs. Mark Morales and Mark Bielefeld, who have done TAVR procedures at Christus' Shoreline campus. We did more tests, and everyone agreed that we should do the surgery."
"I had a lot of confidence in the doctors, felt good about this procedure and what it could do for me, and my family was all for it," Erasmo says. "I wanted to feel better and get my energy back, so we did it [the TAVR procedure] at the Shoreline campus on August 17th , 2014, and they told me I was the seventh person to have it."
"What I would say to anyone who is considering having the TAVR is: Do it!" -Erasmo De La Rosa
To say that Erasmo is thrilled with the results is an epic understatement. As he describes the impact on his life, every sentence ends with an exclamation point.
"It has really worked! It's the best thing that's happened to me. Now, I get on my treadmill and do a mile and a half, and I'm able to work outside. I told Dr. Neff just a few weeks ago that I'd spent 30 minutes working with my weed eater with no problem at all," Erasmo shares happily. "Now, he tells me, 'When I listen to your heart, I don't hearing anything out of the ordinary!' Do I have more energy? Gosh, yes! What I would say to anyone who is considering having the TAVR is: Do it!"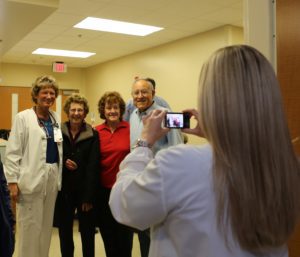 When Christus Spohn held a reunion of its TAVR patients last year, Erasmo went, thinking that, at then 84-years-old, he would be the oldest one there.
"But I met Evelyn Nicol there, and at 93-years-old, now 94, she took the prize," he says admiringly.
Evelyn Nicol and Erasmo De La Rosa are two people who share an experience that brought them from a bad place to a very bright place, and their lives are much the better for it.
For Dr. Damaraju, the TAVR procedure is another big step in the evolution of surgery.
"Doctors are all interested in less-invasive procedures," he says. "The less you invade the body, the quicker the recovery. For many patients who are at an age where open-heart surgery just doesn't make sense for them, the TAVR procedure can be a difference-maker. The impact on quality of life is profound."
To learn more about Christus Spohn Cardiac Programs visit www.christusspohn.org/heartinstitute or call 361.881.3000.