[dropcap size=big]
D
[/dropcap]
r. Thomas Jeneby was born into a family of physicians. His father was an obstetrician-gynecologist, and his mother held a Ph.D in Organ Transplant and helped found one of the early labs in the country to match organs to donors. Most of his extended family included doctors. So, naturally, he entered the profession.
"It was something where I didn't think about being anything else," Jeneby recalls.
The Washington D.C. native attended college at James Madison University, graduating with a bachelor's degree in biology. He studied medicine at Virginia Commonwealth University, where he finished in the top 10 percent of his class and was the Alpha Omega Alpha Medical Honor Society president. After attaining his medical degree in 1996, Dr. Jeneby was invited to continue his education via an Ivy League school, and he chose to carry out his residency through the University of Pennsylvania system.
Initially, he had been on track to focus on neurosurgery or cardiac surgery, but Dr. Jeneby got the idea to include an evaluation of the entire body in his school rotation. This opportunity afforded Dr. Jeneby a chance to further explore plastic surgery.
"It was hard, but it formed the foundation for an incredible education"
So, upon choosing Penn, he completed his residency in the school system's prestigious plastic surgery division, where only two spots are opened per year. Dr. Jeneby trained in adult and pediatric plastic surgery. He says plastic surgery interested him because it gives him a chance to help people literally reshape their appearance and outlook on life.
"It was hard, but it formed the foundation for an incredible education," he shares.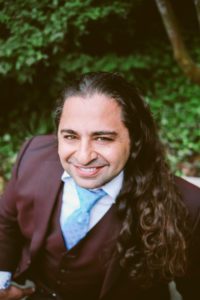 Practicing since 2002, Dr. Jeneby found his way to San Antonio in 2004 and launched the Plastic and Cosmetic Center of South Texas. He is also the medical director at Spa Black Laser Lipo and Cellulite Therapy; both practices are located in the same facility on Wurzbach Road.
Over his professional career, Dr. Jeneby has performed thousands of face and body surgeries, specializing in makeover plastic surgeries. He is regarded by many observers as one of the more notable plastic surgeons in the San Antonio area, as well as in Austin.
Dr. Jeneby has racked up honors and accolades for more than a decade. He was appointed a diplomat of the American Board of Plastic Surgery (ABPS) in 2003. Readers have chosen him as a top plastic surgeon in Consumer's Guide to America's Top Plastic Surgeons magazine, San Antonio Magazine and as a top physician in S.A. Scene magazine. In 2012, the ABPS re-certified Dr. Jeneby with a score of 91 percent.
Dr. Jeneby has taken advantage of opportunities to learn new technologies in his field and provide training to counterparts, such as Lipotherm, Smartlipo Laser Lipo, and DOT (Dermal Optical Thermolysis) Therapy Laser Resurfacing. SmartLipo is where a laser is placed under the skin and helps melt fat away and shrink the skin. The body essentially "absorbs" the melted fat.
"It's how you can make a difference. You can unwind years of insecurity and even rebuff genetics"
Dr. Jeneby was the first local plastic surgeon to use Laser Lipo and DOT Therapy Fractional Co2 Laser Resurfacing in town. The latter is a procedure for removing wrinkles and acne scars. Coupled with this, Dr. Jeneby was the second plastic surgeon in the United States to get Custom Acoustic Lipo (Vibra-lipo) technology in the country and train other surgeons on it. He has been a national speaker on wound care, and he's lectured internationally on adjustable breast implants.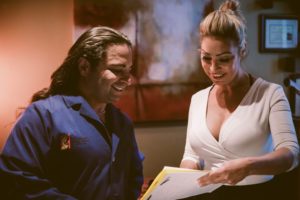 Additionally, Dr. Jeneby specializes in Brazilian butt lifts, tummy tucks, brow lifts, rhinoplasty, breast reduction, lip augmentation, otoplasty and the so-called "mommy makeovers."
Most of his surgeries are cosmetic in nature, although he does perform reconstructive procedures. While women account for most of Dr. Jeneby's clientele, the men who do see him go in for liposuction, brow lifts and mini-face lifts.
He has carefully taken note of the "trends" in plastic surgery over the past 20 to 25 years. He recalls how comprehensive surgery was the rage in the 1990s, but then people turned to minimally invasive laser surgeries in the 2000s.
"Now the pendulum has swing back somewhere in the middle," Dr. Jeneby says. "If you can do some bigger surgery and some minimally invasive surgery with laser, both are hugely complementary of each other. Plus, Botox and fillers of different kinds are emerging all over the place."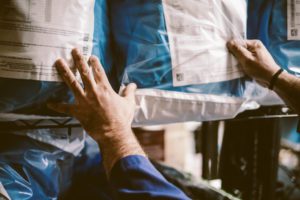 Dr. Jeneby and his practices strive to remain connected with current, past and potential patients using social media. Aside from his main practice website, Dr. Jeneby has an exceptionally professional presence on Facebook, Twitter, Pinterest, YouTube, Instagram, Snapchat and Google Plus.
"Social media is becoming more important than general advertising to educate, answer questions and reduce fears"
On one average day, for example, Jeneby's professional Twitter account provided informational links about different kinds of procedures, the benefits of one procedure over another, and special deals available at either practice.
He crafts his blog posts to help readers determine whether they would be a candidate for rhinoplasty surgery, whether a breast lift is preferable to breast augmentation, or the best time for a body lift as opposed to liposuction.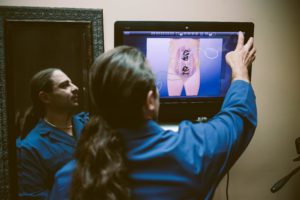 Occasionally, he even demonstrates surgery live to his Snapchat followers, which number more than 52,000; his handle there is DrJenebyTV. While Dr. Jeneby does not handle all of his social media directly, colleagues help out in communicating to clients and the general public.
"Social media is becoming more important than general advertising to educate, answer questions and reduce fears," he espouses.
Dr. Jeneby has a staff filled with congenial professionals who carry out an array of roles, from those in the operating room to patient relations coordinator. Some staff members work both in the Plastic and Cosmetic Center and at Jeneby's Spa Black.
Dr. Jeneby's office is accredited by the Joint Commission for Office Based Surgi-Centers (OBS), which reviews and accredits more than 19,000 healthcare organizations and programs nationwide.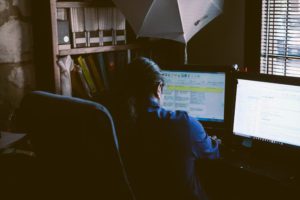 Dr Jeneby's practice includes most basic laboratory functions on site. A patient's friends and family can wait in a concierge room while he or she undergoes surgery.
Dr. Jeneby also volunteers time supporting community causes. He has provided services to individuals through Family Violence Prevention Services, formerly the Battered Women and Children's Shelter. He offers discounts on procedures for military personnel and raises money for local charities such as SA Youth. He is raising funds this year for SA Youth's Chips `N' Salsa King, a Fiesta royalty role the good doctor claimed in a previous year.
In another fundraiser last year, Dr. Jeneby's practice threw a "Dancing with the Stars"-themed benefit for Family Endeavors.
Dr. Jeneby enjoys spending his personal time traveling, working out, reading and with his family—his recently married wife Ashliegh Thormann and stepdaughter Kallie Armstrong. Naturally, he enjoys his career, but the doctor really loves that it affords him the opportunity to give back to the community and help change people's lives in profound ways.
"It's how you can make a difference. You can unwind years of insecurity and even rebuff genetics. It's amazingly rewarding," he shares with a warm grin.
For more information visit drjenebyplasticsurgery.com or call 210.762.4901. You can also connect with Dr. Thomas Jeneby on Facebook, Twitter, Instagram, YouTube, Google+ and Snapchat. The Plastic & Cosmetic Center of South Texas is located at 7272 Wurzbach Road, Suite 801 in San Antonio, TX 78240.