Noted healthcare writer, surgeon, and Harvard professor Dr. Atul Gawande visited McAllen in 2009 and wrote a landmark article for The New Yorker magazine delving into the reasons the South Texas community was among the most expensive healthcare markets in the country. Dr. Gawande cited examples of physicians ordering unnecessary tests, procedures, and hospital stays as contributing to high Medicare costs.
Earlier this year, Dr. Gawande revisited the subject and the state of healthcare delivery in the Rio Grande Valley to see if things had changed. He interviewed a doctor who joined WellMed Medical Group about the time the first article was published in 2009, and he found that this physician was playing a key role in changing the medical delivery system for Medicare patients for the better.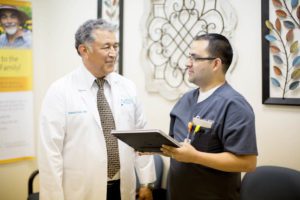 Dr. Armando Osio, lead physician at WellMed at Cross Roads in McAllen, has not only served his patients for most of his life, but he's also served his friends, family and community. Writing for The New Yorker in the May 5th, 2015 issue, Dr. Gawande hailed Dr. Osio's work and the WellMed Care Model, which he believes played a role in helping bring Medicare costs down approximately $3,000 per patient.
WellMed physicians, Dr. Gawande noted, see fewer patients, spend more time in patient visits, and are financially rewarded for showing "measurable quality improvements," including reduced hospital admissions and better patient satisfaction.
Dr. Osio recounted a story of an elderly patient who suffered a fall and a fractured spine. Still in pain after being released from the hospital, the patient called WellMed at Cross Roads and was scheduled to see Dr. Osio the same day. He was treated and sent home at a cost of no more than $100.
A few years ago, an overcrowded patient load would have prevented Dr. Osio from seeing the patient immediately, resulting in an ER visit, probably another hospital stay and, Dr. Gawande noted, a more costly medical bill in the thousands of dollars. With the WellMed Care Model, "the patient got swifter, better care," he wrote in The New Yorker.
After that article, Dr. Osio and WellMed's approach to preventive medicine were thrust into the national spotlight regarding the need to curb unnecessary testing and healthcare spending. Dr. Gawande's work is regularly followed by healthcare policy analysts in Congress and the White House. Numerous national healthcare writers and researchers cited The New Yorker article and Dr. Osio's role in it.
"The type of work we did opened my eyes as to how hard life would be without a good education…it helped us develop bigger and better dreams for our future and our children." – Dr. Armando Osio

It's a far cry for a physician from humble beginnings. Born in 1951 to a family of migrant workers in Crystal City, Texas, the Osio family would regularly move between Chicago and Cotulla. Every March, the family would make their way north where Dr. Osio's father would work as a bricklayer.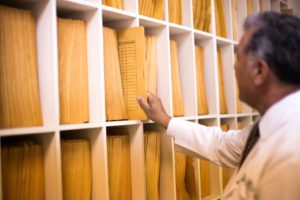 His mother understood the importance of education for her children. She would withdraw the students from school on the Friday before the move from Cotulla and then have them in class on Monday in Chicago.
Then in the summer, the children over 12-years-old would work the fields with their mother.
"My mother, my sister, and I would work the field harvesting spinach, tomatoes and other vegetables," Dr. Osio said. "The type of work we did opened my eyes as to how hard life would be without a good education. It was one of the motivating factors in our lives, and it helped us develop bigger and better dreams for our future and our children."
The Osio family permanently moved back to Cotulla in 1967, the same year Dr. Osio started high school at Cotulla High School. After graduating high school as valedictorian in 1970, young Armando Osio didn't have a desire to pursue medicine. In fact, his plan was to go into engineering. What changed his future was a summer job right before college as an orderly at Edinburg Hospital.
"I liked WellMed's concentration on preventive medicine, and that's why I joined." -Dr. Armando Osio
"I really enjoyed being in the hospital," he said. "Even though it was not a very nice job as an orderly, since we did the job no one likes to do, I liked being with the people and treating them."
That experience motivated him to pursue a career in medicine. He attended Texas A&M University and then Texas Tech University Health Sciences Center School of Medicine for medical school, where he earned his medical degree in 1980.
After completing his residency in El Paso in 1982, Dr. Osio returned to South Texas—specifically, Edinburg, Texas. He spent the next 10 years here, working with his wife's cousins in a family medical practice.
During this time, he started a three-decade-long friendship with Carlos Molina. The two knew each other from their time at the Emmanuel Baptist Church in McAllen. Their friendship went beyond both families breaking bread together after church services.
"He's been my doctor, my daughters' doctor, my mother's and my brother-in-law's doctor," Molina said. "Even though he can't see me now because I'm not a senior citizen, he still has my doctor and my daughters' doctors call him."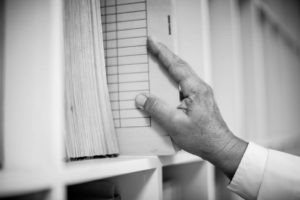 Dr. Osio went into solo practice in 1992, and he accepted an offer to work at the McAllen Medical Center emergency room. The 24-hour service of the emergency room became too much so he decided to leave after six months. On the drive home from the ER one day, he saw an empty medical building. It inspired him to contact the landlord and open his own practice there.
Starting off slowly, his practice began picking up. Over the years he saw children, parents, teachers and athletes. As his practice grew, so did the work behind the scenes. "After the clinic was closed, it would take three to four hours more to finish up the administrative work," Dr. Osio said.
In 2010, leaders at WellMed contacted Dr. Osio. At the time, WellMed was expanding and looking to contract physicians in the Rio Grande Valley to accept patients under their model. WellMed's approach to preventive medicine was very attractive, Dr. Osio recalled.
"During my training in medical school, I did some summer work with the preventive medicine department, and I enjoyed that part of the practice of medicine," Dr. Osio said. "I liked WellMed's concentration on preventive medicine, and that's why I joined."
He started seeing WellMed patients in 2010 as a contracted physician and decided to join the WellMed Medical Group as a full-time physician three years later.
The benefits were numerous. He didn't have to keep a crowded patient panel just to make ends meet. He could see fewer patients and spend more time with them, while still making enough money to pay the light bill.
When Dr. Gawande first wrote about the situation in McAllen for The New Yorker in 2009, the medical community across the country, and particularly in South Texas, took note.
"A lot of the costs were due to over-utilization and duplication of studies," said McAllen physician Dr. Luis Delgado, who is a contracted primary care provider in the WellMed Network. "The article was a wake-up call for us to look introspectively to see what we're doing and to be a little more aware of what's happening."
For Dr. Osio, the issue he saw in McAllen was not only the sheer amount of tests ordered for a patient, but also a lack of understanding about whether the test results will make an impact on the patient's treatment. If a patient at WellMed at Cross Roads complains about back pain, the staff already has the patient's history so there may not be a need to order a slew of tests.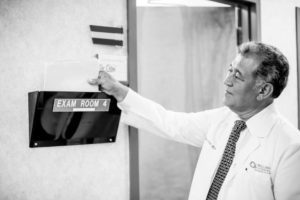 Dr. Osio said his new patients have noticed the WellMed difference, often remarking that with their former healthcare provider, they would only see the physician for a few minutes a visit. Because WellMed focuses on an older patient population, who often have one or more chronic conditions such as diabetes, heart disease or chronic emphysema, the WellMed Care Model stresses the need to spend time understanding a patient's needs.
"We're with patients for at least 30 minutes or more," Dr. Osio said. "We explain what we're treating and what we recommend, and some would say, 'You know what, this is the first time someone has sat with me to talk about this. You get an A+.'"
For more information on WellMed call 1.888.781.9355 or visit www.wellmedhealthcare.com. WellMed at Cross Roads is located at 1301 E. Fern St, Suite B-3 in McAllen, TX 78501. To contact the clinic and Dr. Armando Osio call 956.971.9548.