When Drs. Michael and Patrick Sander left the Rio Grande Valley for college about 20 years ago, its towns and cities were small and the landscape agricultural. But there was more than sorghum, corn and cotton coming up in late-90s Hidalgo County. The population was growing, too.
According to the McAllen Chamber of Commerce Economic Scan, between 1990 and 2000, the McAllen-Edinburg-Mission metropolitan statistical area grew from a population of 383,545 to 569,463, an increase of almost 50 percent. By 2013, it swelled by another 54 percent to almost 878,000.
Furthermore, the Rio Grande Valley Chamber of Commerce reports that based on census population estimates from April 2010 to July 2014, the Valley grew to 1.3 million people. "It is anticipated this growth will continue for the foreseeable future," according to the RGV Linking Economic and Academic Development 2015 Labor Market Report.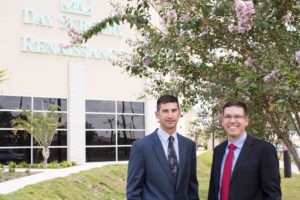 Fortunately, the founders of Doctors Hospital at Renaissance Health System (DHR) were alert to the growth and opened their facility's doors in 1997, increasing healthcare access to the flourishing area. Coupled with this, Dr. Michael Sander returned in 2006 to open his medical practice and his brother joined him in 2010.
The orthopedic surgeons said they love where they live and practice medicine, and they have restructured their business model to work specifically in affiliation with DHR's Renaissance Medical Foundation, a nonprofit organization employing and managing physician practices. The doctors' focus is to provide comprehensive services at the Orthopedic Institute at Renaissance, where last year 500 orthopedic patients were admitted for 700 procedures.
In turn, DHR plans to build a free-standing, multi-level facility to house the Institute, replete with physician offices and outpatient amenities such as imaging services, treatments and therapies. Construction is scheduled to begin this winter adjacent to the DHR outpatient surgery center, said Marissa Castañeda, DHR senior executive vice-president and chief operations officer.
"The Orthopedic Institute is going to allow for centralization of patient care…we will truly have a team approach to patient care." -Dr. Michael Sander
"Our young and growing community is becoming more active with children, teens and adults participating in sports, and we understand injuries are bound to occur. At the Orthopedic Institute, patients will be able to find a wide array of services under one roof," explained Castañeda warmly. DHR also plans to eventually add orthopedics to its impressive lists of residency programs offered in partnership with the University of Texas Rio Grande Valley.
The Sanders are clearly excited and on board with the plan. "We grew up in Weslaco. We know there are a lot of medical needs here," said Dr. Patrick Sander.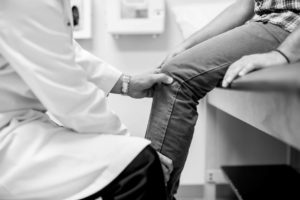 Dr. Michael Sander explained that, "The Orthopedic Institute is going to allow for centralization of patient care. With physicians, nurse practitioners, therapists, and advanced imaging in one place, we will truly have a team approach to patient care. It's just much easier when everyone is in the same building."
"It will really enhance coordination of care and patient convenience," he added with a smile.
Specifically, the Institute will bring together multiple healthcare providers, including orthopedic surgeons, sports medicine specialists and physical therapists. It will offer physical therapy, cold therapies and heat treatments, as well as ultrasound-guided injections. Onsite imaging services will include ultrasound, x-ray and magnetic resonance imaging. Physicians will be able to provide non-operative fracture care. "Surgeries will be done at the hospital or the new outpatient surgery center (Day Surgery at Renaissance)," Dr. Michael Sander noted.
"At the Orthopedic Institute, patients will be able to find a wide array of services under one roof" – Marissa Castañeda, DHR senior executive vice-president and chief operations officer.
The Sanders, both certified by the American Board of Orthopedic Surgery, already provide a wide range of orthopedic care. Beginning with evaluation, diagnosis and testing, they offer hip and knee joint replacement, anterior cruciate ligament (ACL) reconstruction, and knee and shoulder arthroscopic procedures.
Athletic injuries, in adults as well as students, account for about 50 percent of their practice. "We are team physicians to half a dozen local high schools," said Dr. Michael Sander, adding, "but we see a lot of 'winter Texans,' active adults who live here in the winter because of the warmer climate. The weather here is great for outdoor activity and these adults do things year-round: play golf, hike or go kayaking."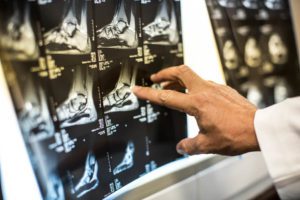 In many athletic patients, the doctors see a lot of overuse injuries. "Most treatment is non-surgical," Dr. Patrick Sander noted.
In non-athletes, the most common concern is knee or shoulder problems related to arthritis or rotator cuff troubles from tendinitis or tears. "Certainly, tears can be the result of athletic activity, from swinging a tennis racket or a golf club, but they can also be from lifting heavy things on a job. The more you use your body to work, the more you have to take care of it," explained Dr. Michael Sander.
Treatment, of course, varies according to type and degree of injury or condition. "Patients are looking for anything that will help," Dr. Michael said. "The biggest advances in care are in the ability to limit pain, rehabilitation services and limiting blood loss in surgery."
Regardless of diagnosis or treatment, Dr. Patrick noted, "Athletes are the first to ask, 'When can I get back to …' whatever sport they are in." So, the doctors are clear about desired outcomes.
Dr. Michael shared that, "The core of orthopedics is to keep people moving so they can do what they have to do and what they want to do. It's all geared toward keeping people moving. I like what I do because it allows people to continue pursuing their life."
Although the pursuit of medicine sent the Sanders away and brought them back, their deepest tie to the RGV is family and community. "Our family is still here. We love the community as well," said Dr. Patrick with a smile.
When they were growing up, the Sanders' father operated a local, independent drug store. The brothers said high school prepared them well for college and eventually Michael enrolled at the University of Texas at Austin, while Patrick enrolled at its rival, the University of Oklahoma. "Our sister attended Texas A&M," Dr. Patrick quips, but the family is hardly divided. They all gather every Sunday after church for lunch.
Dr. Michael said, "The quality of life here is good. We are within an hour of the best deer hunting and fishing available. In the winter, we don't suffer from severely cold weather. The area is growing immensely."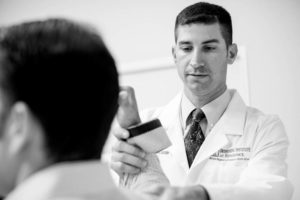 This expansive growth continues to figure directly into the plans of DHR leaders. "As the population in the Rio Grande Valley continues to increase," Castañeda said, "we want to ensure we are able to provide all areas of medical care. Offering orthopedic medical services is a part of DHR's mission to provide world-class comprehensive healthcare."
Dr. Michael said, "Overall, the thing that excites me most about the Orthopedic Institute is the vision to bring patient musculoskeletal care — surgical, non-surgical and the various sub-specialties that have developed over the years — under one roof."
He concludes with excitement, "Right now, in the RGV, orthopedic care is fragmented. The Orthopedic Institute at Renaissance is the first place in the region to have multiple orthopedic specialists in one place. It is a great benefit for patients." With a multi-level facility, skilled specialists, and a partnership with Doctors Hospital at Renaissance Health System, the orthopedic future for the RGV is bright and will surely be successful.
For more information on Doctors Hospital at Renaissance Health System and the Orthopedic Institute at Renaissance call 956.362.8677 or visit www.dhr-rgv.com.