In the seventh grade, his PE teacher Miss Faye Eaken taught him an uncommon skill: how to juggle. Fast-forward 30 years and this hardworking, brilliant doctor—who is funny like a stand-up- comedian—is passionate about alleviating pain so patients can juggle what's important to them, whether it be their family, work or free time, without having to focus on their hurt.
"We want the pain to be a small part of life," says Dr. William Alec Tisdall, the founder of Spine and Joint Specialists, where he and his team focus on minimally invasive procedures that go to the root cause of the pain, so patients can reduce or even eliminate the need for powerful pain killers.
"We want you to be able to do the things you want—play golf, work or lift your kids at soccer practice," he shares. "Typically, patients in pain stop doing the things they love and shrink their lives."
The 42-year- old doctor, who loves listening to Motown and disco and often does so in the procedure room, says pain is real, highly common but 100 percent invisible.
"That's why listening to the patient is so important," Dr. Tisdall says. If you listen to Dr. Tisdall, you will hear about some remarkable work.
"He works non-stop, his mind is always going" -Kurt Lee, PA-C, on Dr. Tisdall
Take 50-year- old Art Perales, for example. The husband and father of seven was shrinking his life due to pain. Perales served 21 years in the military, including a stint in South Korea, but recently, he couldn't spend much time with his family due to his pain.
"I haven't been able to do much of anything. I felt like I was always in a bad mood. No one wanted to get near me," Perales shares.
Dr. Tisdall and his team took action. After a trial procedure, Perales is on track to receive a permanent spinal cord implant, where he can touch a button on his iPhone that will tell his brain to change the pain to a vibrating feeling.
"Back and neck pain is the number one most common medical problem of working-age adults: spinal pain, low back and neck pain," Dr. Tisdall explains. "We work at the level of the nerves and the spinal cord to change the signal that's going from the spinal cord to the brain. We are changing the unpleasant pain signal to a pleasant buzzing sensation."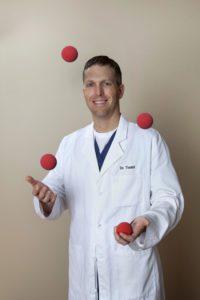 "We like it when referring physicians send us patients while the pain is still a campfire, not yet a bonfire, he adds. "If a patient has two months of pain with no relief, that's a great time to see us."
"There's a reputation for pain management to be about pills," Dr. Tisdall says, adding that, "There's a lot of misconception about what pain management is. A lot of patients are afraid that the only thing we have to offer are pills. We love meeting patients who don't want to take pills—that is the goal for every patient."
Focusing on remedying patients' pain, the practice and being active in the community, the married father of two has a lot to juggle. Dr. William Alec Tisdall is the founder, owner and chief operating officer of his thriving, state-of- the-art pain relief practice in Westover Hills, where most of the procedures can be done onsite. While it may seem daunting, Dr. Tisdall finds support from his family. While in medical school at the University of Washington, Dr. Tisdall met his wife Katie Tisdall, M.D., who practices dermatology and offices next door to her husband. After a residency at Penn State, the couple decided to relocate to San Antonio with their children and respective mothers. Although the day of treating patients often starts at 6:30 a.m. and ends at 6:30 p.m., the Tisdalls find immeasurable joy in helping patients heal so they may enjoy their lives as well.
"We thought it would be a great place to raise kids. My residency director Kim Walker, M.D. said great things about San Antonio…If you try hard and work hard, the medical community here will give you a chance," Dr. Tisdall explains.
"Pain is not their life, it is background noise" -Charley Headly, medical assistant
"This grey hair comes from trying to do the right thing for kids, patients, the practice, employees and the needs of other physicians in the community, plus the community at large," Dr. Tisdall jokes with an earnest grin.
Initially, the practice started in 2010 with two people, Dr. Tisdall and current employee Melissa Ledesma, who answered phones and scheduled patients.
"We were working out of boxes from our cars because we didn't have an office, but then we grew exceptionally fast," Ledesma says.
Now, there is a state-of- the-art clinic with two physicians, including former Chief of Pain at BAMC Dr. Robert Overbaugh, plus three certified physician assistants: Michael Reed, PA-C, Kurt Lee, PA-C, Thomas Espinoza, PA-C, and a staff of more than 30.
"We trained together in residency," says Dr. Overbaugh, who performs Dr. Tisdall's injections when Dr. Tisdall is a patient. "I like to spend a lot of time with a patient. Every patient deserves face time with a doctor."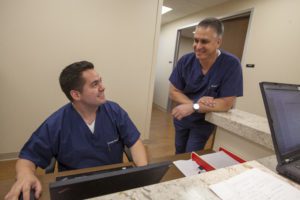 "Pain is not a symptom, it is a disease. It encompasses the family, how an individual can interact with the community and their job," Dr. Overbaugh explains. "We step beyond treating the physical aspects; you have to treat the other aspects of your life. We have to be aware of those stressors."
Dr. Overbaugh, who assisted special operation forces on various missions around the world, is also passionate about getting to the root cause of headaches that start at the back of the neck and head, while the two doctors focus on shoulder, neck and back pain.
"He [Dr. Tisdall] truly cares about people. We ask 'Can this patient go on walks with their family? Go to church with their family? Walk to the mailbox?' We set goals with the family," Dr. Overbaugh shares.
Family is a focal point at Dr. Tisdall's clinic, and indeed, his own family plays an integral in the business. "It's truly a family run practice," Dr. Tisdall says, referring to his mother Nancy, a former administrator, now CEO. There are 10 skilled medical assistants, one of whom is his brother-in- law Charley Headly.
"We work very efficiently and quickly…When I walk in this door, he's not my brother-in-law, he's my doctor. He's my boss," Headly says with admiration. "He's intense but jokes at the same time. He's very straightforward, effective and detail oriented."
"Pain is not a symptom, it is a disease" -Dr. Robert Overbaugh
Those characteristics led to an explosion of growth as potential patients heard rave reviews from people they love and trust. "The practice grew organically through word of mouth, people referring their neighbor and co-worker. We worked hard to create a positive environment," Headly says with pride.
That positive environment has only grown. "Our patients love him [Dr. Tisdall]," Ledesma says. "I've had patients tell me 'I can dance again! Or I can swim again!'"
"We still practice with the same core values and attention to detail…We are driven to do an extraordinarily good job of taking care of people," Dr. Tisdall beams.
One of these caretakers is physician's assistant Michael Reed. "I love helping people get out of pain. Every day we have people walk out of here pain free," Reed shares with a warm smile.
"Dr. Tisdall is the most compassionate person I have ever met," Reed adds. "He cares about his patients and everyone who works in the practice."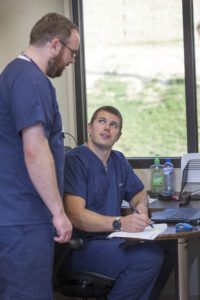 That compassion can be seen daily by the way Dr. Tisdall and his team look patients in the eyes.
"Pain is such a common problem, and we want them to take action and know there is something they can do. We see a lot of patients and strive to take their pain from a nine to a three. Pain is not their life, it is background noise," Headly explains.
In addition to spinal cord stimulation, other minimally invasive procedures include nerve and joint injections, facet blocks and radio-frequency ablation.
"We treat the entire patient for their neck, back, shoulder and hips," said Kurt Lee, PA-C. "He works non-stop, his mind is always going," Lee says of Dr. Tisdall, who is featured regularly on local television newscasts. "He's always thinking of new ways to improve the practice and patient care."
Cindy de la Garza, a mother of three who works alongside her daughter Gabby to schedule procedures, is an integral part of that care.
"I enjoy the drive, fire, and determination he has to help his patients be pain free so they can enjoy their families and get their families back, rather than just existing," Garza shares.
"We want you to be able to do the things you want—play golf, work or lift your kids at soccer practice" -Dr. William Alec Tisdall
Pat Estrada, the new patient coordinator and front desk supervisor, says, "We like to make patients feel at home."
Laurie LaPenotiere, MSN, RN, the new administrator for the practice adds to that point: "You have this chronic illness that needs to be cured, and you have some place that is your home. While you may hear disco coming out of the procedure room, you can tell the staff members treat each other and patients like family."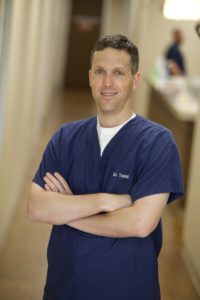 "He [Dr. Tisdall] is an outstanding doctor. He takes the initiative for the patient. He puts so much energy into patient care," said Maria Degollado, the bilingual clinical supervisor and mother of three.
"It's such a pleasure to see a patient who comes in using a cane or walker, and then when they come in for a follow-up after a procedure we have done, they can walk on their own. In pain management, there is hope," Degollado shares proudly.
Hope for people such as Art Perales.
"Everyone here is very understanding, very personable," says Perales, adding, "I think everyone is straightforward, and I love the service here. That's why I keep coming. There was an opening with another doctor, but I want to keep coming here. It's a miracle, feeling less stressed. For me, this is a godsend."
Dr. Tisdall, who is still juggling and even once performed on stage in Las Vegas, says that Miss Eaken would be proud. His patients and staff certainly are as well.
"When patients do take action they are so relieved and say 'I didn't realize what a big problem my pain was, now I realize that it is a small issue now.' Patients will say, 'Wow! That was dominating my life, and now it's a small part of my life,'" Dr. Tisdall shares excitedly.
Though many Americans experience chronic pain, Dr. Tisdall, his family, and staff have successfully set out to thwart the rise in persistent pain and bring patients back to levels that allow them to enjoy their lives. With an amazing community of support, familial co-workers and a few Motown records for a nice soundscape, Dr. Tisdall continues to juggle the needs of patients and help them as a partner in their journey toward a pain-free life.
Photos by Gary Perkins
For more information visit www.painsanantonio.com or call 210.541.0700. Dr. Tisdall's Spine and Joint Specialists are located at 1919 Rogers Road, Suite 104 in San Antonio, TX 78251.