[dropcap size=small]R[/dropcap]ecientemente, Pharmaceutical Research and Manufacturers of America (PhRMA) lanzó su sitio web en español, dedicado a ayudar los usuarios hispanos con sus dudas de cobertura en salud, ofreciendo de forma clara y a través de videos animados, las respuestas a las preguntas mas frecuentes de los usuarios del sistema de salud.
Con este proyecto, PhRMA busca que usted y su familia sean consumidores inteligentes en el momento de comprar un seguro médico, un tema que a veces puede ser difícil. Es por eso que antes de adquirir o contratar un seguro médico, usted debería tener en cuenta estas recomendaciones:
1. Compare diferentes opciones: Es muy común que los usuarios tomen decisiones sin estar suficientemente bien informados. El mercado de los seguros médicos ofrece infinidad de opciones para cada una de las necesidades. Asegúrese de investigar a fondo todas las opciones y de elegir la que mas le convenga.
2. Haga las preguntas correctas: ¿Los medicamentos que necesito están incluidos en el plan?, ¿Las farmacias que visito regularmente son las que mi plan incluye?, ¿Puedo visitar los centros de salud que estén más cerca de mi hogar?, ¿Cuánto dinero voy a pagar cada mes?, entre otras preguntas que debe tener en cuenta.
3. Conozca los términos importantes: Asegúrese de entender términos como los Deducibles, Coopagos y Cooseguros, los cuales PhRMA le explica a través de videos animados en AccessBetterCoverage.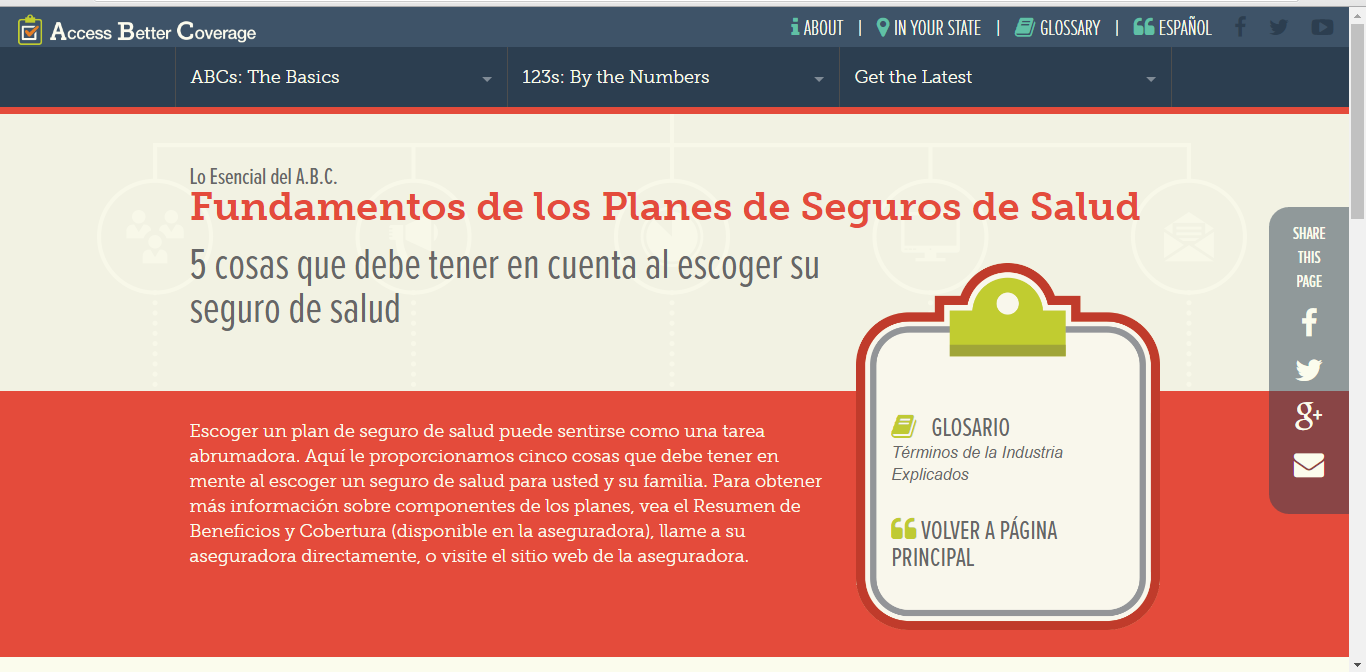 4. Busque la información completa a través todos los medios disponibles: Muchas veces la información contenida en el material promocional no es suficiente. Asegúrese de buscar información completa a través del sitio web de la compañía, el servicio telefónico, correo electrónico, redes sociales o incluso una cita con el personal encargado.
5. Manténgase informado: Una vez haya comprado su seguro médico, es importante que continúe informándose y este atento a los posibles cambios, modificaciones o nuevas políticas que puedan afectar o favorecer a usted y a su familia.
"Queremos invitar a todos los usuarios a que resuelvan sus dudas y tomen decisiones inteligentes a la hora de comprar su seguro medico. De esa forma, puedan evitar sorpresas y dolores de cabeza en el futuro, garantizando así una mejor calidad de vida para ellos y sus familias. Esa es nuestra principal motivación para este proyecto" dijo Fernando Senra, representante de PhRMA.
Para más información visite accessbettercoverage.org/espanol