So the New Year 2016 was here and I was feeling great! I was enjoying my current job position as marketing liaison for Millennium Home Health and Dr. Lisa Martén's South Texas Eye Institute. In February, I even got out of my comfort zone and began dating.
During that time, I had also been performing self-breast exams. Back in January, I did feel a small lump, the size of a green pea. I mentally dismissed it thinking it was nothing, and at the time I did not have insurance, so I thought it could wait.
Several months passed, and I was busy with work and family. On the fourth of July week, as I was going on a trip to Kansas, as we sat in the plane I remember saying, "My right breast is bothering me, I am having what feels like small stinging." I was also having symptoms with my eyes, they had been tearing for no reason. I made an appointment with my primary care doctor, and in that visit, I told them that I had noticed my right breast had changed in shape on the nipple area. The nipple had become inverted.
"Cancer will not take the spark from my eyes or the smile from my face"
When they did an exam, they were not happy that I had waited so long to get checked. They asked me, "Why did you wait so long?"
"I had no insurance until July," I told them. I know I was also in denial, thinking it was just a nothing, maybe just a tumor and that I could wait. The primary care doctor immediately sent me to get a 3-D mammogram and ultrasound. I still remember the day the radiologist walked in to view my scans; her face and reaction told me it was not good. She told me they had never seen anything like it, but she reassured me they could get rid of it. I was thinking it must be a tumor.
Then they told me I needed a biopsy right away. My biopsy was done the next day. They had to make room in their full schedule for me. This was another sign that something was not good. I remember crying as I waited for them to schedule my biopsy.
The following Tuesday, I went to visit my primary care doctor. The PA there at the time was reading the notes of the results of my 3-D mammogram, ultrasound and biopsy.
She said, "You have carcinoma."
I was numbed, in shock and disbelief! Not me, not cancer!
She told me I had to go see an oncologist right away. I asked for copies of my result. As I got in my car and read the results, I began to cry. I could not believe that I had cancer! I went that same day to see an oncologist. I went to Oncology San Antonio to see Dr. Jayasree Rao. I had worked for Dr. Rao and Oncology San Antonio six years ago. I was familiar with her staff and clinic. I had been visiting this clinic for work for the past six years. This was home for me, and I wanted to be treated by someone who I knew would be aggressive and would see me right away.
Dr. Rao was on vacation, and as Laura MA read my notes, she immediately called Dr. Rao. I am so grateful to Laura MA for working so quickly to have me seen and to Dr. Rao for seeing me within two days, even though she was on vacation. She explained the urgency of beginning chemo treatment right away. My results showed my tumor to be about 2-4cm and triple negative. It was an aggressive tumor that had spread to my lymph nodes under my right arm.
I was schedule to see Dr. Bala Viswanathan that Thursday, and he would perform surgery Friday. Everything happened so quickly that I was still in disbelief this was happening. I had my med port surgery done. My dear friend Anna Hernandez took me to the surgery and stayed with me. The following week, on Wednesday, I was scheduled to get my MRI and Pet scan results. My result came back. I had Stage 3C triple negative breast cancer. I began aggressive chemo treatment that same day!
Dr. Viswanathan did explain about the importance of having a genetic test done. I met a genetic counselor at the Methodist Healthcare system. I had the genetic testing done and the results came back negative for the BRCA1 and BRCA2 mutations. In my family or extended family there is no known cancer. My cancer is not genetic. Family history is only one risk factor.
But the risk doesn't cause cancer. This just affects your chance of getting cancer. There are other risk factors of why you can get cancer, such as your diet, not exercising, getting older, drinking alcohol, longer exposure to estrogen and progesterone, among many other risk factors.
The statistics on Cancer.org state that about 1 in 8 women in the US will develop invasive breast cancer during their lifetime.
"I am still that same woman full of faith, passion and dreams! Cancer cannot take this away from me"
I am now facing the second biggest battle of my life! The first was losing my 13-year-old daughter Jasmine in a rollover accident my family was involved in 2001. This took an emotional toll on me and I learned how to be strong emotionally.
Now, I have to be strong physically! I am fighting cancer! I've got this!
After my first round of chemo my hair began falling out. I had close friends visit me the second weekend after that treatment. I asked them to help shave my hair off, and so I became G.I. Norma. Like Demi Moore's character G.I. Jane, I was going to win this fight!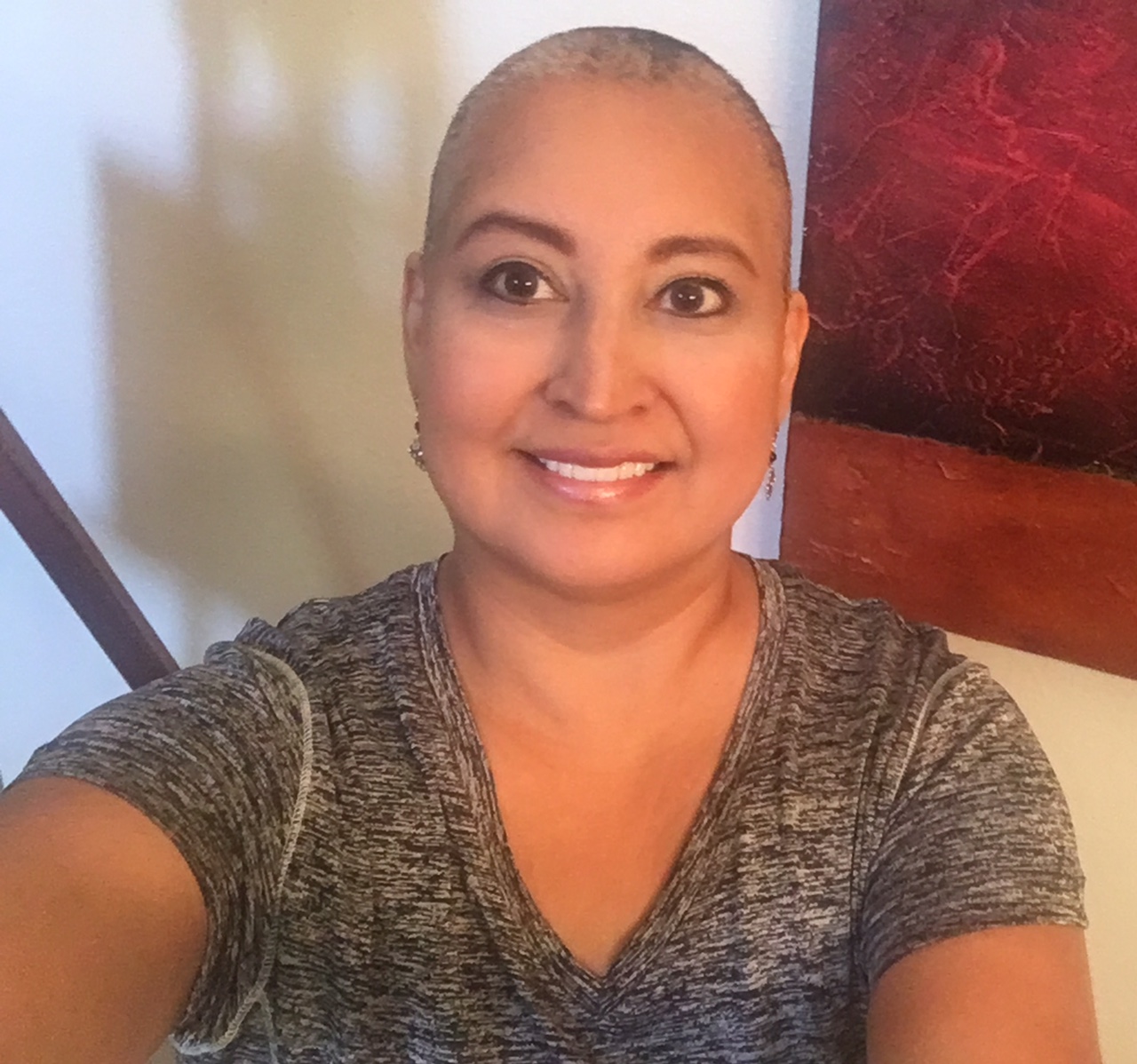 I am now done with my fourth round of chemotherapy, and my symptoms have varied from weakness and fatigue to nausea and body aches. I was given shots to elevate my white blood cells, but these shots also have side effects. My lower back has pains, I have headaches, and endless nights without sleep. These symptoms are treatable with nausea medication and pain meds. For those that know me, I try to take the least medication possible. I do rely on prayer and my faith!
My process has just begun. I will be changing to one chemo drug this week, and it should be better tolerated by my body. I still have chemo treatment until the end of the year, then radiation and surgery. I am truly blessed to have a wonderful family and an army of friends that are praying, supporting and loving me. I am also grateful that my employers are working with me through my treatment and recovery.
Keeping my life as normal as possible is important. I have told close friends, cancer cannot touch my spirit. I am still that same woman full of faith, passion and dreams! Cancer cannot take this away from me.
When I found out about my diagnosis, I knew that by sharing my story and bringing awareness this would give me a purpose to endure this process. This is what I did when my Jasmine passed away. I used our story to bring awareness about organ donation. My Jasmine saved two lives!
My breast cancer story and fight will also save many lives. Early detection is key! Ladies please don't wait, get checked. If in doubt still get checked, don't wait! If you don't have insurance there are several organizations that can help you, like WINGS, THRIVE and the Susan B. Komen Foundation here in San Antonio!
I will win this fight! My son Sammy and my two beautiful granddaughters Carolynn, 6-years-old, and Marilynn, 2-years-old, are my inspiration! Cancer will not take the spark from my eyes or the smile from my face.