By Sarah Walls
A common question that many women have when pregnant is whether or not they should continue with their exercise programs. According to the National Institutes of Health (NIH), almost all women can and should be physically active during pregnancy. They recommend that women aim for around 30 minutes of moderate-intensity exercise, one that gets you breathing harder but not to the point of exhaustion, on most days of the week. Knowing the ins and outs of exercising through pregnancy can help keep moms-to-be safe and in better condition.
"Maintaining an appropriate exercise program through pregnancy is important for both the mother and the baby," explains Coach Sarah Walls, personal trainer and owner of SAPT Strength & Performance Training, Inc., who is also the strength and conditioning coach for WNBA's Washington Mystics. "Many people are surprised to learn what they can and should be doing when it comes to exercising while pregnant. Maintaining an exercise program will not only bring you health benefits, but it will also help keep you feeling good emotionally."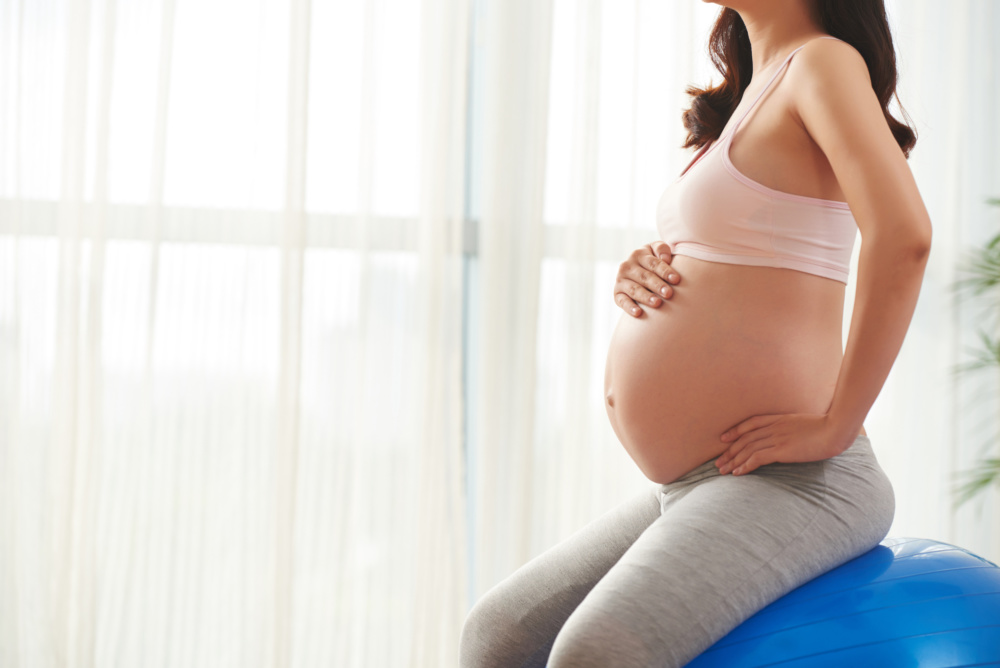 Coach Walls has worked with many women through pregnancy to help them begin and maintain a healthy workout routine. The NIH reports that exercising during pregnancy helps reduce pregnancy discomfort, lowers the risks of gestational diabetes, improves sleep, improves mood, helps with an easier labor, and helps provide a faster recovery after delivery. Here are some tips to keep in mind when it comes to exercising through pregnancy:
Research has shown that the mothers of infants who exercise generally have more desirable/healthy body composition. In other words, if you keep up an exercise routine throughout pregnancy, you will have an easier time going back to your pre-pregnancy weight once the baby arrives.

Stay well hydrated while exercising, stop exercising if you feel exhausted or overheated, or if you feel dizzy. Also, avoid activities that could have a high injury risk, such as contact sports, like football, or that change direction quickly, such as basketball or tennis.

Keep the weather in mind and if it's hot outside, avoid exercising in the heat, so you don't become overheated.

Mothers who maintain an exercise program gain less weight during pregnancy and lose the gained weight faster after birth.

For many active women, there is no reason to dramatically cut back on exercise during pregnancy. Most women can maintain the program and routine that they are accustomed to doing.

Listen to the body and it will guide you. If you've never exercised, then you should take it easy on starting a plan, but if you're an avid exerciser or athlete, keep pushing on with some minor modifications.

After pregnancy, it is important to begin a training plan that is tailored to your body's unique needs. Keep in mind that C-sections require a different approach than a vaginal birth when it comes to your post-pregnancy workout routine.

In the initial months after birth, the plan should be designed to help address any aches and pains and begin to recondition/strengthen the core musculature. Moderate to high intensity training designed to lose body fat can be started after this reconditioning phase. It should not be designed for high intensity with the goal to lose the baby weight.

Diet modification is the best way to focus on losing extra weight.

Once the basics of strengthening and reconditioning have been taken care of, a more challenging plan can be started as soon as the body indicates it is ready.
"A woman's body is designed for childbirth and can and should be expected to 'come back' stronger and fitter than ever," added Coach Walls. "When you have the right program that has been designed for you, exercising through pregnancy is a pleasure. It will help you every step of the way, making pregnancy, delivery, and recovery easier."
Sarah Walls has over 15 years experience in coaching and personal training. Owner of SAPT Strength & Performance Training, Inc, founded in 2007, she offers coaching to develop athletes, adult programs, team training, online coaching, and more. She is also the strength and conditioning coach for the WNBA's Washington Mystics, and has over eight years of experience working as an NCAA D1 strength and conditioning coach and personal trainer. To learn more, visit the site: www.saptstrength.com.
SAPT Strength & Performance Training, Inc.
Located in Fairfax, Virginia, SAPT Strength & Performance Training, Inc. is a high performance training club that specializes in helping to develop athletes of all ages. They offer athletic training programs for youth, college students, and amateurs. The company was founded in 2007 by Sarah Walls, a professional strength and conditioning coach and personal trainer with NCAA D1 experience, who is the strength and conditioning coach for the WNBA Washington Mystics team. To learn more, visit the site: HERE.
Sources:
National Institutes of Health. Should I exercise during pregnancy?