Jody Joseph Marmel
Meeting with Dr. Erika Sato makes you realize that being a successful Cosmetic and Reconstructive Surgeon requires a lot of hard work, long hours and dedication. Sprinkle that with being a perfectionist and having an abundance of compassion, and that is who Dr. Sato is in her professional and personal life. She has so many wonderful attributes, but the one that makes her unique is that she is down to earth. She truly cares about her patients from the moment they step into her office. She says, "Patients probably don't realize or understand that I put each and every one of them ahead of myself. When they are upset or unhappy, I am too. My day-to-day feelings works directly off of them."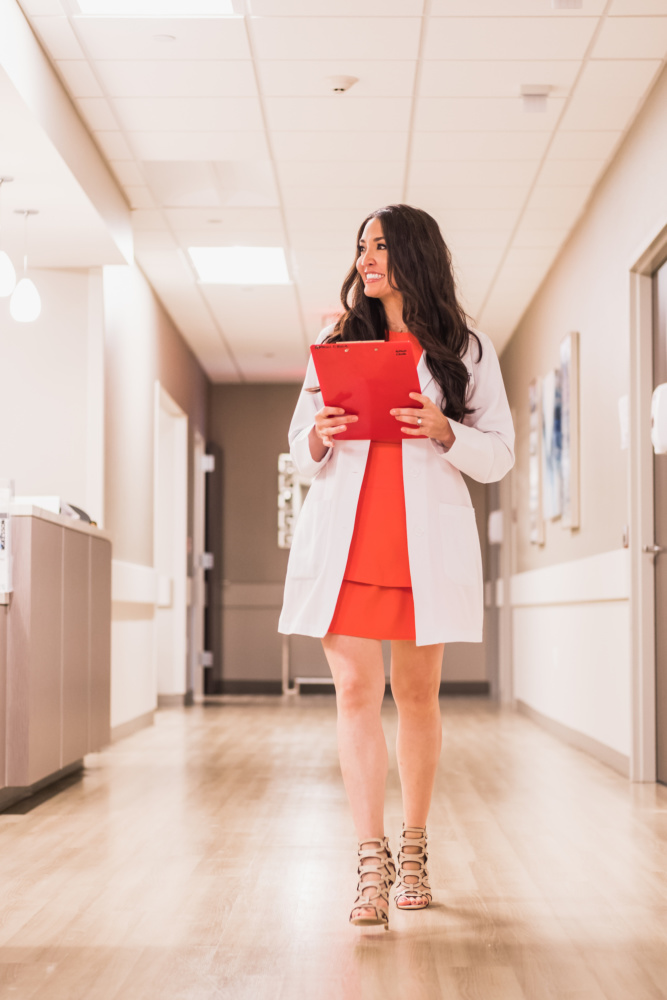 She chose plastic surgery because it allows her to operate on the entire body, head to toe. There is a large artistic component to plastic surgery and Dr. Sato was an artist in her youth and won many awards throughout middle school and high school. But, she also chose plastic surgery for another reason. When she was a young girl, she looked "pretty normal". She is a mix of Japanese from her father and Italian from her mother. In 6th grade, she began to look "funny". Her mother just thought it was an awkward phase that she was going through. "I had a lot of dental abnormalities so my parents were kind enough to spend a small fortune on orthodontic treatment. To this day, I give kudos to my orthodontist as he was clearly extremely talented." After her bite was corrected and all of her teeth were perfectly straight, she explains that she still looked funny.
"I was made fun of constantly at school and was bullied. My mom started to worry that I wouldn't have a normal childhood. My parents were middle class blue collar workers, but my mom was determined to make sure that I would be successful in life." Her mother took the small amount of savings they had left after paying for her braces and took Dr. Sato to an ENT residency clinic where they practice surgery at a much more affordable cost. They were never given a diagnosis and Dr. Sato underwent a rhinoplasty where they used cartilage from her right ear to reconstruct her nose. Given the circumstances, the result was better than she could have hoped for.
"Now that I am a plastic surgeon, I can easily say that my rhinoplasty is not great, but it is great to me. Compared to what I looked like before, I think it is beautiful. I do see the imperfections every day in the mirror-a down fall of my career-but I love them."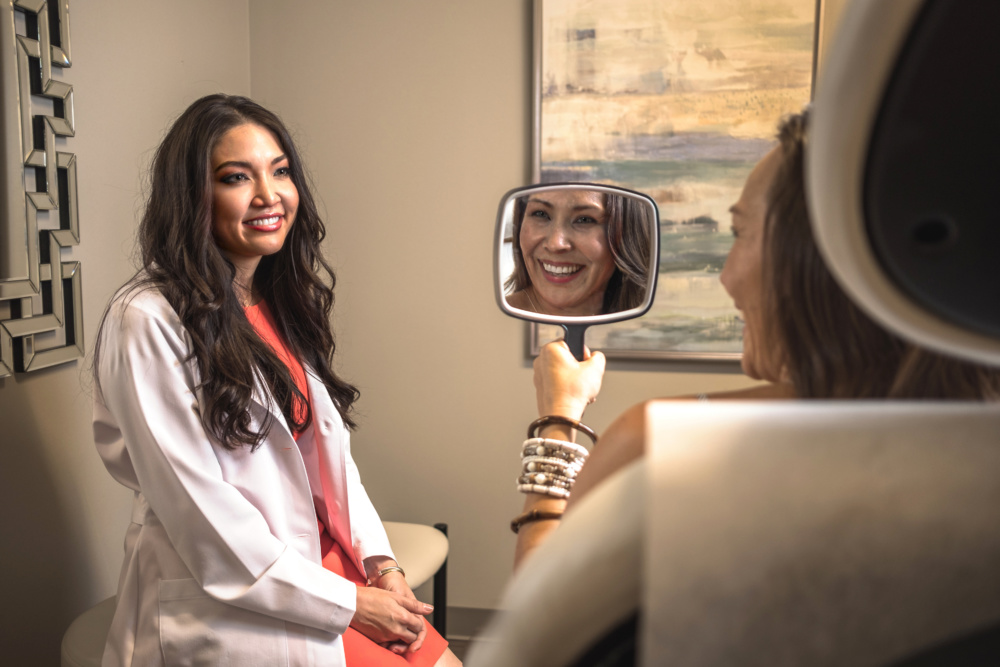 It wasn't until Dr. Sato started her plastic surgery residency that she discovered she had a rare congenital abnormality – Binder's Syndrome. It is so rare that no doctors including her pediatrician, orthodontist, or ENT surgeon realized she had this syndrome. It is a congenital disease affecting the face-undergrowth of the central face and may include elements of the nose or upper jaw. The primary physical characteristic of Binder's Syndrome is a flat, underdeveloped midface and flattened nose associated with the absence of the anterior nasal spine. "I was/am essentially a textbook case. I had all of the symptoms."
Dr. Sato feels that her orthodontist and her ENT surgeon changed her life. "After I healed from surgery, I no longer was made fun of and I made friends, went on dates, and had a normal teenage experience." She explains that before she even knew that she had this rare congenital abnormality, she wanted to be a plastic surgeon to just make people feel "prettier" and more confident. "I thought of how much I hated my nose and how it consumed me on a daily basis. I wanted to 'fix' other people's imperfections so that they didn't have to feel the way that I did. Some people think that only the reconstructive side of being a plastic surgeon is applaudable, but I don't believe that. At the time that I got my rhinoplasty, I went to an ENT facial plastic surgeon that mainly did cosmetic surgery and he changed my life."
Most people that undergo plastic surgery do so because they have one or more "imperfections". Just like Dr. Sato felt about her nose so many years ago, there are teenage girls who are consumed with the fact that they have very small breasts. "Because we fixate on these things, we aren't confident and sometimes we don't let others see our 'inner beauty'. I have found that just fixing or changing that one thing that bothers the patient, no matter how small it is, can literally change their lives." Dr. Sato continues, "Their demeanor is so different when I see them in post-op versus how they were in pre-op or at their consultation appointment. I have done what I am supposed to do on earth if I can affect one person's life like my ENT surgeon did for my life years ago."
Staying true to herself and her patients, Dr. Sato never talks anyone into plastic surgery. She explains, "I listen to them and help them figure out what they need to meet their goals and expectations. If I feel that patients are unreasonable, I will be the first one to tell them. When I get beautiful, young girls in my office wanting plastic surgery, I tell them that they don't need it. I know that I am risking them going to another surgeon and still getting the surgery, but I hope that at least a few of them leave my office and don't have anything done."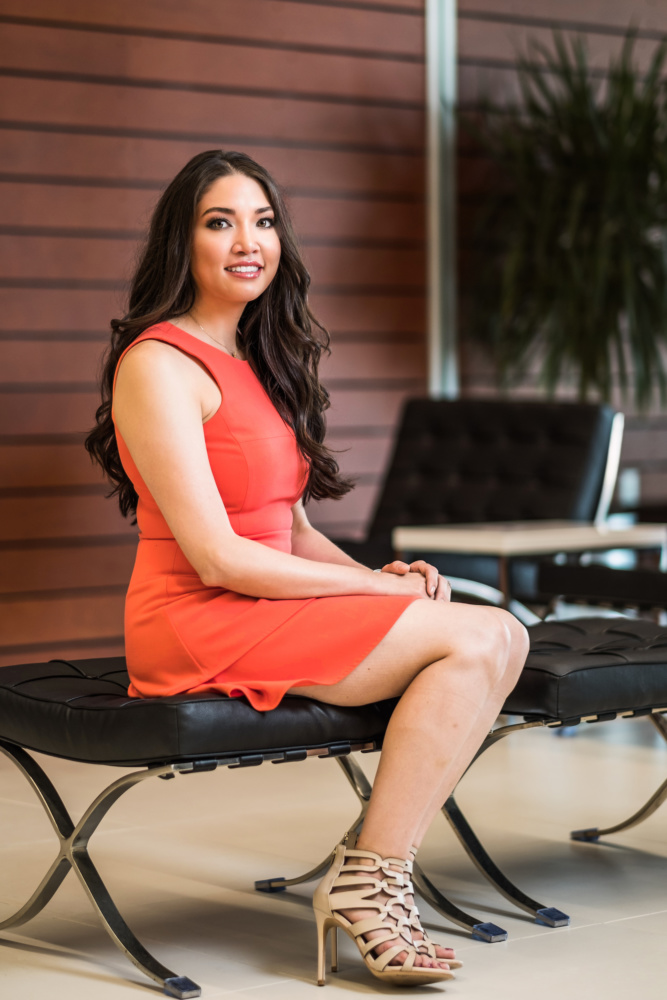 Dr. Sato does a lot of body contouring in her practice. Currently, one of the most popular procedures is the Brazilian Butt Lift. This is a procedure where excess body fat is taken from unwanted areas such as the stomach, love handles or thighs through liposuction. The fat is then processed and injected into more desirable areas. With the Brazilian Butt Lift, the fat is injected into the buttocks and hips. "This fat can also be injected into the breasts. I love fat transfer. We are taking what God gave us and just moving it around."
She also does a lot of mommy makeovers. This includes surgery to the body and breasts at the same time. When women go through pregnancy, childbirth and breastfeeding, more often than not, the body changes. This can be very hard on women no matter how much they workout or diet. They just can't get their pre-baby body back. "I help them get that body back! The tummy tuck is one of the most popular procedures included in a mommy makeover. In my hands, this entails liposuction to the upper abdomen, waistline and flanks; repair of the abdominal muscles (muscle diastasis) and excision of excess loose skin below the umbilicus."
Women may need or want more fullness in their breasts and can get either implants or implants with a lift. If they have a decent amount of breast tissue, they may just need a lift to get their breasts back to being perky. Sometimes the nipple areola complex increases in size and this tends to bother some women. This can be cut down to a smaller size as part of the lift.
"I do all plastic surgery from head to toe, but the vast majority of my practice is cosmetic plastic surgery to the body. I must say that I am really talented at creating that hourglass figure that is so popular right now."
Dr. Sato is Board Certified by the American Board of Plastic Surgery and the American Board of Surgery. She went to the University of Missouri-Columbia for her undergraduate degree on an academic scholarship that covered her tuition and books. She worked three jobs during most of that time. She was a server at Applebee's Neighborhood Bar and Grill where she worked for 10 years. "I always joke that I 'grew up' at Applebee's and learned the strong work ethic that I have today." She was also a phlebotomist at Boone Hospital and tutored science and math for the university. "I mainly tutored college athletes. This was back before the internet and online lectures." She graduated Cum Laude from the Honor's College with a Bachelor of Science in Biology with a pre-med emphasis. Dr. Sato kept her eye on the prize. "I kept telling myself that I wanted to be a doctor more than anything."
In her senior year of college, it was time to apply to medical school and she realized she did not have enough money. She made the decision that even though she had what is considered a very strong application for medical school, to take one year off and work to gather the necessary funds. Dr. Sato worked at Enterprise Rent-a-Car and saved money as well as made some of her best friends for life. The following year, she was accepted to the University of Missouri-Columbia for medical school. "Looking back at this 'time off', I believe it turned out to be the best decision that I have made so far. I got to stop and be a normal kid so to speak. I went out with friends, stayed up late and went shopping. It sounds crazy, but I didn't get to do any of those things in college unless one of my friends was offering to pay for me, which gets old fast for everyone involved."
"I literally danced around my apartment in my white coat embroidered with Erika Sato MD Plastic Surgery crying tears of joy." – Dr. Sato
Medical School turned out to be a fantastic experience for Dr. Sato. She knew right away that she was meant to be a surgeon and graduated in the top 25% of her class. Moving on to the University of Texas Health Science Center at Houston, Dr. Sato states, "I learned to be a badass –saving lives at the #1 trauma center in the country. When my five years of General Surgery residency were over, I continued my education with a 3 year residency in Plastic Surgery. At this point, all of my hard work had paid off. My dream of becoming a plastic surgeon was coming true. Plastic surgery at the time was the most competitive field of medicine and I had earned one of these coveted positions. I literally danced around my apartment in my white coat embroidered with Erika Sato MD Plastic Surgery crying tears of joy."
Throughout her eight years in Houston, Dr. Sato grew to love the city. Houston was now her home. She interviewed for various plastic surgery jobs all around the country and she was offered a job opportunity that she could not resist. Dr. Sato joined Houston Plastic Craniofacial & Sinus Surgery with one partner-Dr. Sean Boutros. They have now grown into a multi-specialty practice with eight surgeons. In just three short years, Dr. Sato built a successful cosmetic practice.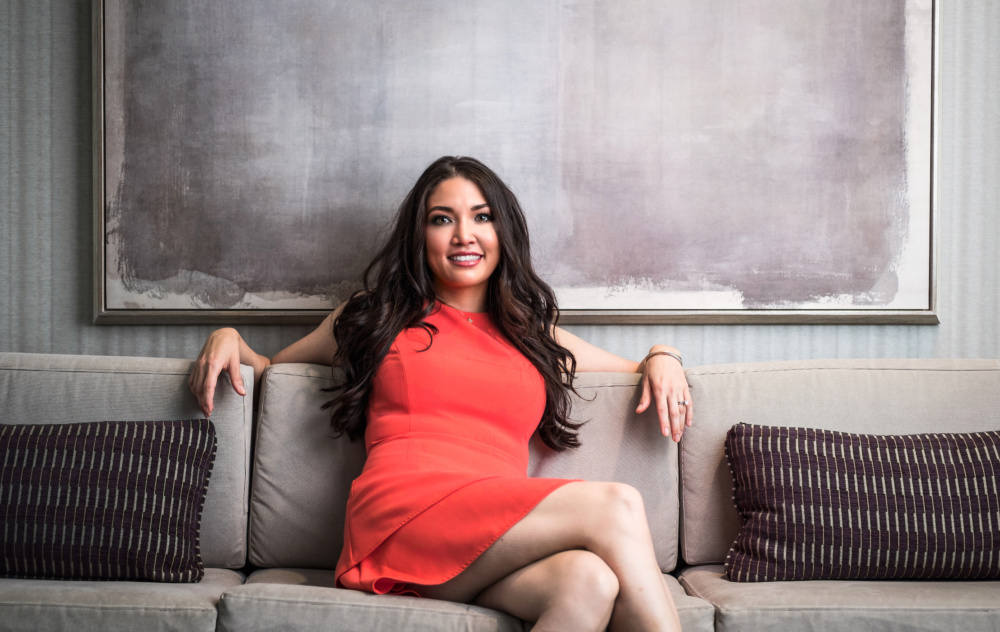 In November, 2016 Dr. Sato was a main cast member on Bravo's 'Married to Medicine Houston'. "What more can a girl ask for! Reality TV has always been a guilty pleasure of mine, so this was a once in a lifetime experience." There were ten episodes and it was a fun escape.
Her husband, Derek Moore, is also a doctor and is currently finishing his General Surgery Residency at Baystate Medical Center in Springfield, Massachusetts. They are turning their attention to their family and hope to have their first child soon. "Unfortunately, this has not proven to be an easy feat for us and we have turned to IVF. We have a wonderful doctor at Houston IVF, Dr. McKnight and have two healthy frozen embryos-a boy and a girl."
Giving back in other ways is also an important part of Dr. Sato's life. She went on her first mission trip to Guatemala City, Guatemala with Austin Smiles in her last year of plastic surgery residency. On that trip, they mainly did cleft lip and cleft palate surgery. "This is what I had always wished for. I saw an HBO special on 'Operation Smile' when I was 14 and I just knew that someday I would volunteer on a similar mission trip." She went on her second mission trip in May of 2016 to Antigua, Guatemala with Faith in Practice. This time they did more complex cases such as microsurgical free flaps. She hopes to go in the future but right now Dr. Sato and her husband are going through fertility treatments and hope to get pregnant in the near future. "Because of the Zika virus, it is best for me not to travel to Guatemala until after we successfully have a baby."
Dr. Sato has never lost sight of why she went into medicine. She treats each patient with equal importance because each and every one of her patients chose her to be their doctor. "If a patient needs one hour to talk to me, that is fine. Surgery is a serious decision and should not be taken lightly. I want each patient to feel 100% confident in choosing me as their surgeon. They may feel that way after an email or multiple one hour visits/consultations. I also need time talking to them to make sure that we are on the same page as far as realistic expectations." Dr. Sato goes the extra mile to make sure that each of her patients get the quality of care they deserve and the end results are rewarding to her patients and herself. "If I don't accomplish anything else in my life, my heart will be fulfilled as far as my career is concerned."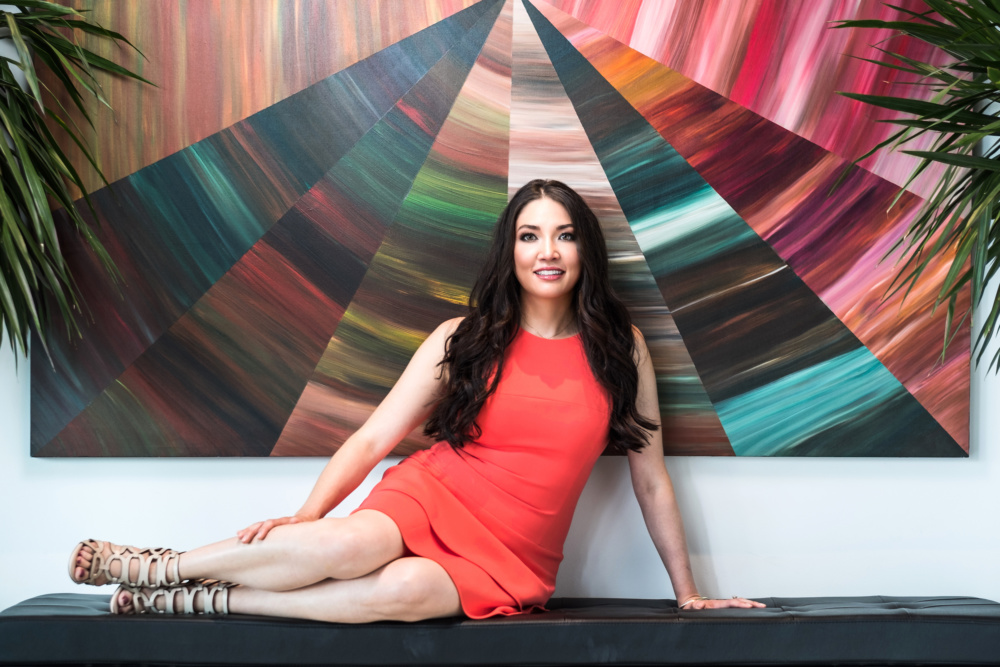 For more information visit their website. HERE
Office address: 9230 Katy Freeway Suite 600
Houston, TX 77057
Phone #: (713)791-0700