By Christina Grenga
31 Food Swaps for Your Sugar, Dairy and Gluten Free Diet
Going on a sugar, dairy or gluten-free diet and don't want to substitute taste? The good news is, you don't have to. Thankfully, God provided us with enough natural ingredients and foods on this earth to please our palate without compromising taste or texture. Eat your favorite foods…but learn the best substitutions for a diet that is free of gluten, sugar or dairy.
Here are some healthy food swaps that taste like you haven't changed a thing.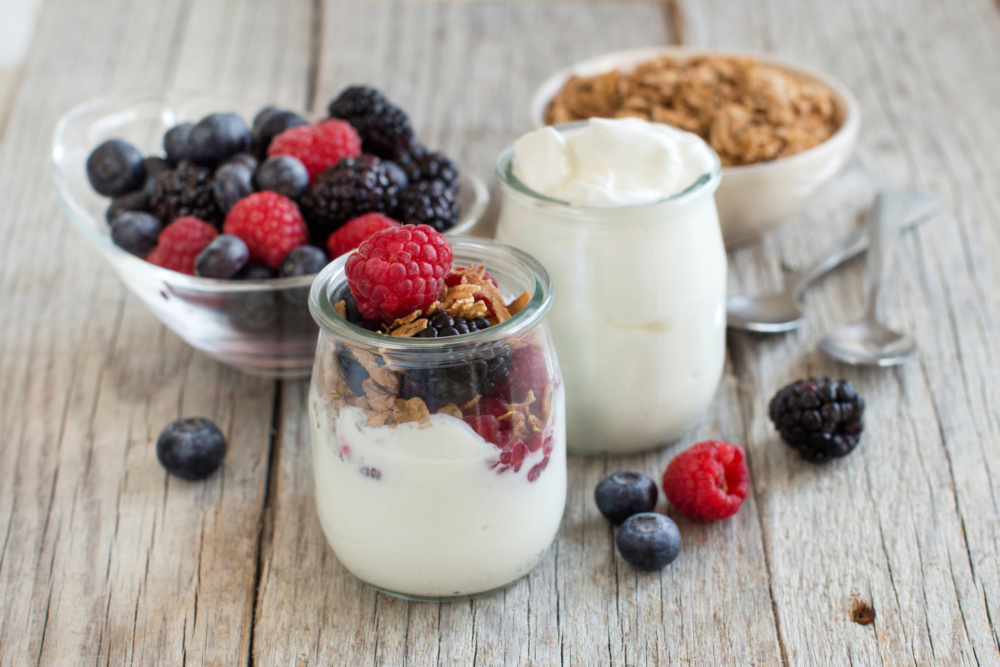 Gluten Free
Gluten Free Flour for Wheat Flour – For the pizza lover, this switch makes it possible for all of us to enjoy a rich baked good… even those of us who can't eat gluten. When you use gluten-free flour, you lose the stickiness, which helps bind the muffin, cake, or pizza together, so you'll need to throw in 1 teaspoon xanthan gum per cup of flour.
Pasta
Zoodles for Pasta Noodles – Thin strips or ribbons of zucchini are a great stand-in for carb-packed pastas. Sauté for a few minutes until soft and add your favorite pasta sauce.
Spaghetti Squash for Pasta – Roasted and pulled apart with a fork, spaghetti squash is a great low-carb substitute for pasta. One squash will make between two and three servings.
Quinoa or Brown Rice Pasta – This is about as close to the "real" thing as you'll get, maybe even better! Just add Sauce!
Bread Crumb Filling or Coatings
Ground Flaxseeds for Bread Crumbs – Crushing flaxseeds and mixing it with some herbs makes an easy, lower-sodium substitution for traditional bread crumbs and are so much healthier for you.
Almond meal – Protein packed seeds and nuts make a hearty and crunchy alternative to bread crumbs. Use this to stuff your favorite artichoke or to bread fish or chicken.
Wraps
Lettuce Leaves for Tortilla Wraps – It's not a perfect swap, but forgoing the carbs for fresh lettuce is a fun (and easy) switch to lighten up any wrap or taco dish. Plus, it provides a nice little crunch that the wrap doesn't. Go green with your next burger too!
Coconut Wraps for Tortilla Wraps – This is a newer alternative and provides the healthy benefits of coconut!
No Chip Dipping Snacks
Veggies for Pita – Forget the pita. Fresh veggies work as killer dippers with hummus or guacamole and contain fewer carbs plus more nutrients per bite.
Mary's Gone Crackers – This is another that is gluten-free, packs a crunch, and is great for dipping or topping.
Gluten Free Oats or Quinoa for Oatmeal – You won't compromise the taste here; it is just as hearty and yummy. Add some cinnamon, please!
Gluten Free Rolled Oats for Bread Crumbs – While bread crumbs can pack extra sodium, using rolled oats seasoned with thyme and rosemary means you won't be skimping on flavor at all.
Sans The Sugar but Not the Sweetness or Taste
Cacao Nibs for Chocolate Chips – News flash: Chocolate chips start out as cacao nibs—the roasted bits of cocoa beans that then get ground down and turned into chocolate.Opting for these unprocessed (or at least less-processed) morsels cuts out the additives and added sugar in chocolate while also delving out a healthy dose of antioxidants. Great for smoothies or to top yogurt, too!
Vanilla Extract for Sugar – Cutting sugar in half and adding a teaspoon of vanilla as a replacement can give just as much flavor with significantly less sugar. You can't sub this one in equal ratios, but next time you're whipping up some cookies, try cutting 2 tablespoons of sugar and adding an extra 1/2 teaspoon of vanilla extract.
Cinnamon for Cream and Sugar in Coffee – Cutting out the cream and sugar in favor of a sprinkle of cinnamon can cut the sugar out completely.
Almond Milk Creamer for coffee – If you still need the creamy texture, try this great alternative.
Ice Cream: Frozen Bananas – These are the perfect alternative to that creamy treat. Add a little vanilla, coconut cream, cinnamon or cacao and you are on your way to heaven! Top with nuts and a cherry and Voila! Sugar and dairy free!
Unsweetened Applesauce for Sugar – Using applesauce in place of sugar can give the necessary sweetness without all that sugar. Pro tip: You can sub sugar for applesauce in a 1:1 ratio, but for every cup of applesauce you use, reduce the amount of liquid in the recipe by 1/4 cup.
Plain Yogurt with Fresh Fruit for Flavored Yogurt – Pre-flavored yogurts often come packed with extra sugar. To skip the sugar rush without sacrificing flavor, opt for plain yogurt (or better yet, plain Greek yogurt) and add fresh fruit and/or honey if you want that extra hint of sweetness.
Fresh Fruit with Homemade granola cereal! This is soon to be your personal favorite. Try granola (gluten & sugar free too) and top it with fresh fruit and a splash of almond milk, and enjoy sweet, crunchy delightfulness in one meal.
"

Eat your favorite foods…but learn the best substitutions for a diet that is free of gluten, sugar or dairy."
Dairy
Almond Milk for Dairy Milk – Almond milk is so hot right now. Add it to your smoothie or froth it in your coffee. You'll never miss that cow stuff.
Banana Ice Cream for Ice Cream – No milk, no cream, no sugar… but the same, delicious consistency. It's simple: Freeze bananas, then purée. (see above in Sugar Free too)
Nutritional Yeast for Cheese – The taste is cheesy, and the texture is comparable to flakes of Parmesan. Instead of topping that taco with cheddar, try a sprinkle of nutritional yeast for a dairy-free cheesy flavor.
Coconut Milk for Cream – Coconut milk is a great substitute for heavy cream in soups and stews. Don't be turned off by the word "coconut"—it doesn't taste like the sweetened shredded kind.
Prune Purée for Butter – In brownies and other dark baked goods, prune purée makes for a perfect butter substitute. Yes, seriously. Combine 3/4 cup prunes with 1/4 cup boiling water, and puree to combine. Sub in equal amounts in most dark baked good recipes.
Chia Seeds for Butter – These funny looking little seeds are good for more than just growing countertop pets. Combine 1 tablespoon chia seeds with 9 tablespoons water, let sit for 15 minutes, and you get a gel that's the perfect consistency to stand in for fat in baking recipes. One word of caution: Don't try to cut out all the fat with this substitute—it works best when subbing an equal amount of this mixture for half of the fat in a recipe.
Make it Healthy
Kale Chips for Potato Chips – Who would've guessed that a leafy green could make such delicious chips? When lightly tossed in olive oil and some seasoning (salt and pepper, paprika, or chili powder work great) and baked, these curly greens turn into a delightfully delicate, crunchy snack
Dark Leafy Greens for Iceberg Lettuce – All greens are not created equal. Darker greens usually mean more nutrients like iron, vitamin C, and antioxidants. Sorry, iceberg lettuce is just not cutting it anymore, go out and get some grown-up greens. Try kale but massage it with a little lemon juice to make it softer.
Greek Yogurt for Sour Cream – Lighten up those taco toppings by opting for Greek yogurt instead of sour cream. You'll never taste the difference. Plus, Greek yogurt offers an extra dose of lean protein.
Avocado Mash for Mayo – Half a mashed avocado is a great substitute for mayo on any sandwich. Both give some moisture, but avocado makes everything in life better and creamy. Oh, and it's full of healthy fats.
Puréed Fruit for Syrup – Do it yourself with a masher and top those oat bran pancakes or whole-wheat waffles, but puréed fruit warmed on the stovetop first. It packs less sugar than store bought and you'll be adding some whole foods to your diet.
These swaps will have you eating better and feeling great without feeling deprived. You can also look for assistance from health coaches who will walk you through all you need to know.
Christina Grenga is a faith-based Certified Holistic Health Coach who works with modern Christian women who are ready to quit dieting for good, lose weight naturally, and transform their lives. She graduated from the world renowned Institute for Integrative Nutrition in New York City. Christina uses a Christ-centered approach to guide women to create a balanced, thriving life. You can learn more about Christina at www.grengahealth.com. She also offers a faith-fill detox at www.grengahealth.com/detox/