Dr. Lyssa Ochoa Saves Lives and Limbs of Diabetic Patients at San Antonio Vascular and Endovascular (SAVE) Clinic
By Rudy Arispe
As a vascular surgeon practicing medicine in today's exciting world of ever-evolving and innovative technology, Dr. Lyssa Ochoa has a powerful array of effective treatment methods at her disposal in treating patients suffering from peripheral artery disease and other diabetes related illnesses.
"I have within my toolbox a whole spectrum of how I can treat vascular disease. Either it's through medication and education about a change in diet and a healthy lifestyle, through new minimally invasive techniques coming out all the time, or through traditional open surgery such as bypasses," Dr. Ochoa said.
Born and raised in the Rio Grande Valley, for the past seven years, Dr. Ochoa has been treating patients on the South Side of San Antonio after moving here from Houston where she did all her medical and surgical training at Baylor College of Medicine. She worked with a medical group until most recently when she opened the San Antonio Vascular and Endovascular (SAVE) Clinic to serve the need for compassionate and advanced vascular care to the growing population of diabetics residing in this historically underserved area.
Dr. Ochoa's approach to treating her patients involves a collaborative partnership with hospitals, nonprofits and health care groups throughout the South Side to ensure patients receive the best care possible. It began after realizing that outcomes for people with diabetes or who suffered a stroke or heart attack were worse than those in more affluent parts of the city.
"As a vascular surgeon, I was alarmed by the complications of diabetes in South San Antonio," she said. "I do bypass surgeries, amputations and take care of people on dialysis, and I began to realize outcomes were so different for people on this side of town. As I researched more, I found that it's the social determinants of health that affect outcomes. Medical care only represents 20 percent of health care outcomes while issues like transportation, food, desserts, socioeconomic status, health education and others can affect up to 50 percent of health care outcomes."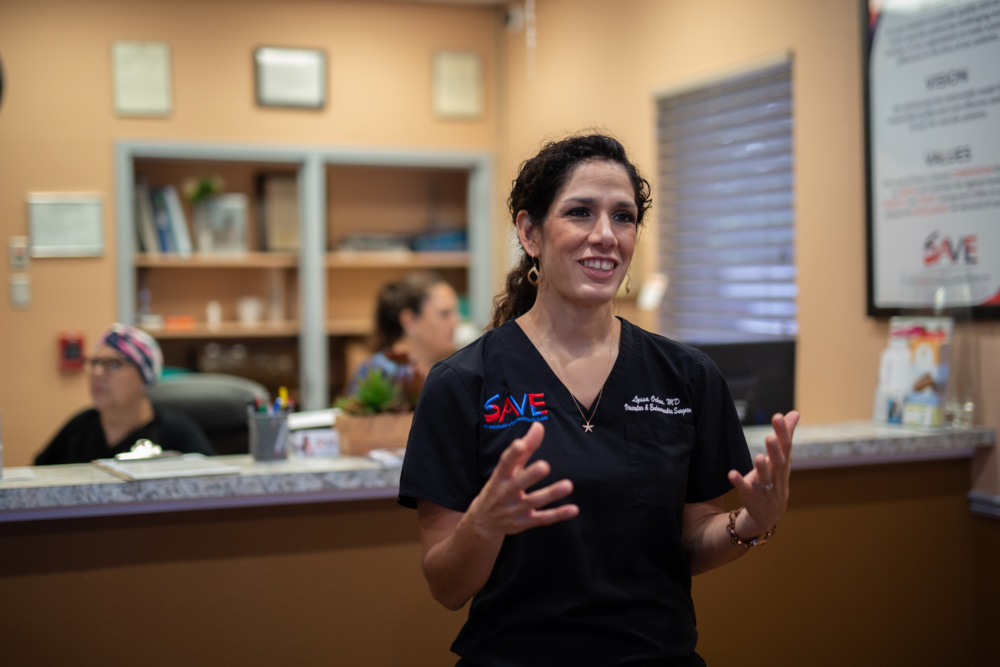 "If we're going to make a difference in prevention and education, not only do all of the health care providers have to do a good job in treating patients, but we need to acknowledge the social determinants of health. So, I have taken a different strategy to this population's health challenges that we have on the South Side. The way we do that is through collaboration with all institutions that have similar goals."
Some of SAVE's collaborative partners include the nonprofit Methodist Healthcare Ministries and Baptist Health System. Dr. Ochoa, in fact, has taken her commitment to saving lives and limbs a step further by creating the Amputation Prevention Program at Mission Trail Baptist Hospital. Through the program, if a patient comes to the hospital with a diabetic foot ulcer, for instance, the multidisciplinary amputation prevention team is required to see the patient within 24 hours.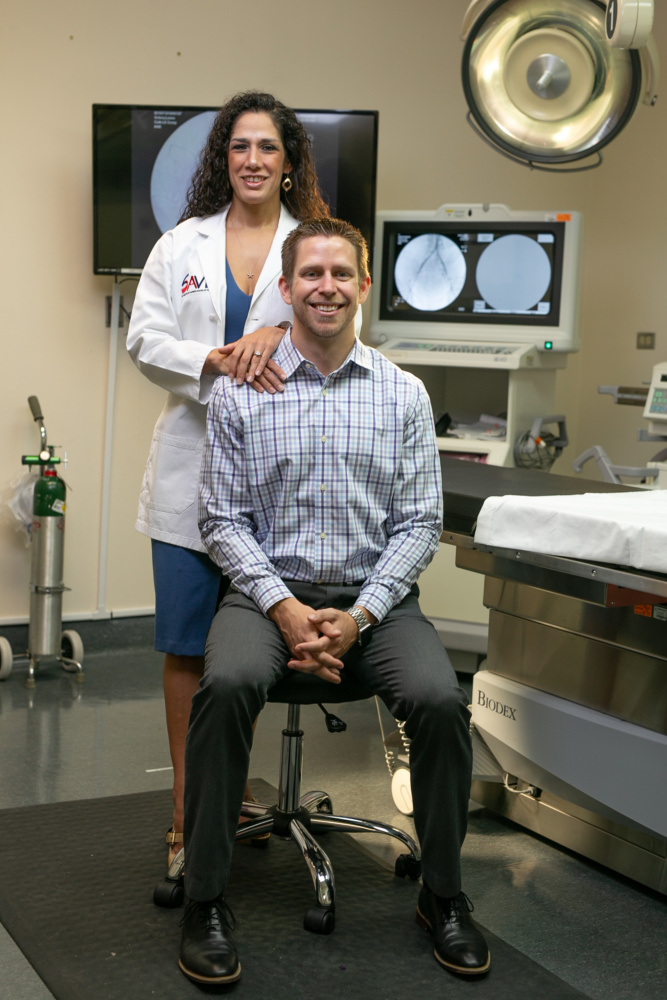 "One of the most common reasons for diabetic amputations for people on the South Side is foot ulcers that result due to poor circulation or diabetic neuropathy," Dr. Ochoa said, adding that a similar prevention program will be offered at Southwest General Hospital starting in September. "We all collaborate to determine how to treat the foot ulcer in an efficient way to get it healed to prevent amputation. We also make sure there is follow up. Amputation prevention programs are already established throughout the nation at academic centers; it doesn't happen a lot in private hospitals, so this is unique. There's no place in the country that needs this more than the South Side of San Antonio. Literature shows that coordinated care saves limbs."
Dr. Ochoa is also working with the University of the Incarnate Word to train medical students, and to oversee a research project there to determine if a non-medical intervention for patients facing major barriers in social determinants of health, will improve outcomes, such as preventing diabetic amputations or decreasing the occurrence of strokes or heart attacks.
Another community initiative Dr. Ochoa is especially proud of is a Diabetics Support Group at Mission Trail Baptist Hospital. "It's an opportunity for diabetics to talk about the difficulties in managing diabetes, such as the personal struggles and mental health challenges," she said. "They're able to talk about things only they can understand."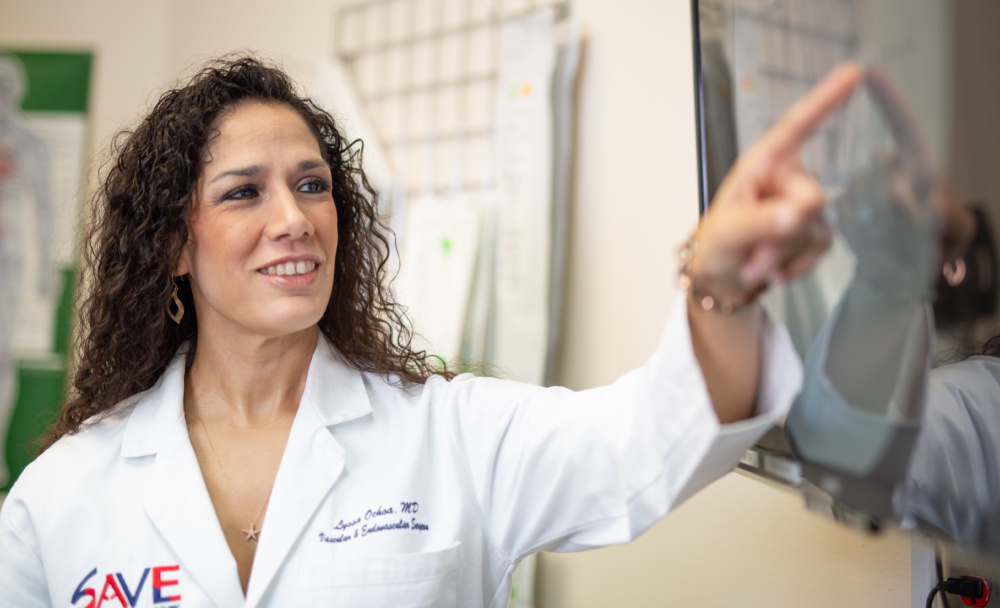 For her community efforts, Dr. Ochoa was recently presented with the Mission Trail Baptist Hospital's WB Russ Excellence in Medicine Award. "The award is nice, but what's really rewarding is seeing the patients who benefit from quality health care. You can see how appreciative they are," she said. "I tell them they now need to share what they learned about prevention and education with family and friends. They are the teacher now, and that's how we're going to help change diabetes on the South Side."
After earning her medical degree and completing her residency at Baylor College of Medicine, Dr. Ochoa did a fellowship at the medical school's Michael E DeBakey Division of Vascular Surgery and Endovascular Therapy. She credits her chief of vascular surgery, Dr. Peter Lin, for the vast and rewarding experience of working outside the academic setting and treating patients "out in the real world," as she recalled, that helped develop her skills and expertise as a vascular surgeon.
During her general surgery residency at Baylor, she learned about surgical oncology, pediatric surgery and thoracic surgery, but it was vascular surgery to which she was drawn.
"What I like about vascular surgery is the intricate work we get to do when we operate," she said. "We vascular surgeons are also on the leading edge of technology. We're trying to find new ways to treat patients, who have serious conditions, in minimally invasive ways that are safer for them, while also having the skills to perform traditional open surgery when necessary."
Treating Peripheral Arterial Disease, or P.A.D., begins with an evaluation in Dr. Ochoa's office at SAVE, first with an ultrasound or circulation study of a patient's feet, for example, before she gives a diagnosis of any vascular disease she finds. If a procedure is required to unclog blocked arteries, an individual can receive services in the clinic's outpatient cath lab, where Dr. Ochoa can perform an angioplasty or stenting procedure, as well as an atherectomy to remove plaque from blood vessels.
"I do a lot of state-of-the-art techniques, such as intravascular ultrasound where the ultrasound 'camera' is on the catheter of the wire to look at the vessel inside out, and we can tell where the disease is and whether treatments have worked or not," she said.
One of the more common surgeries Dr. Ochoa does is a bypass surgery for people who have severe blockages of blood vessels to their legs. "Maybe I or someone else has tried to open them up with a catheter, wire or stent, but we still can't, so what we do is a bypass," she explained. "Ideally, we take the vein of the patent and connect it to good blood flow coming in; we bypass the blockages, and then we sew it into a blood vessel that is open in the foot."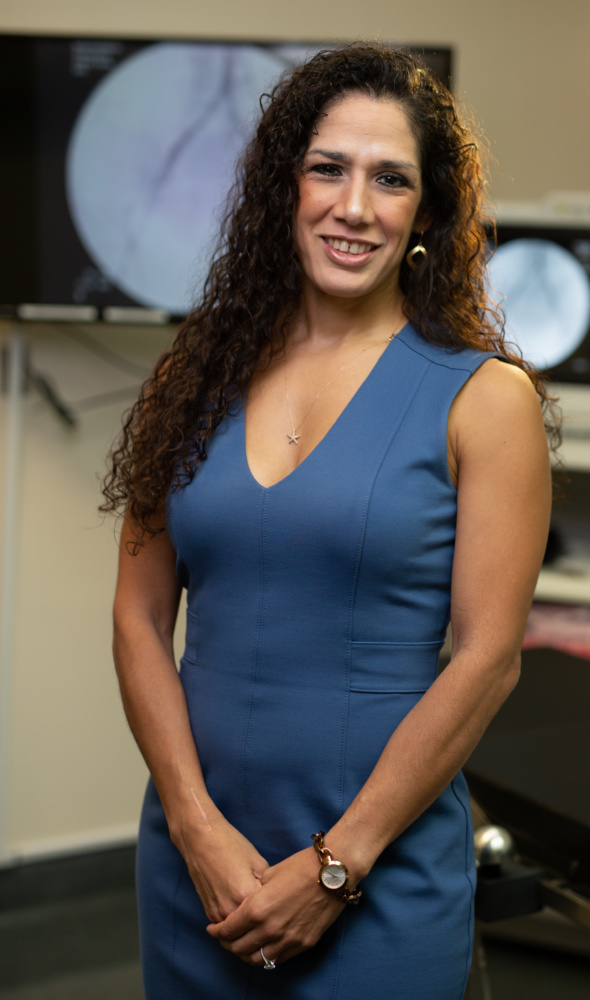 Another procedure involves working on clogged vessels of the carotid arteries in the neck. "Some of our patients are at risk of having a stroke because they have cholesterol buildup in their vessels," she said. "We can either prevent further stroke or prevent stroke altogether if we can operate on those arteries in time and remove the blockages."

Dr. Ochoa is also skilled at surgery to treat an abdominal aortic aneurysm, which is a weakening of the main blood vessel in the stomach. "If it gets larger and larger, it can rupture, and you can die, so there are a lot of new techniques to fix this," she said. "Traditionally, we open the entire abdomen and replace the ballooning section of the aorta. Now, we can often achieve the same or better outcome through a small groin puncture by delivering a stent graft within the diseased aorta."
"As vascular surgeons, we are skilled to treat patients with medication, through lifestyle changes or endovascular surgery, which includes catheters, wires or stents, but also through traditional open surgery, such as an endarterectomy to remove plaque from the vessels. That's what's unique about a vascular surgeon. I can treat them with what they need, and I'm not limited to what I can do."
On the cutting-edge front, meanwhile, the San Antonio Vascular and Endovascular Clinic has applied to be part of a research project involving a new device for patients who have no other options because of blocked vessels.

"It is important for us to participate in clinical trials for new and upcoming technologies. This is how we continue to innovate and develop opportunities for our community to thrive."
For more information, visit www.thesaveclinic.com or call (210) 610-7283.