Dr. Mathew Alexander Strategically Places An Emphasis On Minimally Invasive Techniques At South Texas Brain & Spine Center
by Jody Joseph Marmel
Dr. Mathew Alexander grew up in Kentucky and gives his father a great deal of credit for sparking his interest in the medical field. "My father was a surgeon and he would take me to the operating room when I was younger. I found it to be fascinating and knew that I would be heading in that direction as I advanced in school." He completed his Neurosurgery Residency at the Medical College of Wisconsin and is Board Certified by the American Board of Neurological Surgery.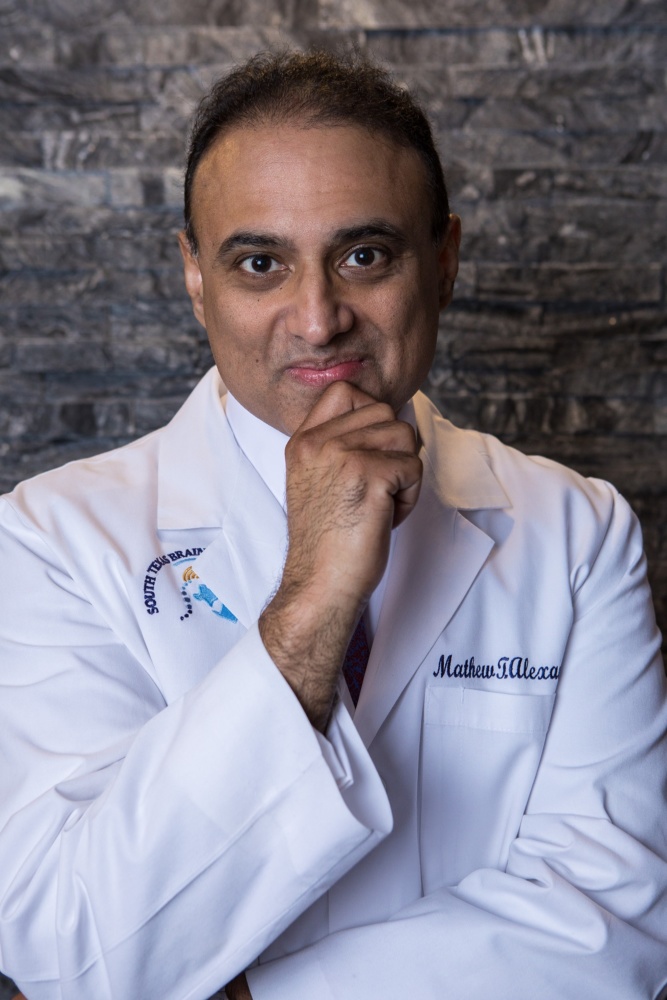 Since his brother is a Cardiologist in Corpus Christi and his sister is a Neurologist in Houston, Dr. Alexander started his practice in Corpus Christi so he could be closer to his family. "I also wanted to bring quality of care to the Coastal Bend. We take care of all facets of Neurosurgery and I knew that our services were needed here."
South Texas Brain & Spine Center was formed in 2008 by Dr. Alexander and the team offers the best techniques available. The other physicians are Dr. Langham Gleason, Dr. Howard Smith and Dr. Melissa Macias. Dr. Alexander explains, "Neurosurgery is the most fascinating field. We really have the opportunity to make a positive difference in people's lives." While the physicians perform surgeries at a Level 2 Trauma Center, and use cutting edge technology for cancerous tumors (CyberKnife Radiosurgery), Dr. Alexander focuses on the Minimally Invasive Surgeries because the recovery rate is faster, there is less pain involved and patients prefer these type of procedures if applicable. "If we can fix a problem using a scope, we try to do that more often than the more complicated surgeries. We may not always have that option due to each individual case, but when we do, we always go with Minimally Invasive Surgeries."
The quality of care offered by South Texas Brain & Spine Center rivals that of any big city. "There is nothing here that we don't offer that is offered in other cities such as Houston or San Antonio. We offer the same excellent level of care here, so that if there are any problems, we have the ability and capability of dealing with that right here on the Coastal Bend."
The South Texas Brain & Spine Center's goal is to treat their patients underlying condition with an individualized approach and help each patient move toward a better quality of life. Dr. Alexander adds, "We are very passionate about what we do and we try to treat each of our patients as if they are family."
Their compassion goes even further than this. Since there is poor access to healthcare, Dr. Alexander and his team go the extra miles and accept all insurances. "We strive to be the best in our techniques, our approach, our surgeries, and we make sure that we take care of everybody." While this is unusual in the medical arena, it is obvious that Dr. Alexander is determined to help those patients that need treatment regardless of what type of insurance they have. The key factor here is caring about people and ensuring that the community gets the best care possible.
The following is a list of procedures offered by South Texas Brain & Spine Center.
The Spine Disorders treated include-
Degenerative Facet/Joint Disease

Spinal Stenosis

Spinal Instability

Trauma—Fractures/Dislocations

Tumor—Primary/Metastatic

Infection

Compression Fractures

Craniocervical Disorders

Failed Back/Chronic Pain Disorders

Sacroiliac Joint Degeneration
The brain disorders treated include-
Tumor

Infection

Trauma

Stroke

Movement Disorder—Parkinson's Disease

Hydrocephalus/Normal Pressure Hydrocephalus

Arteritis Diagnostics

Trigeminal Neuralgia
The Peripheral Nerve Disorders treated include-
Nerve Entrapment Syndromes

Tumor
The scope of the practice ranges from young adults to older adults and focuses on the spine and the brain. Dr. Alexander explains, "We do spine emergencies, brain emergencies as well as back pain, neck pain and a host of degenerative problems."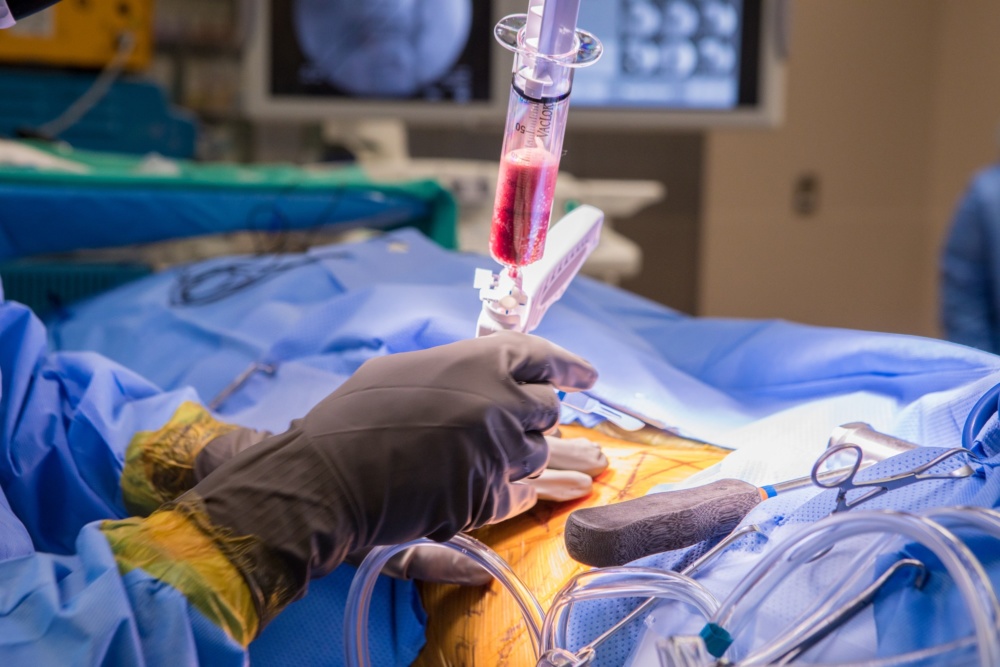 South Texas Brain & Spine Center covers a diverse area from Corpus Christi to San Antonio to the Valley. They have an office in Victoria and another one will be opening in Laredo in the coming year. The need for Neurosurgery in these cities has not been met, but Dr. Alexander and his team are sharing their expertise and medical help to those that need it the most. "These are underserved areas and we want to help those in need." And that is exactly what this wonderful practice is doing throughout the Lone Star State.
The practice refers their patients to pain management doctors for injections and other treatments if necessary and physical therapists as well as other modalities that are minimally invasive.
"We usually keep surgery as our last option. We want our patients to come here for the help they need. Since a lot of people are fearful of seeing Neurosurgeons because they don't want surgery, we understand that and we try our best to take the least invasive route."
Dr. Alexander continues, "We can diagnose the problem so that you can get the right treatments. It is always important to take action and not ignore a problem. We want to make the best decision on how to help you."
With compassion, intelligence, years of experience and a genuine love for his specialty and the patients he treats, it comes as no surprise that Dr. Alexander is the Chairman of Surgery and Neurosurgery for CHRISTUS Spohn Health System. He is also currently Vice President of Clinical Affairs of Christus Shoreline and slated to be Chief of Staff in two years. Being involved in the policies and regulations of surgery at all five facilities is another tremendous responsibility that Dr. Alexander enjoys.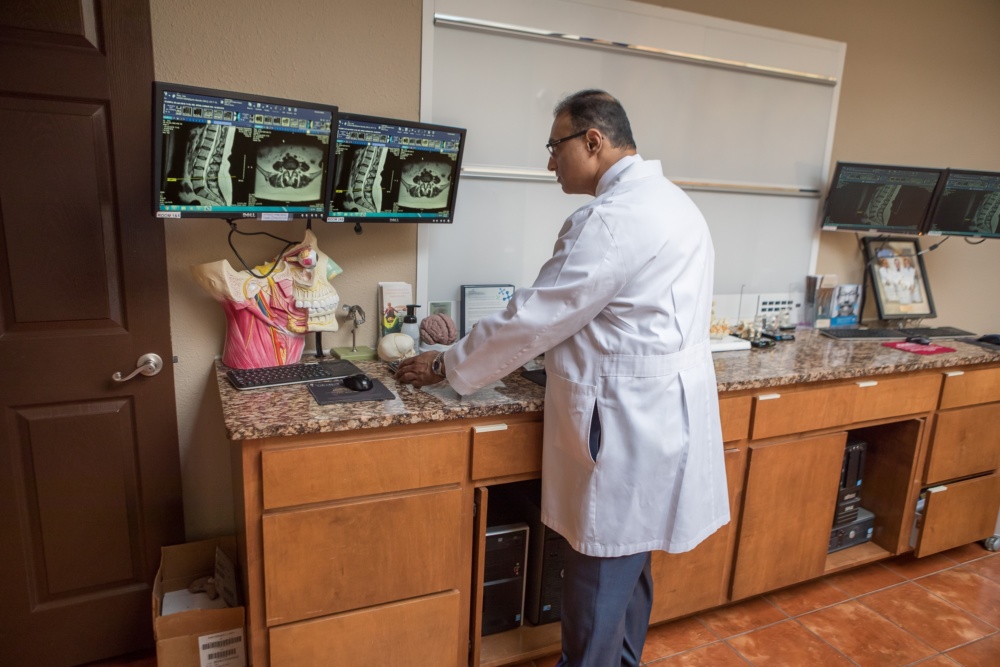 But, there is more to Dr. Alexander's story. Approximately 30 minutes north of Corpus Christi is the DEA Ranch. He fell in love with this land and wanted to share it with everyone. The Ranch has several hunting packages to choose from and he visits the ranch every three days or as much as possible. The Reserve at Dancing Elk is located on the ranch and it is known as one of the largest event halls in Texas. Many weddings are booked here because of its beauty and elegance and memories that are sure to last a lifetime.
And then there is the Brain Storm Child Care Learning Center that opened on February 12, 2018. It is located across the street from the South Texas Brain & Spine Center in Corpus Christi. Dr. Alexander decided to open this child care center to help out the nurses, medical associates and others that need the help with child care as they work and help others.
This is not the end of Dr. Alexander's story-in fact, I am quite certain that there are going to be more amazing avenues he explores that will benefit his patients, his community and let's go a bit further-his fellow Texans from the north, south, east, and west. He is an incredible man that wants to help others and share the beauty of life.
At South Texas Brain & Spine Center, Dr. Alexander continues to help others every single day. "A lot of our patients have chronic pain. When you live with pain every day, it causes you to be unhappy and you are unable to enjoy life." He continues, "You don't have to live with that pain, discomfort or weakness. We are here to help you." With Dr. Alexander and his team to treat your condition with minimally invasive techniques or other options tailored to meet your specific needs, you can get your pain-free life back and start enjoying the beauty all around you.
For More Information-
Visit http://www.southtexasbrainandspinecenter.com/
Corpus Christi Office
1227 3rd St.
Corpus Christi, TX. 78404
(361)-883-4323
Victoria Texas
302 E. Airline
Victoria, TX. 77901
(361)-576-1411