Jody Joseph Marmel
Having the pleasure of meeting Dr. Adetona and his partner in life, Omolola Adetona D.D.S. was a delightful and refreshing experience on many levels. Their passion for the quality care of children –newborn through 21 years old is a novel method in that they treat the patients' needs all under one roof. Parents can bring their children to see Dr. Olutola Adetona for their pediatrician visits-well and sick visits-and then they can visit with Omolola Adetona D.D.S. for pediatric dentistry. "There is a convenience factor involved that our patients appreciate. They do not have to make two separate appointments and miss extra time from work or school. They can see both my wife and I with one appointment. We are here to make life easier and less stressful for both parents and the children," explains Dr. Adetona. And that is exactly what they do-one patient at a time.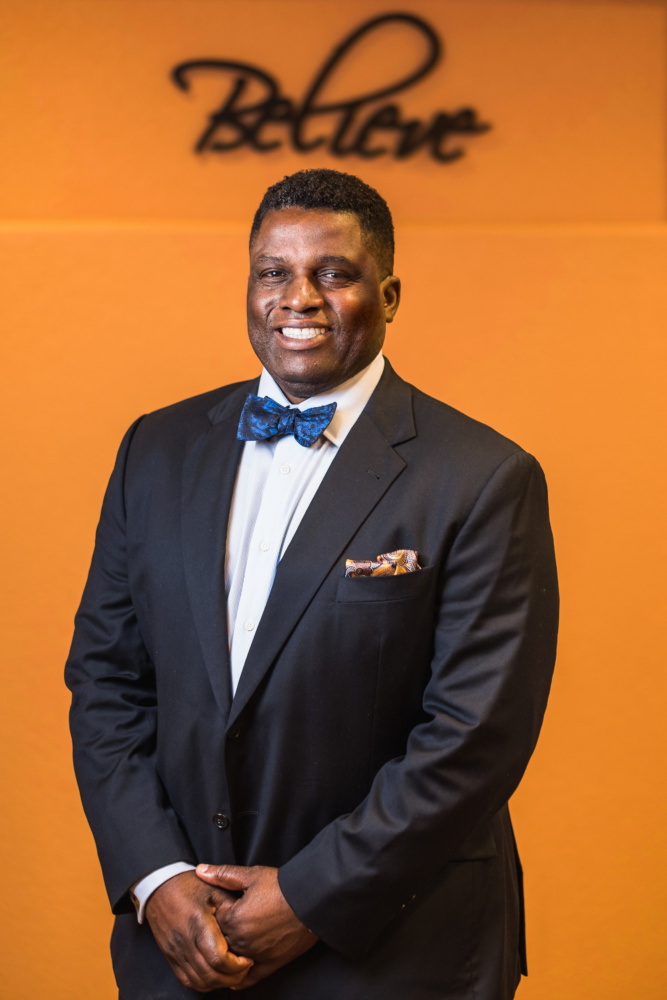 Prior to opening Practical Approach Pediatrics and Pediatric Dentistry, Olutola Adetona graduated from the University of Ibadan Medical School in Nigeria. He then completed a one year internship at the Lagos University Teaching Hospital in Lagos, Nigeria. In 2004, Dr. Adetona was accepted to the University of Texas Health Science Center at San Antonio Pediatric Residency Program. He then finished his training at the Texas A&M Health Science Center in Corpus Christi. In 2008, Dr. Adetona became Assistant Professor and an Attending ER Physician at the Driscoll Children's Hospital located on the Coastal Bend. His next move was back home to San Antonio where he was an accomplished Emergency Room Physician as well as a pediatrician. In 2012 Dr. Adetona received a Master of Public Health (MPH) from the School of Public Health University of Texas Health Science Center Houston.
San Antonio has been home for the Adetona family since 2002 even though Dr. Adetona traveled between work and family life. His wife, Omolola Adetona D.D.S. has an equally remarkable past prior to her becoming a pediatric dentist. She graduated dental school at the University of Lagos, Nigeria. After earning her degree, she spent one year at the Lagos University Teaching Hospital in Lagos, Nigeria and completed an internship in general dentistry. In 2004, Dr. Omolola Adetona became a Pediatric Dentist at the University of Texas Health Science Center at San Antonio. She did not stop there though. She also became an Assistant Professor in the department. While at the UTHSCSA, Dr. Adetona went further and earned a certificate in Forensic Odontology and became a Diplomate of the American Board of Pediatric Dentistry. She practiced as an Associate Pediatric Dentist in San Antonio and she was also a consultant in forensic dentistry with a special interest in child abuse and neglect.
These two talented and well educated and experienced doctors
got married in 1998 in Nigeria and three weeks later, they moved to Houston. Omolola Adetona was working as a Dental Assistant while studying for the Board Exams and Dr. Adetona was a Medical Assistant. "Once my wife passed her Dental Boards, she was accepted at the University of Texas Health Science Center at San Antonio and began practicing while I was studying for my Boards. We both have the determination and a genuine commitment to pediatrics and we always go the full mile to make our business a success and most importantly, to make sure our patients are happy and healthy."
In 2010, the beginning of their journey into private practice was coming to fruition. They started construction on what is now known as Practical Approach Pediatrics, Pediatric Dentistry and Pediatric Urgent Care. The doors opened in July of 2011 and the practice has been growing ever since then. "Our practice is the only one of its kind in San Antonio and with all of our research, we believe we are the only practice that offers all of our pediatric services under one roof in the entire state," Dr. Adetona proudly adds and rightly so. To further offer additional care, in April of 2016, the doctors opened an Urgent Care Center in their office. "The patient can be seen in the same room for pediatric well and sick visits as well as dental care. We wanted to take this a step further and offer Urgent Care services because we want the community to know that we are there for them every single day. We understand and communicate well with the parents and the children. Our family grows a little bit more every day."
The Urgent Care was always a part of the Adetonas' vision, but it took a while to get it started. The doctors focused on their practice and knew when it was time to expand their services. Looking back at their experiences with emergency room medicine and trauma, the Urgent Care service makes sense because Dr. Adetona practiced in the Emergency Room at hospitals for children. He wanted to share his knowledge and help children and their parents. "We are also the only pediatric urgent care that can truly do something about pediatric dental emergencies." The Urgent Care is available from 10 a.m. to 8 p.m. Monday through Friday and on Saturday and Sunday, the Urgent Care is opened from 2 p.m. to 8 p.m. Dr. Adetona explains, "We see patients that range from fractures to dental emergencies to infections, hives, or insect bites. Mothers and fathers appreciate our services during these hours. It saves them from anxiety so they do not have to wait until the next business day and many times, we save them a trip to the Emergency Room. We try to be available so we can help families during their time of need." And that is exactly what these two doctors accomplish; Practical Approach Pediatric Urgent Care offers the following services: Emergency Dental Care, Foreign Bodies, On-Site X-Rays, Stitches, Asthma, Diarrhea, Hives, Urinary Tract Infections, Fractures, Minor Emergencies, TB Testing, Wound Care, Breathing Treatments, Dehydration, Pink Eye, Vomiting, Lacerations, Burns, Flu Shots, IV Therapy, Colds, Fever, Pneumonia, Sports Physicals, Sprains, Immunizations, Pain Relief, Allergic Reactions, Coughs, Ear Infections, Rashes, and Lab Tests.
The Adetonas' approach to pediatrics is with an emphasis on treating the whole child. If patients are not feeling well or need dental care, this is a "one stop" pediatric office that takes care of your child with a positive and caring approach. In addition to the aforementioned, the doctors perform routine physical exams, dental exams and of course, the Practical Approach Pediatric Urgent Care Center is a major convenience for those parents with children that get sick at times when most pediatricians are not available. "When we develop wonderful relationships with the parents over time, it easily translates into wonderful and long term relationships with the children and in essence, the entire family. The kids are happier because they get to know both of us and they are more comfortable in our office setting because they are accustomed to our staff."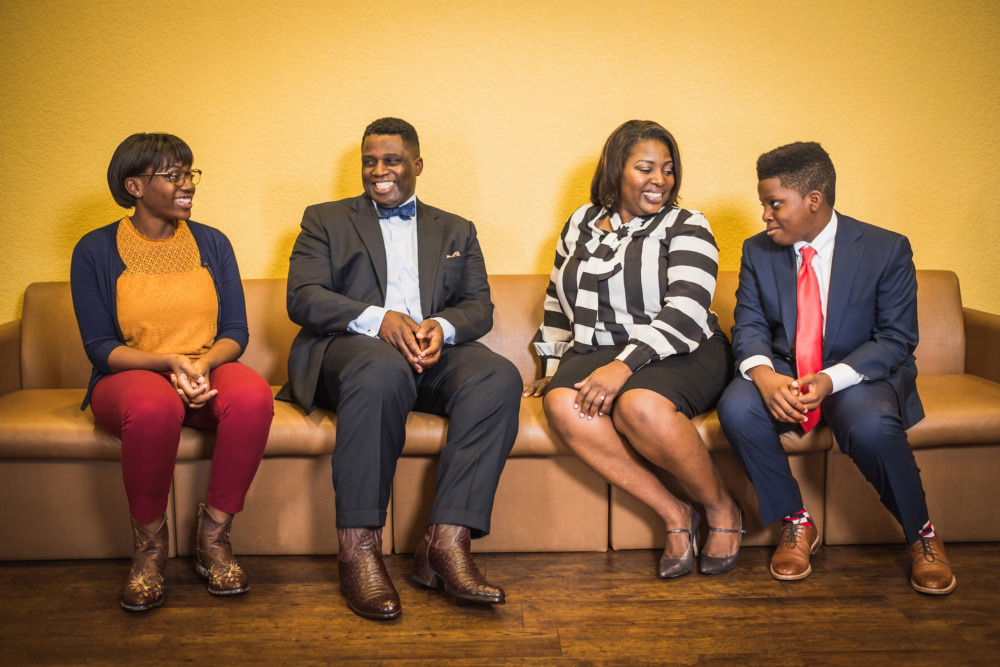 Keeping up with the times, the doctors also offer e-visits. This is a virtual visit and it works well for parents on the go that have questions or want to talk in the comfort of their home or wherever the case may be. "We make ourselves available when an e-appointment is confirmed and we can talk online and we can hear the parents' concerns and take a closer look at the child. Often make a diagnosis and send a prescription to their pharmacy or home treatment and follow-up plan. If we feel that the child needs to be seen in the office, we waive the charges of the e-visit and make time to see the patient. We want all of our patients and their families to leave here without any anxieties and know that they are in the best of hands."
This dynamic duo has plans for the future and just by meeting with them, it is easy to tell that their long term goals will be met. Dr. Adetona smiles and says, "We now have established the model that we envisioned from the beginning. We want to keep on growing and taking care of the children in our community in San Antonio. Now that we built the model, we can duplicate it over time." The doctors would like to have a few branches of the Practical Approach Pediatrics and Pediatric Dentistry with the Practical Approach Pediatric Urgent Care available throughout the ever growing Alamo city.
Drs. Adetona have been married for over 19 years, have two precious children, Teniade (17yrs) and Adelani (12yrs) who are exemplary students, a joy to be around, and strive to become doctors too
Dr. Adetona emphasizes, "It is our Faith in God that stands out in everything we do. Our faith gives us the drive, mind-set and character to be who we are and what we want to give back to the community with our services." While faith plays a big part in their lives, it is also their compassion and dedication that has been a part of both doctors' philosophies that sets them apart from the rest. Being a pediatrician and a pediatric dentist is a lifelong commitment to both the children and the parents. In essence, their patients are entire families and as Dr. Adetona says, "We wouldn't have it any other way. We are one big family, from our warm staff to our patients and their families. That is what caring for children is about and we believe in taking care of all of the children's needs with our practical approach seven days a week."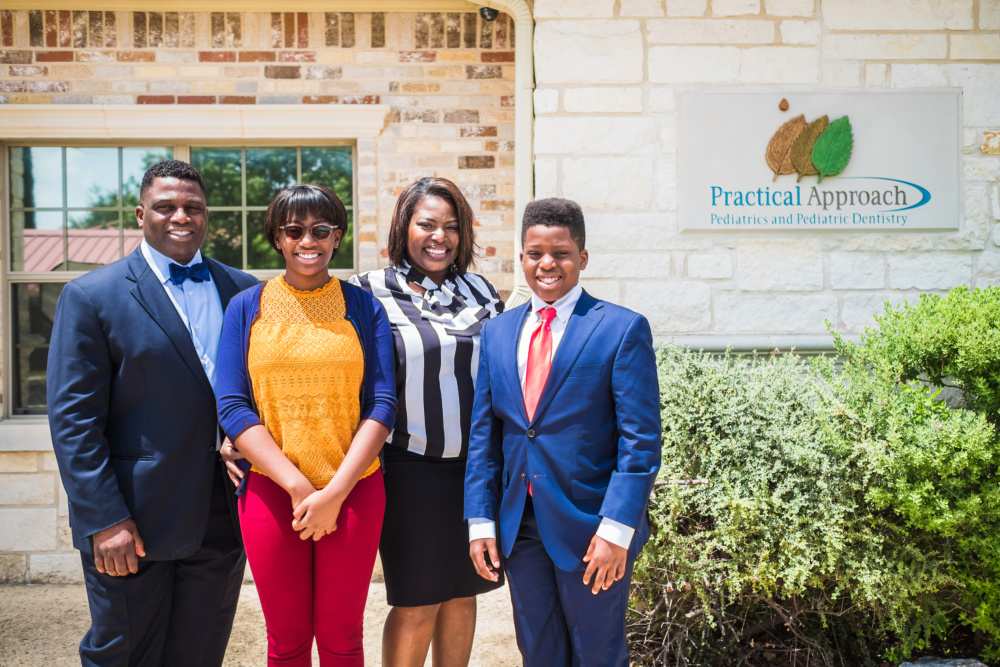 For more information visit their website. HERE
9480 Huebner Road, Suite 400
San Antonio, TX. 78240
210-697-3900