Dr. Maria Palafox – Helping At Every Step Of The Journey
Three Patients Share Their Journey With Breast Cancer
By Jody Marmel
Dr. Maria Palafox is a general surgeon, but she focuses on breast cancer because of the patients. She explains, "The stakes are substantially higher for a patient when they get a breast cancer diagnosis and both the good and bad are more deeply felt for all parties concerned. I appreciate being able to help them with that, and my life is richer because of this."
Educating the community is one of Dr. Palafox's goals. "I want to see that 99 percent of women are getting mammograms. Currently, only 70 percent of women nationwide are getting mammograms. I also want patients and physicians to routinely discuss their family's cancer history."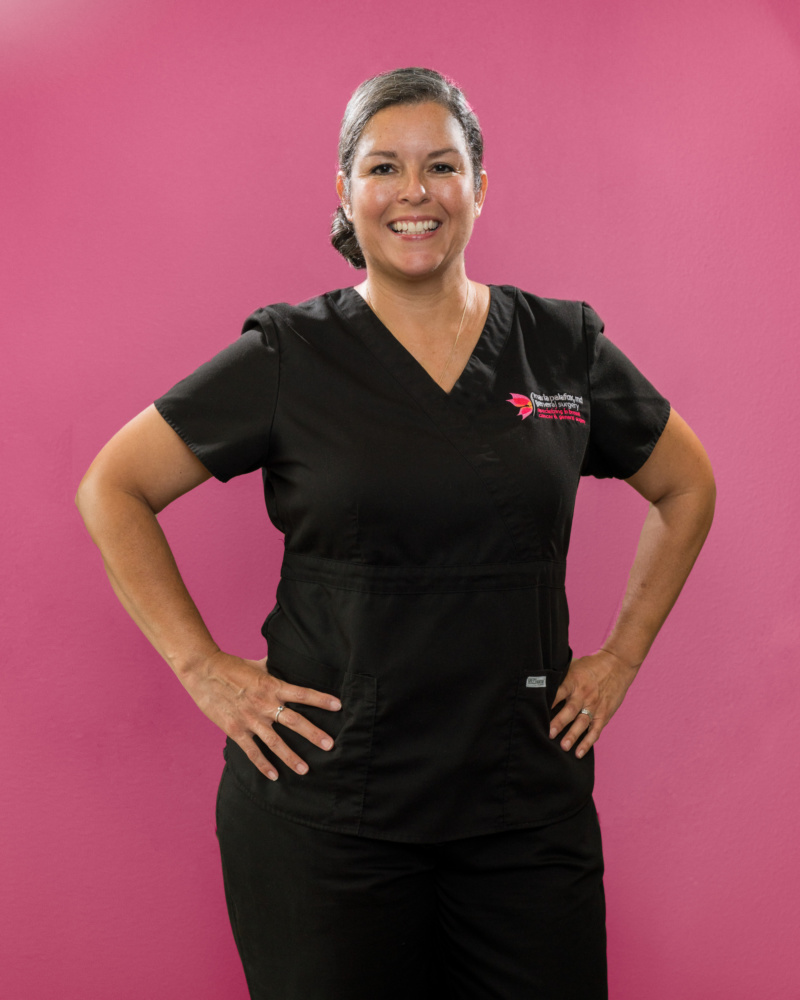 A family history of certain cancers, like breast cancer, can indicate that a family has a genetic mutation and people can be tested for this. "If a patient knows they have one, they can change their genetic destiny with increased screening, medical treatments or in some cases surgery, depending on what the patient wants."
Dr. Palafox emphasizes that the one risk factor for breast cancer that we can control is our weight. A BMI over 30 makes us at higher risk to develop not only breast cancer but other cancers as well. "This is completely in our control."
Three of Dr. Palafox's patients share their journey with breast cancer and how Dr. Palafox helped each one of them 24/7. While each story is different, each patient felt they were in the best hands and she will always be their guardian angel.
Linda Riley
Linda Riley left home at the age of 12 to train for the Olympics in swimming. She says, "I have always been healthy and very athletic and as a result, I always maintained a healthy weight." Fast forward, and Linda used her energy in her Homeschooling Business, Riley's School of Tutoring and her Swimming School. "I taught for over 30 years in the public school sector and decided I wanted to help others in a different way."
Linda and her husband live in Jourdanton, which is south of Pleasanton, Texas. But when they were in West Texas, she had a pain in her ribs on her right side. Since she did press outs and swam daily, she thought she bruised herself and went on with life. "So much was going on in my life that I put my pain on the back burner. We left West Texas and came home. I went straight to the bathroom and looked at my breasts. I saw an indention in my breast and I felt a lump; I just knew what it was."
Linda immediately called her PCP and he referred her to Dr. Palafox. Within two days, she had her first appointment with Dr. Palafox and her husband was by her side throughout the entire journey.
She met with Dr. Palafox and knew she was in the best hands.
The doctor did a sonogram and Linda's biopsy was set up immediately. "I remember telling Dr. Palafox, "Don't ever leave me alone and she never did. She has been by my side no matter what. "
In September of 2015, Linda was diagnosed with Breast Cancer -Stage 2. On November 11th, Linda was scheduled for a double mastectomy. "I wanted both my breasts removed to reduce chances of more cancer. I believe you have to take the initiative to learn and be knowledgeable. You have to make sure that you are heard."
After her surgery, Linda was scheduled for reconstructive surgery, but there were so many twists and turns before she could even get there. She ended up having a very difficult time healing and went into a hyperbaric chamber for six months. "I couldn't have chemotherapy or reconstruction at this point. Everything was on hold." Linda finally healed, and Dr. Palafox told her she did not need chemotherapy. At this point, Linda decided she did not want to have reconstructive surgery. She explains, "I am happy with me and I didn't want any more surgeries."
Linda describes Dr. Palafox as a lady of grace. "She is an angel and she is always there for you no matter what. She doesn't time you because she listens to you and she actually hears you. She hears what you have in your heart. Dr. Palafox is a strong woman and she is helping others take the journey. Her drive and her need to keep making things better for her patients make all the difference in the world."
Linda got back into the water in 2017 and went back to being the mermaid she was prior to her diagnosis. "Dr. Palafox prayed for the day that I would embrace my body. And I can honestly say I am there. If you have scars, then you are a survivor and I am a survivor."
Linda is not in remission; she is in Survival Ship. "That's like a ship out in the ocean that has smooth days and then there are those stormy days that you have to ride it out. I stay strong and believe more smooth days are ahead. Just ride the water. Since I am a mermaid, I can do that with prayers and God's grace. And with Dr. Palafox-my wonderful doctor and forever friend."
Margo Jimenez
Margo Jimenez is from San Antonio and is currently working at a senior level at Fed Ex. She has one son and he is 28 years old. She has been married to her husband since 1999. One day back in 2010, Margo felt a lump on her left breast, so she scheduled a mammogram. The technician told her everything was fine and that she could leave. She went home and 15 minutes later, she received a call and they told her to come back because they wanted to take another look at the left side. She went back, and the Radiologist told Margo that he wanted her to get a biopsy.
"My mother was just diagnosed with breast cancer two months ago and I had to know what was going on. So, I told the Radiologist that I knew he was not allowed to tell me, but did he think it was cancer? He told me that it looked like it might be."
Margo did not know whether she should go back to work or if she should go to church, but she decided to go home, and she lit a candle. She called her gynecologist and said that she had to have a biopsy immediately. "I did not want to wait. He referred me to Dr. Palafox. I called, and she saw me the same day. My husband came with me because we were in this together."
"An angel sent Dr. Palafox to me. Every beautiful word in the book is what Dr. Palafox is-the positive words that go above and beyond the call of duty." Margo remembers how calming Dr. Palafox was at their first meeting. She was reviewing the Radiologist's paperwork and said that she would do a needle biopsy right now. After the needle biopsy, Margo recalls that Dr. Palafox said, "Margo, here is the deal. I don't want you worrying about this. When I get the results, I will call you immediately." It was a Friday and Dr. Palafox kept her word and called Margo on Saturday. "She called me and told me to sit down. I knew then that I had cancer. I went to see her that Monday and I got a tattoo on my arm with a pink ribbon for Breast Cancer with the date August 26, 2010. My son has a similar one with the same pink ribbon that says Mom. "
Margo was diagnosed with aggressive breast cancer Stage 3. She had a lumpectomy and 17 lymph nodes had to be removed as well. "I had a lot of pain in my arm from the removal of the lymph nodes. And then I had to go for chemotherapy. I was drained and exhausted. Dr. Palafox told me to take some time off from the chemo because she wanted me to maintain my quality of life." In spite of her desire to be at work every day, Margo took time off and stopped chemo for a while in 2011. In total, Margo went for chemotherapy for two years.
The day Margo started radiation, her mother passed away. But, with the help of Dr. Palafox and her support system, she managed to endure the burning sensation and completed treatment.
"Dr. Palafox was the one that pushed me to have the lumpectomy. She said let's get this done and that it was going to be okay. We can do this. She was with me every step of the way. I honestly believe that Dr. Palafox saved my life. I can still call her and talk to her and just cry. On those days when I am really scared that my cancer is going to come back, I call Dr. Palafox. When we end the conversation, I feel so much better. It's a healing process and Dr. Palafox goes the extra mile with me."
Margo explains that after she went through the lumpectomy, chemo, radiation and some reconstructive surgery, she came to the decision that she did not want her breasts. "Since we know this is aggressive, I didn't want my breasts any longer. Why take the chance?" In November of 2012, Dr. Palafox performed a double mastectomy because Margo insisted that she had to be the surgeon.
Margo explains that she would send anyone to see Dr. Palafox -even if they did not have breast cancer. The words Margo used to describe her were kind, loving, caring compassionate and an extremely intelligent woman. "I have so many good things to say about her; I believe I could write a book about her. Dr. Palafox saved my life, so I consider her my savior. She saved me physically and she continues to help me mentally."
She continues, "I want to help others and my message is don't take your body for granted. Love your body, be in touch with your body and remember, it's your life." Margo is back at work and her co-workers always say that they can't tell that she is dealing with cancer. She always has a smile for everyone, but it's just a bit different on the inside. Her positivity and her love of life and appreciation for Dr. Palafox is obvious. Margo is a fighter and while she has some setbacks, she always springs back and is ready to take life on full steam ahead.
Leticia Velazquez
Leticia is a native to San Antonio and is married with five children, and 15 grandchildren. She has worked at HEB for 17 years. Leticia started working in the store and then she moved to the warehouse in production and selection in the floral department. "While there is a lot of heavy lifting, I loved this job," she explains. But, she was diagnosed with Breast Cancer in 2016 and is currently on long-term disability.
"In 2015, I noticed that my diabetic levels were super high, so I went to see my PCP and had a series of tests. Included in those tests was a mammogram. I was called back immediately after I left. I went back, and they did another mammogram and ultrasound. Hours later, the doctor finally saw me and showed me my ultrasound. I had a mass in my right breast and my doctor did not like the way it looked. The next step was a biopsy, but not once did I suspect that I had cancer."
Leticia was told that she could no longer carry anything heavy and her career at HEB was on hold. She went back to her PCP for a follow up on her tests and her biopsy. "She told me she had a bit of bad news. And that is when I was diagnosed with cancer. I remember crying because HEB was my job and that is what I do. That was my life. My doctor told me that I need to worry about my cancer and my health. I don't know why, but I did not think about the severity of my cancer."
Her husband was in the waiting room and she told him the news. They both started crying. "I told him that I can understand if he wanted to leave me. I didn't know what to do. He is my rock and said that through good and bad, we are going to fight this together."
The oncologist was next and from there she was referred to Dr. Palafox. Both doctors felt that a lumpectomy to remove the tumor was the best option for Leticia. Dr. Palafox removed the tumor and several lymph nodes to make sure cancer didn't spread. At that point, Leticia remembers that everything was a success. She says, "I thought I was just going to get radiation and that would be the end of this journey, but I was wrong."
She saw Dr. Palafox and discovered that cancer had spread to her lymph nodes and she had to undergo chemotherapy for six months. After chemotherapy, she went through radiation treatments. "Chemotherapy was very rough for me. I never felt like I was dying; I just knew I had a hard, bumpy road ahead of me."
Within time, Leticia started to have swelling in her breast and the fluid was causing a lot of discomforts. Dr. Palafox told her to come to the office and she drained the fluid to give Leticia the comfort she needed. "That helped me a lot. Dr. Palafox always had the answers and solutions whenever I encountered a problem and she was always there for me. I found this to be amazing because I never knew a doctor could be this compassionate."
"Dr. Palafox is a wonderful doctor. Through the good and bad, she told me I can call her anytime. She also helped my husband. A side effect is constipation and my husband had no idea what to get me. Dr. Palafox met him at the store, so he could get me what I needed. She went that extra mile more than once and it was so kind of her to help us. I just don't know what I would have done without her."
Leticia adds, "I often wonder if this lady ever sleeps. She is extremely loyal to her patients from the beginning and her loyalty and compassion have helped us through this journey. I am truly blessed to have her as my doctor. She was there 24/7 for us and by explaining everything to us, she helped us so much. We have never been touched with cancer in either of our families, so we went into this not knowing too much about what was in store for us. Since my husband speaks Spanish, he felt comfortable calling Dr. Palafox and asking for her guidance because Dr. Palafox is fluent in Spanish, so the communication was easier on him. I am so thankful for her and for everything she did for me and my family."
While Leticia's journey is not over, and she still has her lymphedema, her remarkable spirit and love for her family have kept her going strong. She says, "For now, I take each day as it comes, and I am grateful for all of the love and support that surrounds me."
Three Different Journeys
Dr. Palafox says that while Linda, Margo, and Lety have all had different journeys, they represent the spectrum of what breast cancer and being a survivor is all about. She stresses, "Don't be afraid. Ignoring a lump is not going to change what is coming, but if you do something about it, you can save your own life."
She continues, "What I love most is being able to help people out. My role in a patient's life is pretty minor. I put them on the path to healing, but they still have to walk it." After hearing Linda, Margo and Leticia's stories, they all agree that Dr. Palafox does not just put them on the path to healing, but she is there for them throughout the journey.
For more information visit www.mariapalafoxmdtx.com
Or call 210-660-2529