HealthChoice Medical Group
Drs. Divya Muthappa and Aria Dayani Put Patients First at HealthChoice in Boerne
By Kiko Martinez
As a student at the prestigious, all-girls private institution The Hockaday School in Dallas, Texas, Dr. Divya Muthappa said that as a child, she received a well-balanced education that allowed her to pursue both her academic and artistic interests.
"During that time, I always excelled in my science and math classes but had a keen interest in the arts as well," Muthappa said. "I took several dance classes along with photography and ceramics, which I truly enjoyed."
With a wide range of educational opportunities, Muthappa said the school molded her into the person she is today – a well-respected and successful doctor of internal medicine.
"I think the school's foundation helped me to become a more well-rounded and approachable physician," she said.
Today, Muthappa, along with her husband, Dr. Aria Dayani, run their own primary and internal medicine practice in Boerne, Texas. HealthChoice officially opened its doors on January 28, 2019, but actually started seeing patients the week before – while waiting-room chairs and other office necessities were getting moved in and assembled.
"We had to perform an EKG without an exam table that first week," Muthappa said. "So, our very enthusiastic, young patient stood while we did it."
Muthappa and Dayani had trained together during their internal medicine residency at Hahnemann University Hospital in Philadelphia. They always knew that at some point, they would work together. Shortly after finishing their residencies, however, circumstances led them each to separate clinics. It wasn't until this past January when they were able to come together in a single practice.
"We couldn't be happier with our decision," she said. "We are so satisfied with getting to see each other on a daily basis while at work."
In Her Genes
Born and raised in Clarksville, Texas, Muthappa always knew she was going to be a doctor. Her family is from a small region in India called Kodagu, which she describes it as "a beautiful, mountainous area in the south of India, where we grow coffee, peppers, and cardimon."
Muthappa comes from a family of physicians, including her late maternal grandfather who was a general surgeon; her father B.C. Muthappa, who still practices as a general surgeon; her older brother, Dr. Deepak Muthappa, who is a family practitioner; several aunts who work as OBGYNs and in family practice; two uncles, one a neurosurgeon and the other an orthopedist; and a handful of cousins who are currently training in various fields of medicine.
As a young adult in the U.S., she was able to spend quality time shadowing her father and got to see firsthand how much of an impact a doctor could have on a person's life.
"I grew up around medicine and was told from a very young age that it would be a great profession for me," she said. "It is a truly rewarding and noble field from which you foster amazing relationships."
Her passion for medicine, she said, truly began in 2000 when she started attending Tufts University in Boston, where she would graduate with a double major in biology and environmental science and a minor in dance. From there, she moved to Grenada, West Indies, to attend St. George's School of Medicine. After finishing the program there in 2009, Muthappa went to Philadelphia and studied at Drexel College of Medicine, where she started her residency at Hahnemann University Hospital. It's in Philadelphia where internal medicine became her main focus. It's a field that keeps her very "mentally stimulated."
"Being an internist means that I get to see the patient at the very foundation of the problem," she said. "I get to work through it until it is fully resolved."
Patient Care
For Muthappa, her patients are her No. 1 motivation. She finds it gratifying when she checks up on a patient, who she has treated, to see how they are doing.
"I love solving the complicated cases that others were unable to figure out," she said. "I love to see a patient happy that their diligence and hard work is actually making a difference."
At HealthChoice, Muthappa and Dayani see patients of all ages, but the practice is primarily focused on adult medicine. They treat everything – from high blood pressure and diabetes to cancer and traumatic injuries to psychological disorders.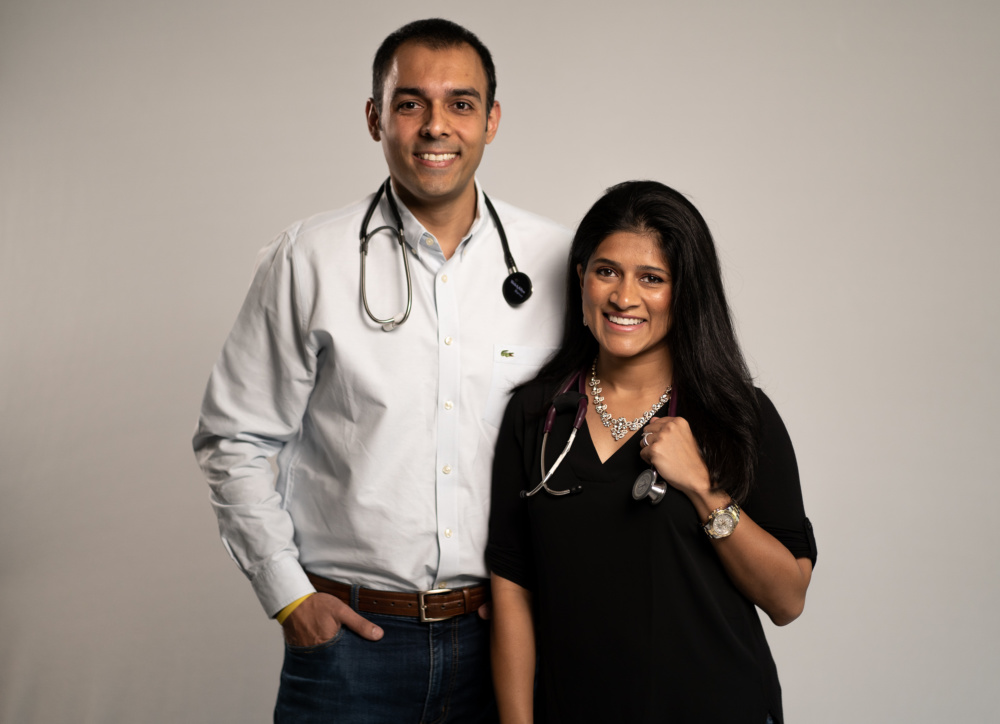 As a physician, Muthappa has seen it all. Once, a patient came into the office with leg pain from a catheter bag that had been placed too tight on his leg. During the appointment, she listened to his heart expecting nothing less than a normal exam. Instead, she found him to be in atrial fibrillation. She immediately started him on treatment. Over the course of the next several months, the patient met various doctors to get him back into a normal rhythm.
"It turns out that he had a clot in his heart that could have become deadly at any moment," she said. "The rewarding thing was that if I had not listened to him, we may not have found the clot or irregular heart rhythm until it was too late."
Another favorite patient encounter she remembers is a man who came for a routine visit to follow up on lab results. The patients liver enzymes were slightly high, but Muthappa said she had a bad feeling since those numbers had always been normal until then. She decided to check them again and found out he had rare gallbladder cancer. Doctors, fortunately, were able to get it out before it spread.
"I was so glad that I checked his labs again sooner rather than later," she said. "It could have easily been missed otherwise."
Working Together
While there can be many unforeseen obstacles when starting a practice, Muthappa and Dayani were fortunate to have plenty of guidance and help from their friends and family that made the transition go smoothly.
"We had a lot to learn in terms of how to run a business and medical practice," Muthappa said. "I think we have picked it up pretty quickly considering we hit a record of 90 patients in one day last week."
With that many patients, Muthappa and Dayani love having each other around to bounce ideas off one another, which leads to better outcomes for the patients.
"It is amazing to have a spouse who is a physician for exactly that reason," she said. "It is also really nice to have a spouse who understands the frustrations of treating a noncompliant patient, the agony with the cases that can't be solved, and the grief we experience when a patient passes away."
Treatment for patients has come a long way, even since Muthappa started her residency a decade ago. This includes advanced lipid panel labs, cardiac screenings, and better medications for a variety of diseases.
"We are constantly learning about newer and better meds for old diseases like diabetes and hyperlipidemia," she said. "Medicine is an ever-evolving field, so it constantly keeps you on your toes."
Along with the medical field keeping Muthappa and Dayani on their toes, the couple also keeps busy with their two daughters – five-year-old Zara and two-year-old Maya. The family will also be welcoming baby No. 3 to the family soon. So, will Zara and Maya follow in the footsteps of mom, dad, and their countless relatives and become doctors, too?
"We have certainly encouraged them to do medicine and they both seem eager at this point," Muthappa said. "But we will support whatever they decide to do and whichever path makes them happy as they get older."
Until then, Muthappa hopes to instill positive qualities in them, like how to adapt to difficult situations and how to be ready for any challenges that may come their way.
"Savor every moment because tomorrow is promised to no one," she said. "Life does not always take you in the direction you initially plan, but it's important to roll with the punches and dust yourself off and always try to look at the positives. All things happen for a reason and in the end, make us stronger people."
For more information on HealthChoice, visit www.hcmgtx.com.