By Jody Joseph Marmel
Being a country girl from Texas, Monica Brant's adventurous spirit led her to California, where the fitness movement was happening back in 1995. Her love for fitness was ignited during her first year of college. Brant found the old weight machines in the school gym and figured out how to use them. To her surprise, other students started asking her how to exercise. "It was in this stage of my life that I started to discover how much I enjoyed helping others."
When 'Fitness' gained popularity in the 90s, Brant was hired to travel worldwide, spreading the good news about health and fitness while demonstrating the differences of a 'fitness' athlete from a female 'bodybuilder'. Brant explains, "Men and women were hungry for something other than bodybuilding and so they looked to my lead. I really enjoyed interacting with people from all over the world."
"My passion is to share this message of 'Lifestyle' balance with women and men all over the world through the various ventures I am working on."- Monica Brant
Throughout the course of her profession, Brant has been featured on the cover of both international and national publications, over one hundred times to date. She has won some amazing titles including the IFBB Fitness Olympia 1998, which is the same title Arnold Schwarzenegger was known for in Bodybuilding. Brant also won the WBFF World's Figure Pro both in 2010 and in 2013. She was 40 and 42 while on the stage for those titles.
As Brant's talent on the stage grew, her life was becoming more of an adventure. Looking back on her move to California, her resources were limited and she barely had five acquaintances in the entire state. "I discovered that facing our fears is one of the most empowering moments a woman can have." The bold move she made was instrumental in securing her place as one of the 'pioneers' of the industry. She explains, "I was in the right place at the right time with the right attitude and work ethic."
In Gold's Gym (Venice, CA.), Brant refers to this as the mecca of fitness and bodybuilding, she connected with an amazing choreographer who took her routines to the next level. She also met all of the top fitness photographers at that time. Back then, most photoshoots for the fitness publications were taken either in Gold's Gym or in the surrounding areas of Santa Monica and Venice. "Learning to stay photo shoot ready was a must and this is where I learned how to balance life and fitness."
Most recently, in the fall of 2016 at the age of 46, Brant was invited to represent the USA in two shows that were both held in the United Kingdom. "Obviously winning 1 Overall Title and taking 2nd in these two shows gave me a great sense of accomplishment while proving that women in their 40's can still be very competitive."
"The motivational 'muscle' exists in all of us, just like we all have abs."
Through the years, Brant discovered and proved that women can accomplish what they truly desire. "The difference is believing in ourselves and to dream big." In 2013, she decided to return to her love of sprinting and competed in the Women's 40-44 age group in the USATF Master's Track meets (100, 200 and 400m races). During the 2013 World's Master's Track meet held in Brazil, she earned top 3 placings representing the USA in the events.
Once again, this provided more opportunities to encounter people from all over the world and prove a healthy lifestyle pays off. Although fitness has become an integral focus in her life, she discovered how to have consistent success balancing fitness and living life. "My passion is to share this message of 'Lifestyle' balance with women and men all over the world through the various ventures I am working on."
Being in a constant state of personal development is crucial for everyone. "I never had a problem asking for guidance and I believe it's important for others to get out of their comfort zone and ask for help when necessary. Throughout the years, I have been privileged to pay it forward by giving my time to listen and provide sound advice for other fitness professionals as they walk through situations. If we want to grow, we must have mentors and coaches to help get to the next level." Even now, Brant has a business coach who challenges her to dream big and grow. And that is exactly what she is doing.
Over the last 27 years, Brant discovered that having a healthy balance of emotional and spiritual strengthening is more important to the overall mind, body and soul than just the physical component. "I've met more super fit people that feel they are missing something or they have low self-esteem due to only focusing on the physical. Therefore, I decided to focus not only on the fitness side of a person, but also on their entire life and that's why I coin myself a 'Lifestyle' Coach as opposed to a 'Life' Coach."
Lifestyle Coaching encompasses both fitness and life lessons. Learning to balance attitudes, emotions, situations and schedules while also pursuing a change in your physique can be quite demanding. When Brant works with a client as their Lifestyle Coach, she partners with them in a thought provoking and creative process that inspires the client to maximize their personal potential. Brant explains, "It brings me great joy to feel I can guide my clients through their desired personal changes to experience fuller and more meaningful lives in every area."
"If we live radiantly, we can shine the pathway for others to follow in the glow of our example." – Monica Brant
Brant remembers her father sharing a story about an example of life focusing on a 4-legged table and how the table can't support the weight from two or three legs only. "I believe our lives are like this table; we are a 4-legged or 4-part being that requires a balance of spiritual, physical, emotional/relational and career/dreams." These four parts summed together equally make for a fuller, healthier life. If someone only focuses on one or two of these "legs", the table or body (inside and outside) can't survive the pressures of life.
Lifestyle Coaching is unique and Brant emphasizes that we have to step out of the comfort zone and challenge ourselves in different activities and training types. Here are a few tips to follow.
.

Physical
People should keep in mind that weights are your 'friends' and will help you shape your body because we can't 'tone bone'. Don't be afraid to lift heavier and push the intensity in all of your exercise endeavors. After 20 plus years of lifting heavier weights, Brant has reaped the rewards of heavier lifting as opposed to extended cardio or light-high reps. Allowing your body to undergo the taxation of weights will allow you to open the energy receptors in your muscles to absorb and utilize the nutrients you eat. It is imperative to have the proper fuel (food) for muscle growth and recovery. Plus, hire an experienced coach if you are unsure of the exercise you want to engage in.
.

Emotional
Take time to De-Stress more often and allow yourself to relax. Move on from hurts and disappointments from others or yourself. Just let it go. If you can relieve emotional baggage, everything else becomes lighter and easier.
.

Nutritional
2 words – Manage Insulin
Insulin can be your best friend or worst enemy when it comes to fat loss and retaining muscle. Learning how to manage it correctly by making it work for you and not against you will extend your efforts. Eat lower glycemic index (GI) foods such as lean protein, healthy fats, fibrous carbs as a rule, and combine higher GI foods such as sweet potatoes and yams with lower ones (lean protein, fibrous carbs) to lower their net impact on your body.
The secret is knowing when to eat your starchy foods. Timing meals according to your exercise will help you receive the benefits of insulin. After a weight training or a sprint type interval session, adding a small amount of starchy foods in the mix along with your post training meal can work well. This is your golden opportunity to have insulin direct the correct starches you eat to your muscles and not your fat cells. For most of the other meals, focus on protein, healthy fat, and carbs mainly in the form of non-starchy vegetables. Green is Good!
.

Spiritual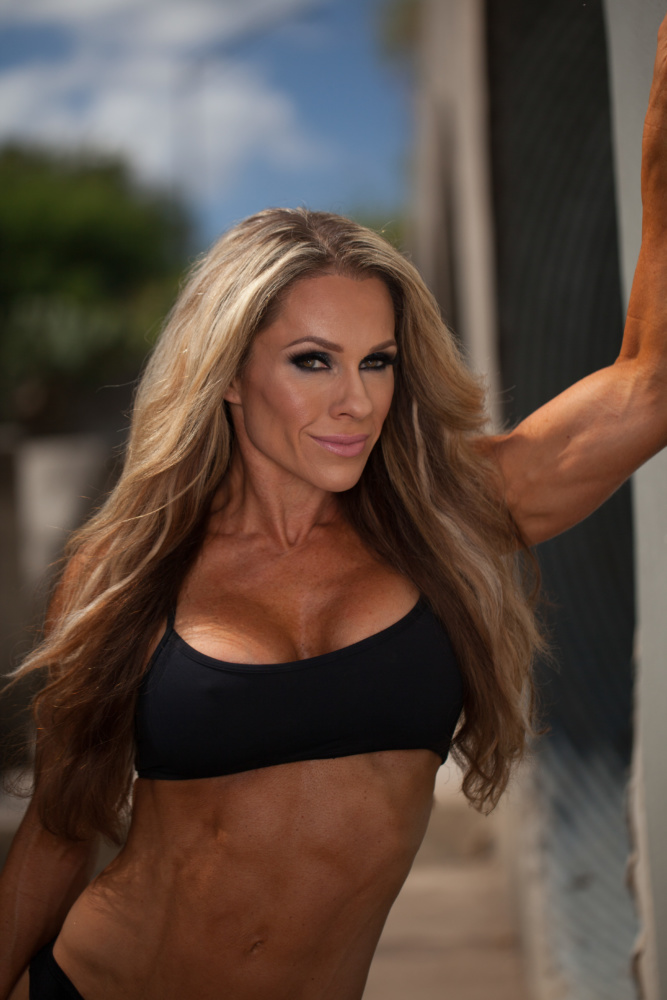 Take some time to pray, meditate and refuel your spirit! Many times you may find yourself looking to eat because you think you feel hungry-or you simply just want to snack. In reality, your body is in need of some spiritual fuel. Next time you have a craving for something that might set you back from all of your hard work, take a mental examination of when the last time you stopped to pray, give thanks and then "listen" to what God may be saying to you.
The motivational 'muscle' exists in all of us, just like we all have abs. Brant describes this in detail. "Some people choose a lifestyle that allows the abs to be seen clearly because of their daily habits of healthier eating practices and exercise routines. If the motivational muscle becomes accustomed to lounging and not being used consistently, it will become covered with self-doubt and low self-esteem, just like the abs of someone who chooses to eat poorly and lacks discipline. In that case, the person must find an external motivational tool that will start the motivational internal muscle firing once again."
If people could stop settling for less than what their hearts desire, and successfully follow through with their goals, the motivational muscle will remain strong and capable of handling all of life's curve balls.
Currently, Brant and her business coach are developing new programs, expanding her speaking platform, hosting her own competition show in San Antonio in 2018 and she is doing a lot of writing including a book she is working on. "I'm loving this time of my life when I get to take my three decades of experience and share with people what I've discovered about fitness and life." She owns and hosts a women's retreat, The Body & Soul, that takes place in San Antonio. The event is to empower women physically, mentally and emotionally. For more details and to review the sessions and dates of the upcoming events, please visit www.monicabrant.com/bodysoulretreat .
As I was interviewing this talented and well versed woman, I took note of how she signed all of her emails. "Stay Fit, Love Life & God Bless You!" Brant then ends her email with "Live Radiantly". I knew immediately that I was going to be a fan of hers for life. Just those few words empowered me to reach my full potential. At the end of the day, it's about putting others first and taking care of one another to the best of our abilities. Brant concludes, "If we live radiantly, we can shine the pathway for others to follow in the glow of our example."
For More Information & to book Monica for Personal Appearances, Lifestyle Coaching/Speaking Opportunities and Online Health Coaching visit https://www.monicabrant.com
LinkedIn: Monica Brant
FB: Fan Page visit https://www.facebook.com/monicabrantfanpage
Twitter: https://twitter.com/MonicaBrant
IG: https://www.instagram.com/monicabrant/