Dr. Jegan Gopal Guides Patients Through Weight Loss Journey at the Better Weigh Center
By Kiko Martinez
As long as he can remember, Dr. Jegan Gopal has always wanted to work in an environment where he could "provide the most help" to his patients. He found his calling in 2016 when he moved from North Carolina to Corpus Christi, Texas, to continue his career as a minimally-invasive general and bariatric surgeon.
"There is a huge population of people in this area with diabetes," Gopal said. "Obesity is very prevalent here. It's an epidemic."
According to 2016 statistics from the Texas Department of State Health Services, the prevalence of adult obesity in South Texas, including the city of Corpus Christi, is 39 percent. In 2010, Men's Health magazine named Corpus Christi the "fattest city" in the U.S.
Alongside Dr. Lloyd Stegemann at the Better Weigh Center (BWC), the only weight-loss surgery center in Corpus Christi, Gopal, who is the only fellowship-trained bariatric surgeon in the city, performs state-of-the-art weight-loss surgery on patients looking to improve their health and quality of life.
About Dr. Gopal
Born in Jaffna, Sri Lanka, Gopal started his journey to become a weight-loss surgeon when he received an internship at the Department of Surgery at Penn State Milton S. Hershey Medical Center in Hershey, Pennsylvania in 2006. He was studying medicine at Washington University in St. Louis after earning his B.S. from the University of California in Los Angeles in biochemistry in 2000.
After his internship, Gopal stayed at Penn State and became a research fellow and then began his residency there in 2010. During his residency, he focused his research on minimally-invasive surgery and endoscopic surgery. After a clinical fellowship at the Department of Surgery in the Duke University Health System in Durham, North Carolina from 2014 to 2015, Gopal spent a few months practicing at Blue Ridge Regional Hospital in North Carolina, before finally making his way to South Texas.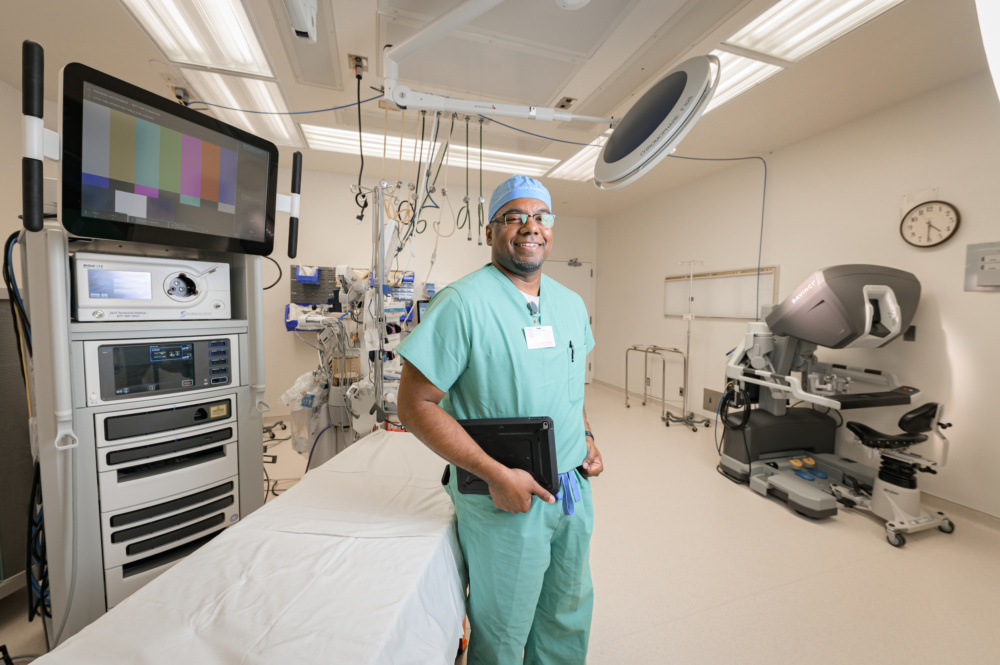 First Steps
Not everyone who steps into the BWC needs weight-loss surgery, but Gopal said it is important to provide each patient with a consultation and explain the weight-loss surgery program. Patients also meet with other BWC medical professionals including nutritionists and behavioral health specialists before doctors can decide whether or not weight-loss surgery is a viable next step.
"Patients need to qualify for weight-loss surgery," Gopal said. "Surgery has a lot of benefits, but each patient is different."
If Gopal authorizes a patient for surgery, he performs it at Corpus Christi's Bay Area Hospital, CHRISTUS Spohn Hospital or South Texas Surgical Hospital. Some of the bariatric surgeries he performs are gastric bypass, sleeve gastrectomy, revisional surgery and the removal of the gastric lap band and subcutaneous port.
Evolution of Surgery
Gopal said that if you go back into the history of weight loss surgery, surgical procedures were frowned upon early on because they were so complex.
"These were challenging operations with a lot of complications," he said. "People would end up with these huge incisions and staying in hospitals for weeks. They could get infections, pneumonia and hernias."
Once laparoscopic surgery took off in the late 1990s and early 2000s, doctors started doing a better job of minimizing complications.
"Now, we're going to the next generation with robotic surgery," he said. "One of the things that interested me in the field of minimally-invasive surgery is that we deal with a lot of innovation and technology."
This past May, Gopal became the first doctor in Corpus Christi to perform a robotic bariatric surgery. As a general surgeon, Gopal had used a robot to do other procedures, as well as gallbladder surgery. However, it wasn't until he started using the technology in weight-loss surgery that he realized how much it benefited him as a doctor. This is especially true for patients who are morbidly obese.
"It comes as a great advantage with the more challenging cases," Gopal said. "That translates to less struggle for the surgeon, but also fewer complications for the patient because we can see better, do more, and be more precise."
For example, Gopal said with normal laparoscopic surgery, doctors can see a two-dimensional image on the monitor during a procedure. With robotic surgery, Gopal gets a 3-D picture. Using a robot also gives him "better positioning with the instruments" and affords him "better articulation with his hands."
"There's only so much you can do with a procedure, but if you use a robot, you can move it like a wrist," he said. "You can turn it in all kinds of directions. You have more degrees of freedom with a robot than you do with your own hands. You can do so much more when it comes to manipulating and dissecting tissue."
For larger patients, doctors also don't have to worry about putting stress on themselves or the instruments when using robots to dissect into thicker human bodies. Since some bariatric surgeries can take several hours, using robots means "less trauma on the patient and less stress on the doctor's arms and shoulders."
"The robots take care of all that," he said.
Correcting Misconceptions
Weight-loss surgery is not cosmetic surgery.
"That's something most people don't understand," Gopal said. "We don't only take care of the weight; we also take care of a lot of the medical problems that come with the weight."
When a patient loses weight, other health issues like diabetes, high blood pressure and cholesterol, breathing problems and even depression can improve.
"If you talk to our patients, they'll tell you they've seen a drastic change in their physical and mental health," Gopal said. "We live in a society where there is a lot of obesity bias. People blame patients for a lot of their problems when it's not their fault."
For many individuals, the solution to their obesity isn't as simple as diet and exercise. A lot of it has to do with genetics and hormones. A person's environment and culture are also factors.
"Some people think that obesity occurs because someone is eating too much and not exercising enough," Gopal said. "Some people believe that it's all about willpower and it's not. We need to do a better job of educating people and physicians."
Gopal said people shouldn't watch TV shows like The Biggest Loser and think that represents the majority of Americans trying to lose weight. Although it's considered a reality show, there's nothing realistic about it.
"Contestants on those shows do great, but they only do great for that season because they're in a confined environment," he said. "They're locked away and they all lose weight. But when you go back and see how they're doing later, they've all regained their weight and, in many cases, put on even more weight. You can do as much diet and exercise as you want, but for a majority of Americans, they're going to fail."
A Rewarding Career
When patients succeed, however, it's the highlight of Gopal's career as a bariatric surgeon. In the past, he has had several patients tell him how they were able to take a trip on an airplane for the first time after surgery and didn't have to be embarrassed about buying two seats or asking for a seat belt extender.
"It's so rewarding for me to hear my patients telling me about how they are able to re-engage with society," he said. "They can go to movie theaters like everyone else and buy clothes from a regular clothing store. I have patients sending me pictures of them scuba diving or jet skiing on vacation. It's something they could never have done before surgery."
Mostly importantly, Gopal feels most fulfilled when a patient can reduce their medications or get permission from their other doctors to stop taking them altogether. More people would live longer lives, he said, by undergoing weight-loss surgery.
"Our patients can play with their grandkids more and feel confident they're going to be around a lot longer to see them grow up," he said. "Weight loss surgery isn't just about weight loss. It's about improving your life and your health."
For more information about the Better Weigh Center, visit betterweighcenter.com.