Tekton Research – Making Life Better
Tekton Research

Serves Patients Through Its Groundbreaking Work in The Clinical Trial Industry
By Kiko Martinez
If you've ever taken an over-the-counter or prescription drug, been administered a vaccine or are one of the seven million Americans who have a medical device implanted in their body each year, it's likely that your medical journey started long before you even stepped into a doctor's office.
Before receiving treatment or undergoing any procedure, the professionals working in the clinical research phase perform clinical trials to study prospective medications and treatments. These trials compile information on the safety and efficacy of the medical product before it's available to consumers. Whether it's Aspirin or the most innovative cancer therapies, the path to making patients feel healthy is a long and arduous road.
According to the U.S. National Library of Medicine, there are currently more than 105,000 clinical trials taking place in hundreds of research sites across the country. One of these clinics is Tekton Research. With 10 locations in Austin, San Antonio, Beaumont, Oklahoma City, and Ft. Collins, Colorado, Tekton Research has found its niche in a market that is expected to reach a worth of $68.9 billion by 2026, according to a new report by Grand View Research, Inc.
"Research is so fascinating," said Paul Menefee, Chief Financial Officer of Tekton. "There is so much science behind it. What we do truly benefits patients in many ways. None of the medical breakthroughs that we're seeing today can happen without clinical trials."
Laying the Groundwork
Tekton considers itself a relatively small company but has expanded and built a name for itself with a host of pharmaceutical companies over the last 13 years.
The way clinical trials evolve is an involved process. Trials are brought to a clinical research facility like Tekton by a sponsor. Sponsors can be either a big pharmaceutical company or a Clinical Research Organization (CRO), which is hired by a pharmaceutical company to oversee the development of a drug. When a sponsor brings a potential trial to Tekton, Tekton then does a feasibility assessment and makes sure it is a good match for its doctors. Once they determine that they have the patients needed, they enter into a contract with a pharmaceutical company or the CRO and testing begins.
The trials that Tekton are involved with are those in Phases 2 and 3 of clinical trials for humans. According to CenterWatch, a leader in information on clinical trials, Phase 1 assesses the safety of a drug or device and uses a small number of volunteers. Phase 2 tests the efficacy of a drug or device and involves several hundred patients. Phase 3 involves randomized and blind testing with several hundred to several thousand patients. Once Phase 3 is complete, which can take several years, a pharmaceutical company can submit a request for approval by the U.S. Food and Drug Administration (FDA) for the market. After a drug has been approved for consumers, there is a Phase 4, which includes pharmaceutical companies comparing the drug to others on the market, monitoring long-term effectiveness and determining the cost-effectiveness of the drug therapy.
While clinical research studies are carried out for a limitless number of diseases and illness, Tekton has found its most success in five specialized areas: rheumatology, dermatology, neurology, OBGYN and pediatrics. Currently, Tekton is working on 75-80 trials, which could take several months to a few years to complete.
"People don't realize what it takes to get a medication to the market," said Wendi McKenzie, vice president of Tekton and wife of president and CEO Kip McKenzie. "Ibuprofen, Advil – anything people take these days had to go through these kinds of trials to get here."
Meaningful Research
Founded in 2006 by Kip McKenzie, who had worked at pharmaceutical companies like PPD (formerly Pharmaco) and MetaClin Research in the past, Tekton was created with the idea that, if done well, a research site could be successful if it built a system around doctors. In the past, a lot of clinical research was done in a university setting or in a doctor's private practice. McKenzie felt that providing an independent clinical research site would allow doctors to focus on tending to their patients, while a company like Tekton could concentrate solely on the research aspect.
"The work we're doing is meaningful because it provides new treatments and is improving the health of the nation and the world," Kip said. "It's a very satisfying feeling to know we have a small but critical part in the development process."
Whether it's helping to bring a new vaccine to the market to protect babies from different strains of meningitis or a flu treatment study, the Tekton team said they are in the market to prevent and treat disease and make patients feel better. On occasion, they are lucky enough to see a drug succeed so well during trials that once it hits the market, it is lauded as a "cure."
Although Tekton cannot reference specific drugs they have tested, McKenzie said during one Phase 3 trial of a drug developed by Janssen Pharmaceuticals to treat Hepatitis C a few years ago, the viral loads of all the patients Tekton tested during its trials dropped to zero.
"Everyone was cured," McKenzie said. "They had no Hepatitis C after the trials were completed. These drugs are on the market but are still expensive. Our test patients were able to get them at no cost, so they were very happy."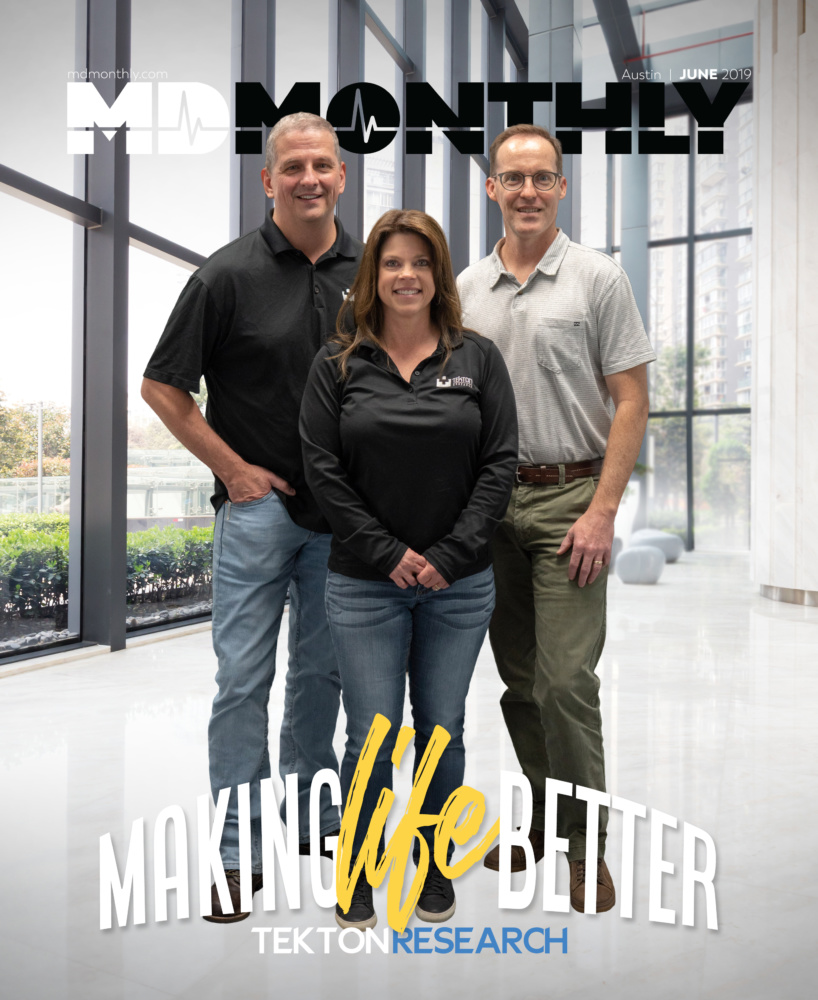 Looking Ahead
Not all drugs and vaccines make it to the pharmacy or doctors' offices once trials are over. According to the FDA, 59 drugs were approved in 2018, which was a record for the agency. The prior record was 53 in 1996. A recent study by the MIT Sloan School of Management puts the percentage of all drugs in clinical trials that eventually receive approval from the FDA at 14 percent.
The Tekton team knows that the FDA is incredibly strict with its guidelines, as it should be. Yet, everyone is working toward a similar goal, and that goal is having healthy patients.
"The studies we are engaged in are groundbreaking," Menefee said. "There is a lot going on. So many different treatments are being studied over here. It's a lengthy process, but it's an exciting one to watch."
That's especially true when it comes to diseases like lupus, which falls under Tekton's trials for rheumatology. According to the Mayo Clinic, lupus is a systemic autoimmune disease that occurs when your body's immune system attacks your own tissues and organs.
"Lupus is an interesting study area because there really aren't great treatment options for people who suffer from it," Menefee said. "We've had the good fortune of being on many lupus trials. This is the pathway to finding something that will work for these patients one day."
Tekton is just getting started. The company plans to continue to expand and hopes to have another four or five research sites open soon, including a site in Georgia. To assist in its expansion, Tekton is looking for more patients to participate in its trials.
"We want people to be aware of what we are doing," Menefee said. "We can't do what we're doing without individuals participating. That's what the central message is."
Wendie McKenzie has seen the impact of the work Tekton has done firsthand. She has witnessed patients with rheumatoid arthritis take drugs during a trial and come out doing things they were unable to do before such as going to work and having fun with their family.
"Patients have improved because of these medications," she said. "The only way to get these medications to them is to go through these trials. It makes me feel good to know that we're helping people live a better quality of life."
For more information on Tekton Research and to learn how to participate in its clinical trials, visit tektonresearch.com.