Tony Adeniran Scores a Knockout with Black Stallion Boxing Plus
By Rudy Arispe
After graduating from college with a Bachelor of Business Administration (BBA) degree with a concentration in Business Management, Tony Adeniran found himself working the graveyard shift – literally – when he couldn't find an entry-level job in his preferred field.
"I ended up digging graves and trimming grass around headstones," he said. "It was the worst job I ever had, but I needed money to support myself."
Looking back, Adeniran knows his six-month stint with a mortuary company was all part of "paying his dues" until life opened the way for better things to come. In reality, though, he was already doing what he enjoyed most, which is grueling physical fitness, or, more specifically, boxing.
Boxing holds many parallels to life and to business
And as they say, life has its way of putting people in the right place at the right time, which is exactly what happened when a then 16-year-old Adeniran started going with a friend to his boxing classes. "My friend's brother signed him up for boxing because he was getting bullied at school," the Houston native said. "I used to go with him to the gym to hang out. One day, the coach told me to put on some gloves, and the rest is history."
Part of that history includes 25 amateur fights as a middle-weight, starting at age 18 and later, in 2014, turning pro. Today, the 29-year-old Adeniran is a certified USA boxing coach and is the owner of Black Stallion Boxing Plus located at the Éilan Resort and Spa in the San Antonio Hill Country, where he uses his experience in the ring to help clients spar their way to their health and fitness goals.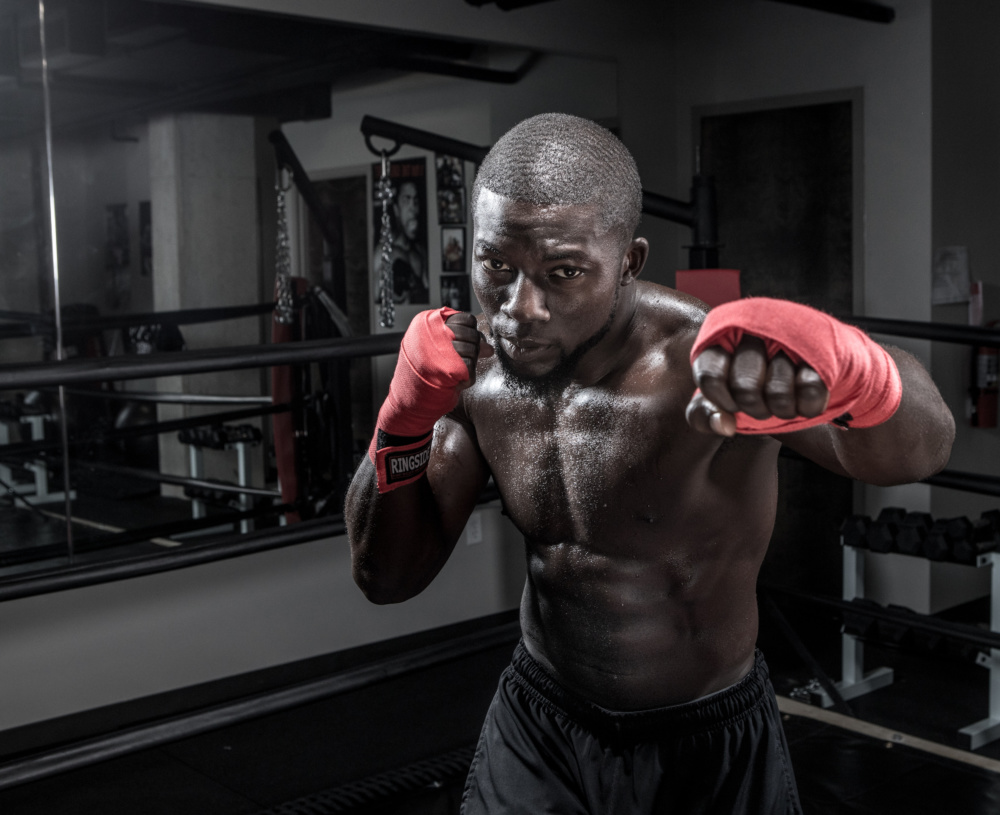 "Boxing holds many parallels to life and to business," Adeniran said in explaining his love for the sport, "and in fact, when you put on the gloves, you can create something out of nothing."
Moreover, the young boxing pro-turned-business owner enjoys the range of clients he trains, from stay-at-home moms to corporate CEOs, and watching them develop the physical stamina and mental toughness they need to tackle life's daily challenges, and then some.
Margaret Loftis, the 58-year-old owner of The Loftis Company, a construction company that does business within the oil and gas industry, has been training with Adeniran for two years, five days a week, and said she is in the best shape of her life.
"I've exceeded goals that I could never have imagined reaching," Loftis said. "My confidence is better, I'm making better food choices, I'm sleeping better, and my reflexes are faster. For me, this training is a great investment in today and in the future. I am negotiating better and making more solid business decisions as a result of the chess match like qualities of boxing."
Black Stallion Boxing Plus also trains a large group of Bexar County employees, including Assistant County Manager Tina Smith-Dean, who said she is accomplishing her goals of getting stronger and improving her endurance. "I never thought I could hold a squat for three minutes, but I did," she beamed.
Bexar County employees who work out at Black Stallion Boxing Plus have been losing weight and firming up, she notes. "Most importantly, our elected body, the Bexar County Commissioners Court, made the decision to build an Employee Fitness Center," Smith-Dean said. "One of the main reasons for their decision was the fact that our employees are participating and making improvements to their health. Black Stallion Boxing Plus plays a big role in that."
As much as he enjoys fighting in the ring, Adeniran also gets great satisfaction from teaching boxing. After getting to know his clients' personalities and workout preferences, the boxing coach tailors fitness programs to transform them into champions.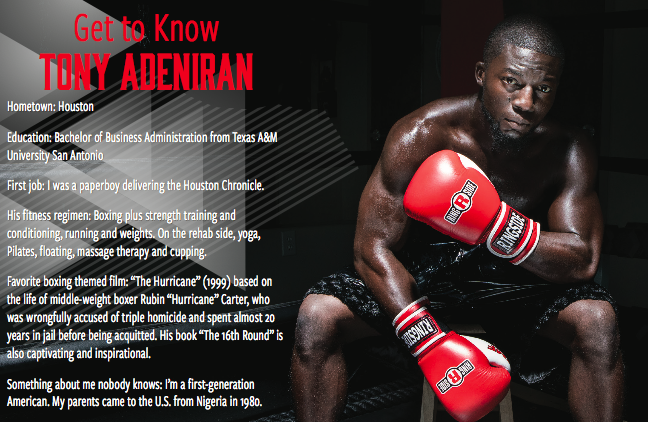 "Many come in initially looking to get into shape. Then they realize all the mental components of boxing, and they're hooked," he said. "You have to fake out your opponent, know what they're going to do before they do it, and set up traps."
Looking back on that uncertain time in his life when Adeniran wondered when he would be able to put his college degree to use, it's safe to say that his BBA now serves him well as the owner of a successful business.
For more information, visit www.blackstallionboxingplus.com or call (210) 777-PLUS.