The Year of YOU with Dr. Pradeep Mohan of Veda Medical
By Rudy Arispe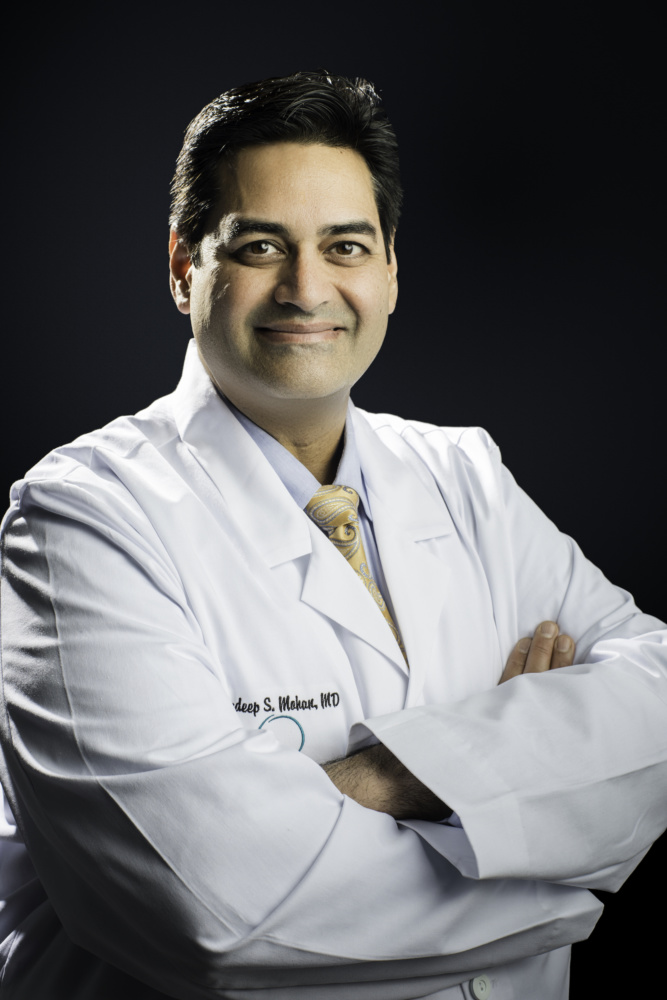 In August, Alicia Lemley had a tummy tuck because of a large separation of abdominal muscle that caused an umbilical hernia. She also had stretching of the skin due to childbirth. However, before she had the abdominoplasty, she met with several other surgeons to discuss the operation but never settled upon a physician until she consulted with Dr. Pradeep Mohan, a board certified, plastic and reconstructive surgeon.
"I was impressed from the moment I met him," said Lemley, a 33-year-old software company operations manager. "I had so many questions about the surgery, and he took the time to answer each one. He never made me feel rushed. Not only is he caring, but so is his staff."
As for the tummy tuck, Lemley said she couldn't be happier with the results. "I'm into fitness, but I wasn't able to do core exercises because of the pain. I'm doing so much better. The surgery, the healing, and the results were perfect," said the mother of two.
Recently, Dr. Mohan opened Veda Medical & MedSpa in Live Oak. The facility offers reconstructive treatments, non-surgical treatments and cosmetic treatments. One of the most requested procedures, he said, is the "mommy makeover."
"It's a combination of a tummy tuck, also known as an abdominoplasty, along with a breast lift," he explained. "Oftentimes, after giving birth women experience a loss of volume and droopiness of the breasts. We also address scarring in the lower belly area which can happen after childbirth. We repair the muscles, which become separated so that we are strengthening the core while removing excess skin and fat."
Dr. Mohan notes that women are often apprehensive about undergoing a tummy tuck or breast lift because of the fear of the vanity aspect often associated with both procedures. "The reasoning is that women only have these procedures just to look more voluptuous," he said. "That's not the case, however, we focus on giving patients back the shape and form they had before childbirth or weight gain by lifting the breasts and giving them more volume, if they need it."
Amazing!!! Dr. Mohan has made this terrible experience so wonderful. The care and repsect given to my son and our family is beyond compare. I'm so thankful. – Jessica M.
Veda Medical & MedSpa also offers non-surgical procedures to improve the head and neck, add volume to breasts and contour the body, or enhance facial features. "You will get the same great results that you would from surgery," said Dr. Mohan.
In addition to facial rejuvenation options, Veda Medical & MedSpa offers Fractora to help smooth skin and improve collagen formation. Touted as a non-invasive skin rejuvenation without surgery, according to the Inmode website, Fractora meets and exceeds the results of fractional CO2 without the associated downtime, prolonged redness, and pigmentation drawbacks.
Dr. Mohan is excited about a new FDA approved, vaginal rejuvenation laser procedure called Votiva. "It rejuvenates the outside and the inside of the vagina while improving musculature and hydration. In addition, it treats stress incontinence as well as pain and a myriad of other related medical problems. Votiva is FDA approved for sexual dysfunction. It has medical implications that can help women a great deal."
The most positive experience I have ever had with a doctor! I have never felt more comfortable with a doctor/patient relationship than my experience with Dr. Mohan and his staff. It is easy to tell when people actually care and when they don't….these people really care about their patients. I'm so thankful they were there when I needed help so badly. – Michael Richards
BodyTite, a minimally invasive, radio-frequency assisted lipolysis, is another popular procedure from Inmode that Dr. Mohan provides his patients. According to Inmode, BodyTite provides superior internal and external lipolysis, delivering body results previously only achieved through more extensive excisional surgical procedures.
Powered by Radio-Frequency Assisted Lipolysis ( RFAL), BodyTite "provides unprecedented three- dimensional contraction of the dermis, subdermal connective tissue matrix and deep fat. It works by delivering rapid and uniform heating of the entire soft tissue matrix. Built-in safeguards including real time measurements of skin temperature, impedance monitoring, power cut-off and audible feedback help ensure patient safety," as stated on the website.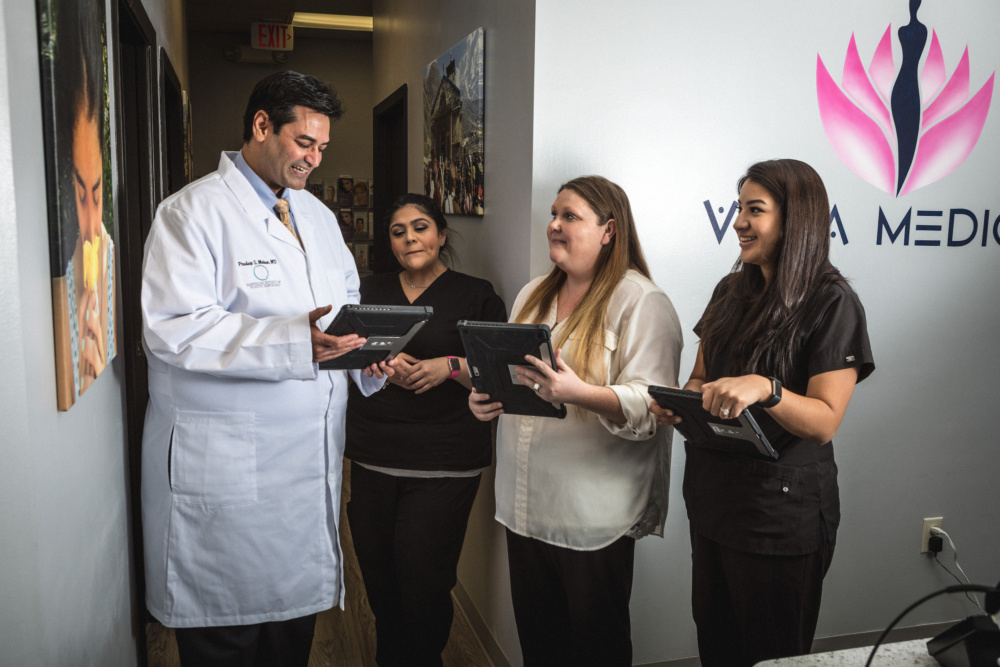 Veda's cosmetic procedures, Dr. Mohan believes, can help with a patient's confidence. "It gives them a great deal of self-esteem, and their outlook is better," he said. "All of my patients are happy with their outcomes, and they feel better about themselves."
In fact, helping others improve their self-confidence is the biggest driving force for what Dr. Mohan does as a plastic and reconstructive surgeon. "I became a plastic surgeon because of the ability to improve people's lives. I'm blessed to be able to do that, and it's always wonderful to hear a patient say, 'I used to never look in the mirror' or 'I stopped undressing in front of my husband, but now I do.' "
Dr. Mohan changed my life! I'm a mother of three and with that came a three inch muscle gap and had an umbilical hernia that made me live my life in unbelievable pain for nine years. In nin years I went to see different doctors and all of them would tell me that I would lose my belly button. One day a friend told me about Dr. Mohan and I quickly made an appointment. When I walked into his office and met his staff I quickly knew that he would be my doctor. I ended up with a tummy tuck and a hernia repair and I couldn't be more happy! – Ruby S. (She still has her belly button)
With more than 18 years of experience in plastic and reconstructive surgery, Dr. Mohan is affiliated with Central Texas Medical Center, which is where he met retired Army Lt. Col., Virginia Riley. After undergoing a mastectomy, she later developed what she described as a "black spot" on her chest. Because the surgeon who performed the surgery was out of the country at the time, she went to see Dr. Mohan via a referral.
"As soon as he saw that black spot, he told me I had to have emergency surgery. I had it done that day," she said, adding that the diagnosis was a methicillin-resistant staphylococcus aureus (MRSA) infection caused by staph bacteria.
Over the past four years, Riley has been a patient of Dr. Mohan who also performed breast reconstructive surgery on her and has treated the 73-year-old military retiree for other medical conditions as well.
"He is extremely compassionate and truly listens to you," she said.
For more information or to make an appointment
(325) 665-9111
www.vedamedical.com
Facebook.com/vedamedical