Altus Hospice Care – Our Team. Your Hospice.
Altus Hospice Staff Proves There is Life at The Heart of Hospice Care
By Kiko Martinez
It takes an entire team to provide the quality care and genuine compassion that Altus Hospice is known for in Texas. From as south as Laredo to as north as Round Rock, the Altus care team, which is comprised of "a diverse group of highly trained healthcare professionals" from nine locations across the state, is "tailored to meet the unique physical, emotional and spiritual needs of each patient."
"It is very important to have long-term, committed employees who always put patients first," said Jessica Taylor, Senior Vice President of Sales and Marketing at Altus Hospice. "Without a dedicated staff, we would be just another hospice agency."
According to the National Hospice and Palliative Care Organization's annual overview of hospice care delivery in America, 1.43 million Medicare beneficiaries were enrolled in hospice care for at least one day in 2016. The average length of service for Medicare patients enrolled in hospice during that time was 71 days.
With the dedication of the Altus staff, patients are given more than a place. They're offered a "concept of caring," so they can spend their final days in peace and comfort and with dignity as they are surrounded by family and friends who love them.
"At Altus, we focus on the quality of life at the end of life," Taylor added. "We believe that everyone deserves to live a full life even with a terminal illness. A knowledgeable staff leads to patient and family satisfaction, and that is our number one goal."
Here is a look at some of the men and women who make Altus Hospice one of the nation's leaders in hospice care.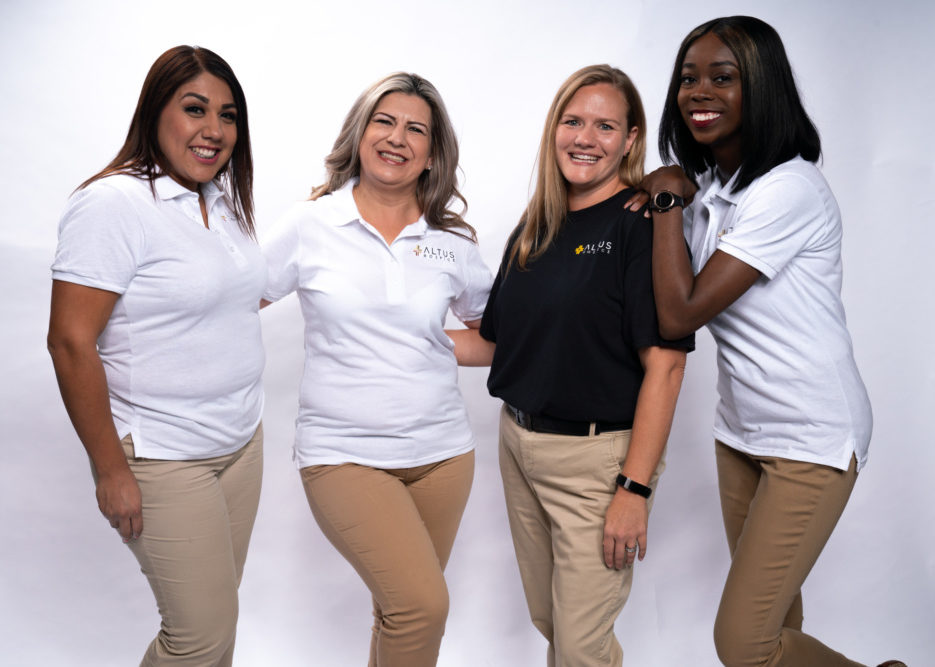 Focused on Living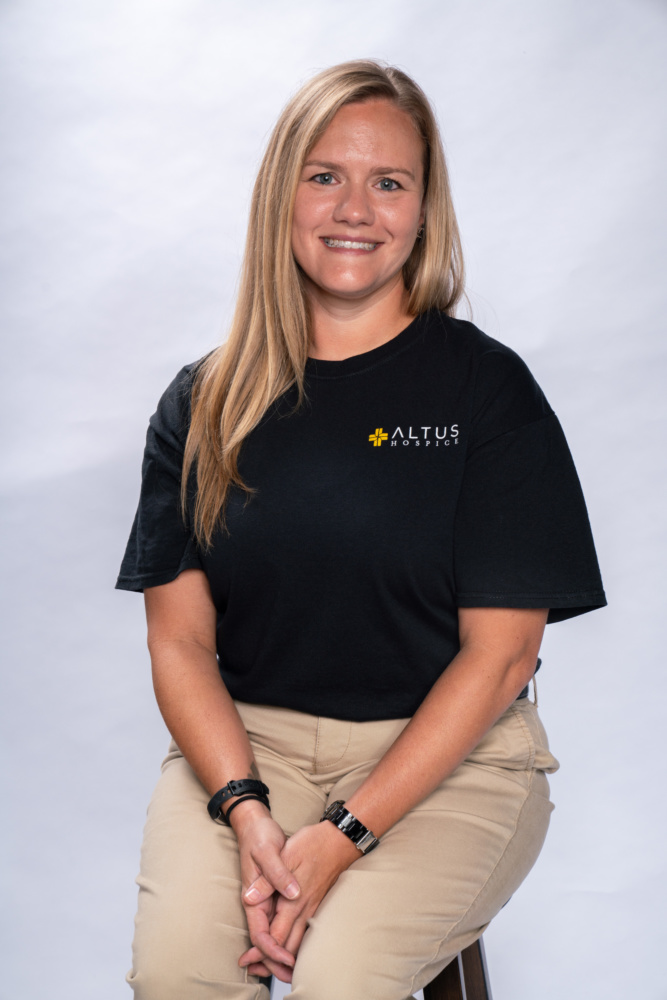 Director of Nursing Ashley Tauzin Papillion, RN, CHPN, began her career with Altus Hospice in North Houston shortly after relocating from Louisiana to Texas early this year. With experience in both the clinical and administrative side of hospice management, Papillion hoped to bring a sense of balance and hope to the agency.
"People hear the word 'hospice' and they think of death and dying," Papillion said. "At Altus, we will prepare the patient and family for the dying process and the death event, but our focus is on living. We want our patients to remain as functional as possible for as long as possible."
Currently, Papillion manages 10 RNs, one LVN, nine CNAs, one MSW, and two Chaplains. Along with her director and RN titles, she holds the title of Certified Hospice and Palliative Care Nurse (CHPN).
"Holding this certification doesn't mean I know more than any other hospice nurse, but it shows that I've taken the extra step of proving that I have a full understanding of all components of care that a hospice agency should offer their patients," she said.
At the end of the day, Papillion loves what she does and is proud of the work her and her nursing staff do on a daily basis for their patients.
"Our clinical staff has a true sense of compassion for the patients and families that we care for, as well as for their fellow co-workers," she said. "They love what they do, and it shows every day."
Helping Families 'Grieve Well'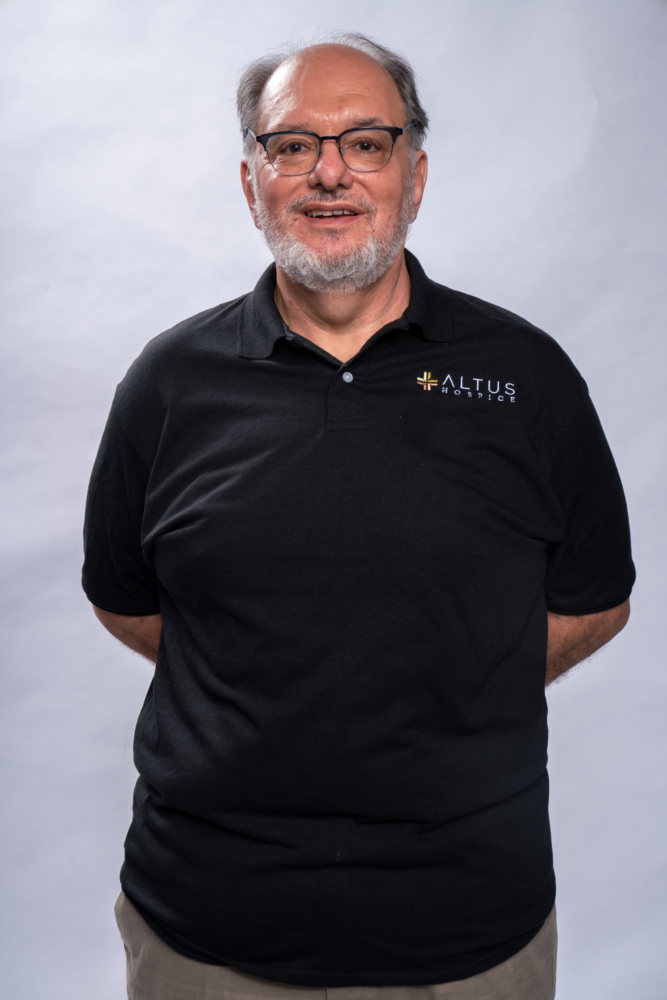 Kevin Jordan is a Bereavement Coordinator and Chaplain for Altus Hospice in Austin, where he has worked since February 2017. As the Bereavement Coordinator, Jordan provides, oversees and manages grief support for the families and loved ones of deceased patients. This includes grief counseling and support groups, grief education and memorial services. Altus also provides services to hospitals, memory care, and nursing care facilities and churches in the community.
"We are currently providing bi-weekly grief support to nurses in a cancer ward of a local hospital, and a weekly support group for families of patients in that same ward," Jordan said. "All of our services are open to the community at large, and not just our patients and their families."
As a Chaplain, Jordan provides ongoing spiritual and emotional support for patients and their families and loved ones. Jordan said it is his goal to meet each person no matter where they are on their spiritual journey. He wants to help them discover a renewed sense of meaning and spiritual and emotional peace as they either prepare for their own death or the impending death of their loved one.
"It is my conviction that everyone, regardless of whether or not they adhere to a specific religious or spiritual tradition, has spiritual needs," he said. "My role is to support, facilitate and provide guidance as they work out what it means for them to 'grieve well' and reconstruct their life apart from the physical presence of their loved one."
Providing Spiritual Support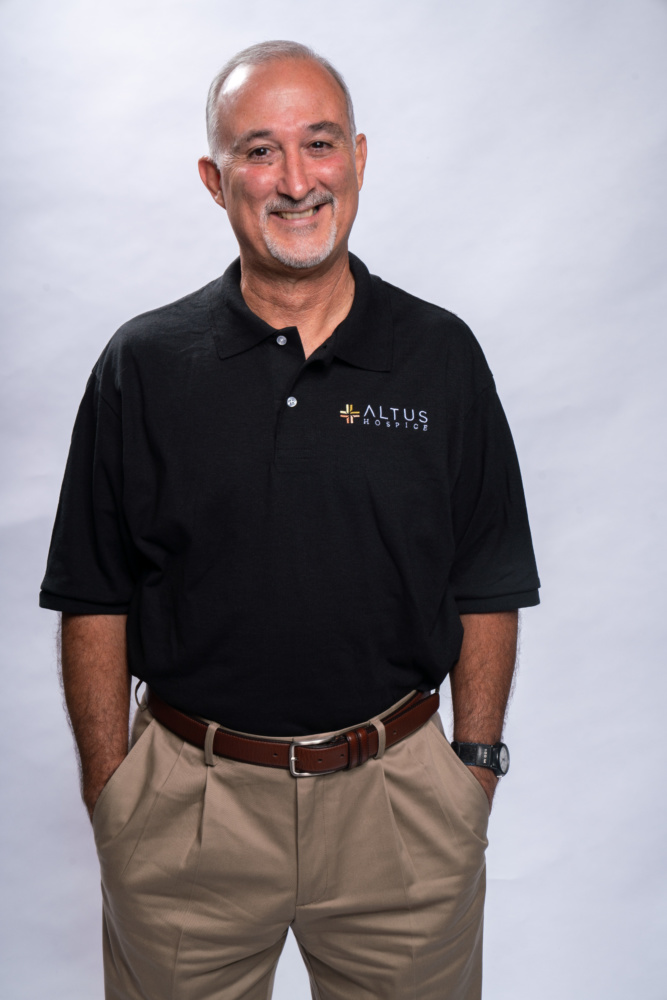 Throughout his life, Deacon Amando Leal has always had the desire to help people. Leal, who is an ordained Deacon in the Catholic Church, began his journey as a Bereavement Coordinator with Altus in Corpus Christi in February 2017.
As a Bereavement Coordinator, Leal plans, directs, organizes and coordinates all bereavement activities and supervises the implementation of individualized bereavement plans of care and counseling. He is able to provide spiritual comfort to patients and family members and offer resources that are appropriate for each family's needs.
"My desire to provide help for those in need of spiritual support is what brought me to hospice care," Leal said. "Having this support available is essential to the well-being of our clients. I know God has provided this path for me and I'm thankful I listened to His calling."
Leal said the work the employees from Altus Hospice do is from the heart and not superficial. Oftentimes, he is inspired by the many families he visits with whose faith stays steadfast during their trying times.
"It is fulfilling to know that faith in God is abundant," he said. "Knowing this, I am enriched and can take this to others who aren't as secure in their faith and provide a direction that will assist in the loss of their loved one."
Creating a Bond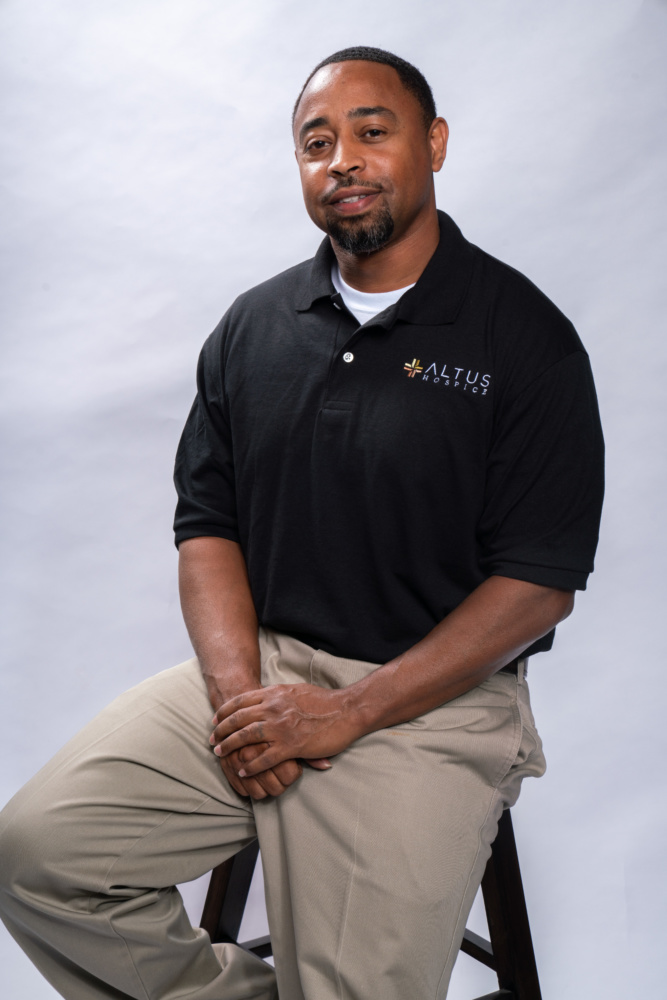 In Clayton Berotte's experience, there is always a bond established between a nurse and their patient. Berotte has worked as a Case Manager for Altus' Beaumont branch for seven years but has been a hospice nurse since 2001.
"The family and patient put their trust in you with the expectations that as the RN, you have their best interest in mind," Berotte said. "Many patients and family members develop an attachment and will address you as 'my nurse' instead of one of Altus' nurses. In a sense, you become part of the family."
As a Case Manager, Berotte is a direct liaison between a patient and their family and doctors. Each day, he sees different clients who are on his schedule and also collaborates plans of care with facility nurses, updates medications and addresses any changes in condition with the primary caretakers.
"The best part of what I do is feeling a sense of accomplishment that I have benefitted a family that looks to me for answers and intervention at a time when the stress was overwhelming," he said. "Hopefully, I have reassured them through my actions that everything will be okay because I have met their needs."
Berotte said that when clients choose Altus for hospice care, they are receiving 100 percent honesty, dedication, commitment, and professionalism. "The family will never be alone," he said. "They have a resource that is available 24/7 and staff willing to go the extra mile to maintain a patient's dignity."
Being a Good Listener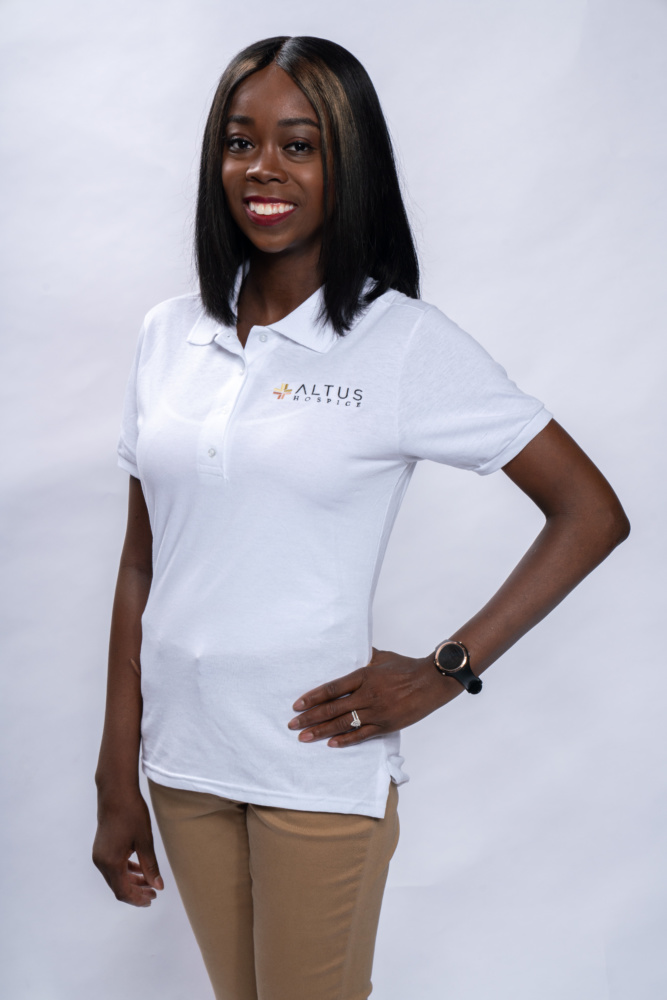 As a Social Worker at Altus Hospice, Bukola Farinde's role is a diverse one that could be categorized as a "helping profession." Her main responsibility is to provide emotional support to patients and their families.
"Death is not an easy situation to experience," Farinde said. "I am here to guide them through the transition with dignity and respect."
Along with emotional support, Farinde helps connect families to community resources, assist with funeral arrangements and utilize tools for the completion of advanced directives.
"What I enjoy most about my job is hearing people's stories," she said. "Everyone is from a different background, and it's always such an honor to hear patients speak about their past."
It's tough, Farinde said, when a relationship she has fostered with a patient ends.
"The most challenging part of my job is building rapport with patients and then watch them pass away," she said. "I have had some memorable patients and their passing affected me personally."
Farinde, however, hopes that the time she does get to spend with patients is meaningful. As a Social Worker, she truly listens to patients and families and tries to provide a safe space for them during their difficult time.
"Hospice social workers add a special and unique touch to hospice care," she said. "We aim to provide comfort and care to patients, which in some cases extends their lives."
Making a Difference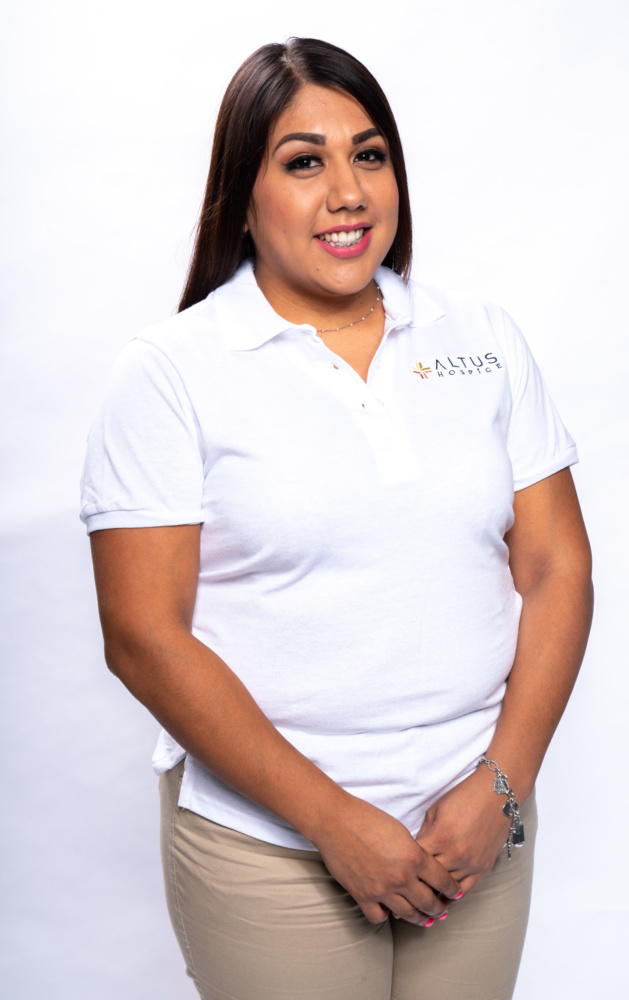 Anel Hernandez enjoys her job as Volunteer Coordinator for Altus, where she has worked for two years recruiting volunteers for direct and indirect patient care. This includes serving as companionship support, caregiver relief, a household helper or raising awareness about Altus' work as part of the speaker's bureau.
Before her role as Volunteer Coordinator, Hernandez was, herself, a volunteer for Altus. She worked indirect patient care in the Altus office and at special events and was immediately touched by families she met during memorial services, caregiver support groups, bereavement support groups and family nights.
"I wanted to make a difference," Hernandez said. "After a few months of volunteering, a job became available and I became a permanent part of the Altus team."
Hernandez said the best part of her job is when she is able to recruit volunteers for direct patient care because they want to do something life-affirming and provide companionship for someone in need.
"It is heartwarming to know there are people out there like that," she said.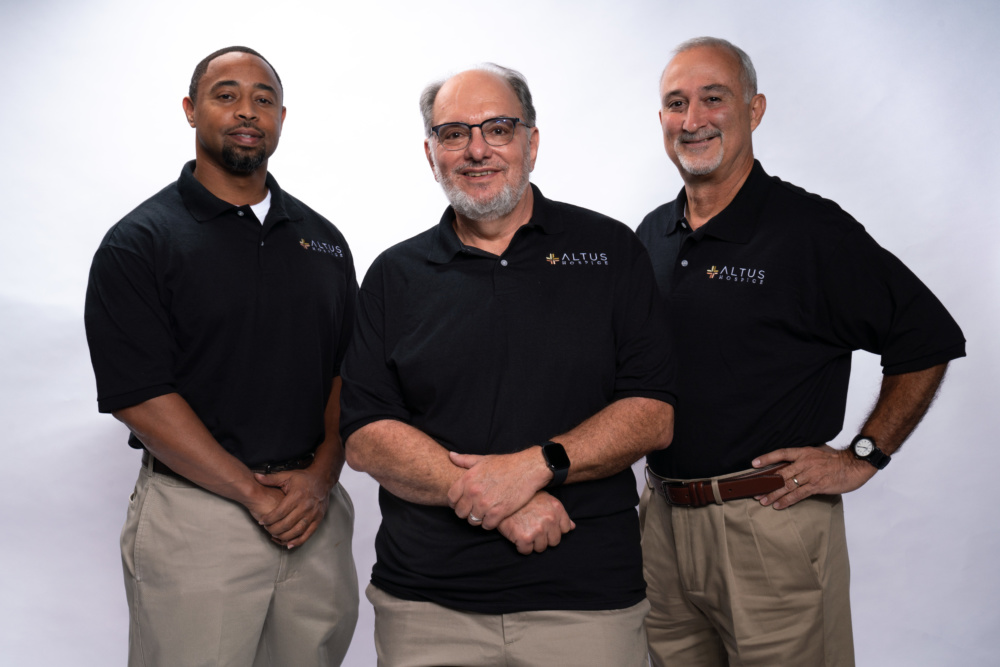 Earning Trust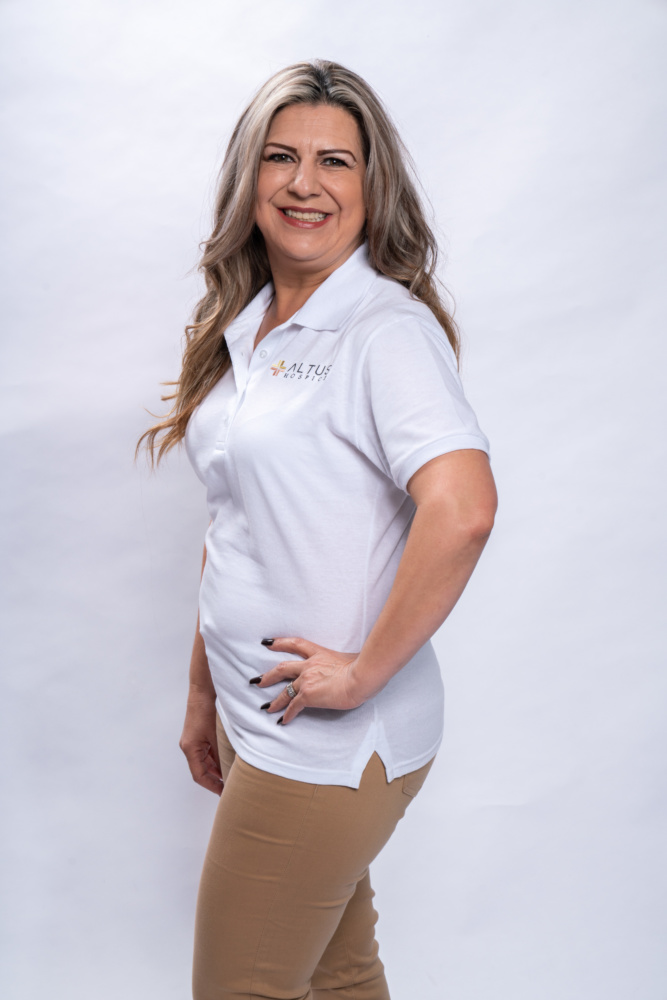 It was the opportunity to show love and kindness to patients and their families that brought Certified Nursing Assistant Graciela Martinez to Altus four years ago. As a CNA, Martinez's job consists of providing daily personal care to patients as a hospice aide.
"What I enjoy most about my job at Altus is being able to build friendships with patients and their families," Martinez said. "It feels as if I become a part of their family. This makes it easier for a patient to trust and be comfortable with my services."
Part of Martinez's job is to make sure patients feel at ease with someone helping them in the shower. She remembers one patient who refused to be helped. Martinez said over time, she was able to gain his trust.
"He told his niece that he would accept assistance with his personal care, but only if I was the aide helping him," she said. "That made me very happy because he felt that he could trust me to give him the care he needed."
For Martinez, it is important to give all patients quality time and do it with affection.
"I treat all my patients as if they were my father, mother or anyone in my family," she said. "I always keep in mind that they need to be shown the maximum love, dignity, care and attention possible."
When a cure isn't possible, hospice offers a person-centered approach to treatment that includes expert medical care, comprehensive pain management, and emotional and spiritual support – most often provided in your home. Living life to the fullest, up to the final moment is what hospice care is all about.
When you or someone you love has a serious illness, time is precious. Hospice can provide comfort and support to make the most of that precious time. Hospice care delivers expertise to improve quality of life and relief from pain and symptoms associated with a terminal diagnosis.
For more information:
888.873.1822