Each year when October rolls around, little pink ribbons get scattered about as reminders of those who've survived or lost a battle with breast cancer, and for the Cancer Therapy and Research Center (CTRC) those reminders never go unnoticed. They serve as further motivation to provide the latest groundbreaking cancer treatments, research, and education to more than 4.4 million people spanning from Austin and San Antonio to Laredo and the Rio Grande Valley.
After opening its doors in 1974 as a radiation treatment center in San Antonio, it would soon be established as an international leader in cancer prevention, diagnosis, treatment and research. Located in the heart of South Texas, the CTRC and its Institute for Drug Development (IDD) is a part of the University of Texas Health Science Center and has one mission: "To conquer cancer."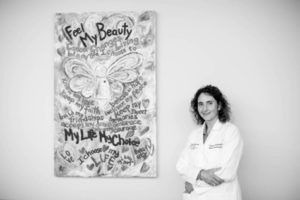 Pioneers in the field of radiation oncology and cancer research, the CTRC applies a multi-disciplinary approach to treatment and survivorship designed to provide comprehensive care for specific cancers, such as breast cancer. As a part of this approach, tumor boards are held several times a week to evaluate each new patient's specific case. Attending these meetings are specialists spanning all areas of cancer, including radiologists, surgeons, radiation therapists and medical oncologists. These meetings allow physicians the opportunity to provide input on the unique and best treatment option for that individual patient.
"Our patients are at the center of what we do. We don't treat patients by the number. We look at each patient, each tumor, and each case uniquely to determine the very best course of treatment." -Dr. Virginia Kaklamani
Treating patients as individuals, with compassion and personalized care, stands as the focus and heart of the CTRC, the region's only National Cancer Institute designated cancer center. Dr. Virginia Kaklamani, a professor of medicine in the division of hematology and oncology at the University of Texas Health Science Center's School of Medicine, is the leader of the Breast Cancer Program. As a clinical investigator with expertise in designing clinical trials with targeted agents, Dr. Kaklamani knows that each patient is unique. She explains that, "Our patients have unique needs, their cancer is unique, and we strive to treat them as compassionately as possible addressing specific concerns and issues." Adding, "Our patients are at the center of what we do. We don't treat patients by the number. We look at each patient, each tumor, and each case uniquely to determine the very best course of treatment."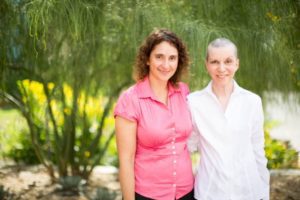 Because the CTRC's radiology, medical oncology, radiation and chemotherapy are all within the same area, the doctors are able to communicate more easily, effectively and frequently. Not only is this approach helpful for those providing treatment, but it's also extremely beneficial to the patient, as well as their caregivers. "We offer patients specific chemotherapies that will work for them, as well as evaluate endocrine therapies and clinical trials that are very important, which may also be beneficial for them," explains Dr. Kaklamani.
The center is also home to groundbreaking clinical trials, Phase I, first in human, trials and drug development trials forbreast cancer and many other cancers. At any given time, the CTRC is testing as many as 60 new drugs, and each year, more than 350 patients from around the world come to the CTRC to participate in these clinical trials and receive treatment with new drugs. Maintaining a focus on education, the CTRC allows clinicians and scientists to attend weekly conferences to discuss the research being conducted and how that research can be applied in the clinical setting.
Some of the CTRC's most prominent achievements include pioneering the field of radiation oncology since the early 1970s, and it's often the first in the state or region to acquire the newest radiation tools. Within the last six years, the center became the first and sole facility in San Antonio to offer Novalis Tx, a multi-modality, radiosurgery system that delivers the most precise treatment in a fraction of the time. The CTRC also brought TomoTherapy, an ultra-precise radiation treatment, to San Antonio in 2005 and still has one of only three units in the entire state.
Armed with the newest treatment methods, such as Intensity Modulated Radiation Therapy (IMRT) and 4-D CT scanning, the center is forging the way to the most multi-dimensional forms of care. This care includes new anti-cancer drugs developed by CTRC investigators. This new class of drugs, unlike chemotherapy drugs, are non-toxic to healthy cells. Research conducted by the IDD, located within the CTRC, is also included as well. The IDD pushes the frontier of cancer research to develop novel treatments through partnerships with the NCI and with pharmaceutical and biotechnology companies. It is also home to one of the world's largest Phase I clinical studies programs for evaluating new cancer drugs. Additionally, the CTRC also conducts Phase II and Phase III trials which continue to evaluate a drug's safety, effectiveness and compare it with the current standard of care.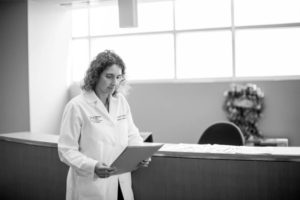 Focusing on new ways to prolong life and reduce cancer development, the center includes investigators from the Barshop Institute for Longevity and Aging studies, and it partners with other organizations each year on the San Antonio Breast Cancer Symposium. Since 1977, the CTRC in partnership with the AACR (American Association for Cancer Research) has been internationally recognized as the world's leading and largest scientific meeting focusing on breast cancerattracting more than 7,000 physicians and researchers from more than 90 countries around the world to San Antonio each December.
"We think hormones and genetics has a lot to do with cancers" -Dr. Virginia Kaklamani
The CTRC is also unique in that it is passionate about providing counseling and genetic testing for individuals who may have increased susceptibility to developing hereditary breast cancer. "We recommend genetic counseling and risk assessments, covered by insurance in most cases. Uninsured may be covered in some cases as well," says Dr. Kaklamani. When an increased likelihood is suspected, the CTRC's breast specialist complete a thorough personal and family health history with the patient, and if appropriate, they may provide genetic testing within the same visit. Testing specific genes, such as BRCA 1 and 2, the center can calculate a patient's chances of getting breast and ovarian cancer. "We think hormones and genetics has a lot to do with cancers," states Dr. Kaklamani, adding that, "We treat breast cancer for both men and women. Men with breast cancer have a 20 percent likelihood of being BRCA positive. Women with the BRCA genes have an 80 percent chance of breast cancer and 50 percent chance of ovarian cancer."
The CTRC's different trials includes molecular markers: looking at genes that are not working well in a more detailed way to locate other drug targets, or they employ antibodies that stimulate the immune system to combat the cancer directly instead of fighting the cancer with alternative means. The use of these antibodies has been going on for the past three years. "In many cases we are getting a positive response when the standard therapy has not worked at all," says Dr. Kaklamani.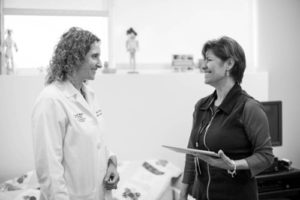 When asked if Dr. Kaklamani recommends mastectomy as a preventative measure for patients considered to be high risk she explains, "It is definitely an option, but I don't want people thinking they should have a mastectomy. A bilateral mastectomy is a big surgery that can include complications and patient concerns about cosmetics.
Furthermore, the CTRC is committed to streamlining the entire breast health process for their patients as the only center in the area whom, in a single day, can screen, read, consult and test a patient who has just had a mammogram. Offering many options for those worried about their risks, the center can conduct screenings every six months in the form of MRIs or mammograms and perform bilateral mastectomies with reconstructive surgery. "It's a decision the patient must make for themselves," says Dr. Kaklamani, optimistically adding, "We have the best screening tools, and with early detection, breast cancer is in most cases curable."
For more information on the Cancer Therapy and Research Center call either 210.450.1000 or 800.340.2872, or visitwww.uthscsa.edu/patient-care/ctrc.