By Rudy Arispe
Dr. Yolanda Marcos had a wonderful mentor and guide as she navigated through life and medical school: her father, the late Dr. Javier Marcos, a cardiothoracic surgeon.
"When I was younger, I used to follow him at the hospitals while he made his rounds," she said. "I have a memory of being in kindergarten, and we were talking about what we were going to be when we grew up. When my dad picked me up, I told him I was going to be a nurse. He said, 'No, you're going to be a doctor, so you can work with me, not for me.' "
Her father's words left a lasting impression and set her on her career path, eventually earning her medical degree from the University of Texas Health Science Center with board certification in internal medicine.
In 1999, Dr. Marcos opened Marcos Medical Care with just herself and one other person to help at the front desk, as well as in the back with patients. Today, it employs 27, and she's proud to share that her practice is a National Committee for Quality Assurance (NCQA) Level 3 Patient-Centered Medical Home. An NCQA accreditation denotes a model of care that puts patients at the forefront of care.
"We're not a physician-led practice; we take a team approach to treating our patients, and we follow up with issues with every patient," Dr. Marcos explained. "It closes the loops on care and makes sure patients are guided to make the right decisions for their health. It's also important that we listen to you and have a significant impact on your overall health and wellness."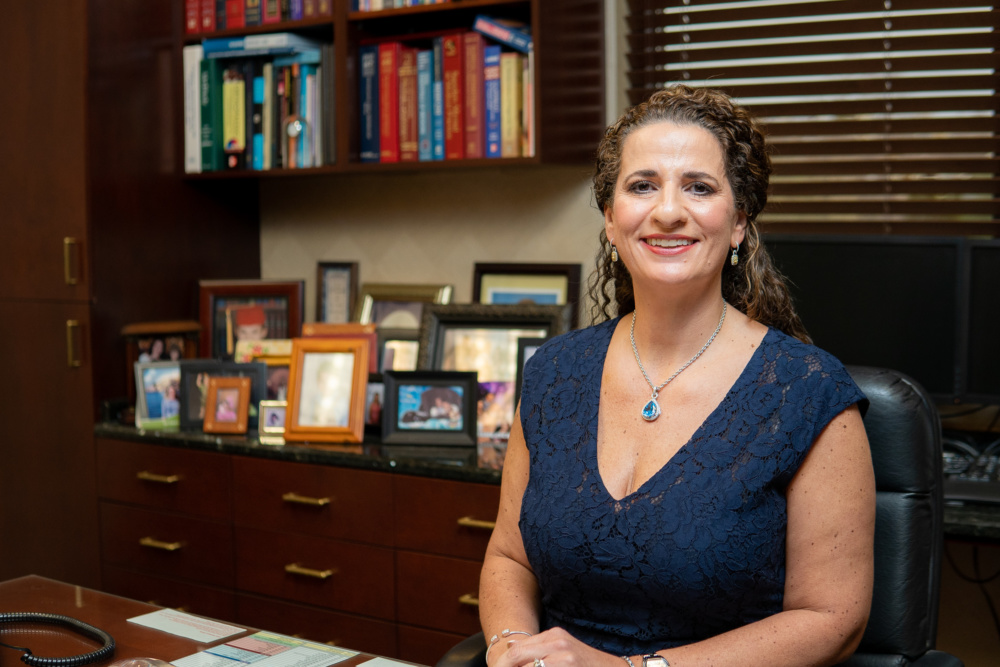 Moreover, Marcos Medical Care recently was awarded a Gold Standard by the American Heart Association for keeping more than 70% of our patients, ages 18-80, who have hypertension , at a blood pressure less than 140/90.
Marcos Medical Care provides an array of medical and wellness services, ranging from chronic care management, weight loss management, vaccinations and immunizations, to body contouring, facial resurfacing, hormone therapy, erectile dysfunction and sexual wellness.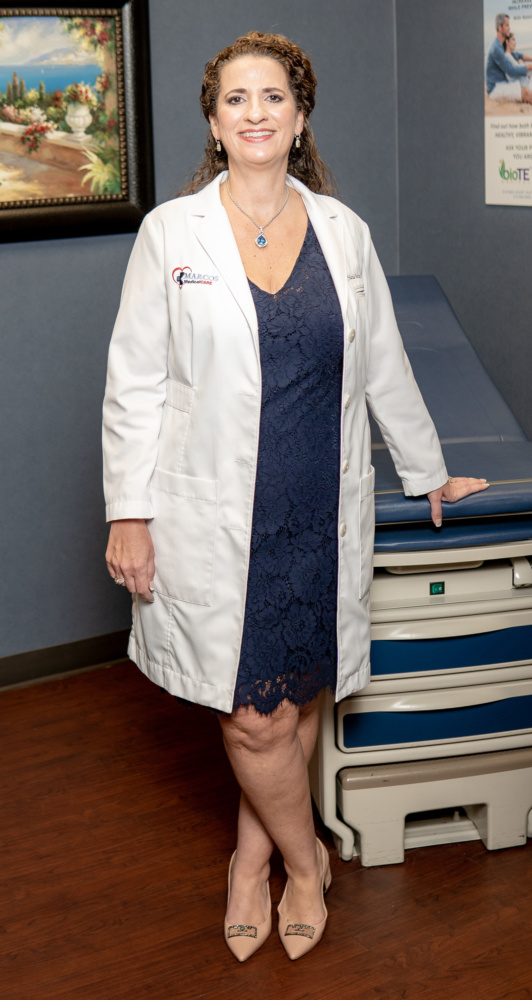 On the medical side, Marcos Medical Care is seeing great success with its allergy and immunotherapy services. In addition to injections, Dr. Marcos offers oral allergy drops to treat environmental and seasonal allergies. The only condition is a person cannot be allergic to more than 10 allergens. The reason being is "there are only so many extracts of specific allergens that can be placed in allergy drops," she said. "Our patients are getting a lot of relief."
BioTE Hormone Optimization is a hormone therapy treatment that Dr. Marcos offers to optimize an individual's hormone levels. It provides a plethora of health and wellness benefits, including increased energy levels, mood and sex drive, as well as an increase in muscle, lower blood sugar levels and a decreased risk of stroke and heart disease.
Lynn Mullin, 68, has been a patient of Dr. Marcos for the past 18 years. She's been receiving BioTE hormone treatment for several years and said it has made a tremendous difference both physically and mentally.
"I was starting to feel my age," Mullin said. "I now have a sunnier outlook on life, but the best change I've experienced is emotionally."
As for Dr. Marcos, Mullin said she trusts her completely with her health. "What I like is that she really cares about me; she truly cares about her patients."
Dr. Marcos also touts their Ideal Protein Protocol, a medically supervised, three phase, weight loss program that follows a normal protein, low fat, low carb diet to help individuals lose fat weight while preserving muscle.
"When most people lose weight, 50 percent is muscle loss," she explained. "Through this weight loss protocol, you don't lose muscle. You lose fat weight. In Phase 1, you hit your weight loss goal. Most women will lose about 10 to 15 pounds in the first month and about 8 to 10 pounds each month thereafter; most men will lost about 15 to 20 pounds in the first month, and about 10 to 15 pounds afterward, if you follow the program."
And Dr. Marcos is a testament that the program works. "I lost 60 pounds in six months and have been able to keep it off," she said.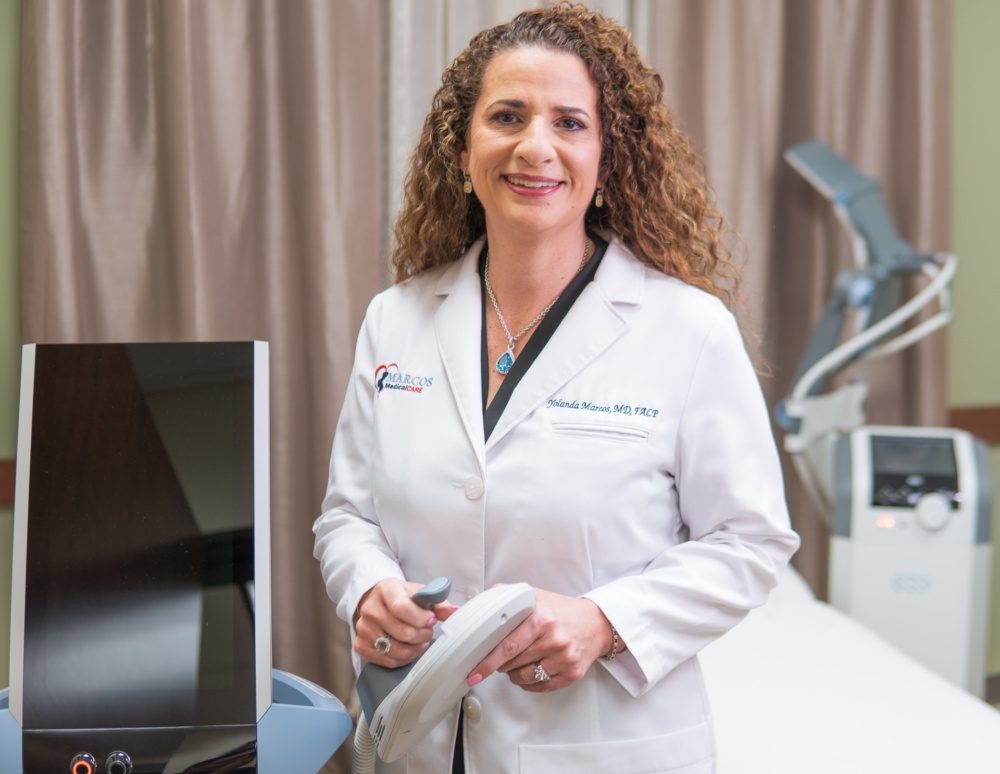 Regarding wellness services, Dr. Marcos recommends Emsculpt for those who want to get rid of stubborn fat areas while toning the abdomen and buttocks. "It's a machine that uses electro-magnetic frequency that provides supramaximal contractions that does the work of 50,000 crunches in a 30 minute segment," she said, adding that an individual must have a BMI less than 30."
There's also facial rejuvenation services to help improve your skin and complexion, including Juliet Facial and Secret RF which "uses a microneedling frequency or small needles that go into the skin to emit heat. It causes collagen production and gets rid of fine wrinkles, dark spots and scarring," she said of the latter Juliet Facial, Dr. Marcos explained, "uses a laser to also remove scars, wrinkles and dark spots, but it also great for vaginal rejuvenation."
For those who have been patients of Dr. Marcos, no doubt they would agree that her father would be proud of the manner and care in which she treats everyone who come to Marcos Medical Care.
"I love being a doctor and love the fact that people trust me with intimate aspects of their lives," she said, "and now with all of the added wellness services we offer, I have the ability to have even more of an impact on the overall quality of their lives."
To make an appointment, http://www.marcosmedical.com/ or (210) 494-4290.