The story of why Dr. Armando Gutierrez decided to practice medicine isn't too complicated. He saw how medical care improved the life of his family and knew that he wanted to help others in similar situations. How he finally got there is another matter altogether.
Dr. Gutierrez was born on September 17th, 1973 to a family of migrant workers in Raymondville, Texas. His parents worked various jobs until his father started a house moving business in the area. Healthcare options were limited, and Dr. Gutierrez remembers his family struggling without quality healthcare.
"Both my father and my brother experienced medical issues. They had limited access to medical attention and that sort of compounded their issues. The effect I saw on them when they did receive care always stuck with me," Dr. Gutierrez said.
At 11-years-old, Dr. Gutierrez started working at his father's house moving business. He helped by going underneath houses to set blocks and bases, and carrying railroad jacks to set into place before the houses were lifted and moved. Although the work was difficult, he was glad to help out his family.
His family nurtured a strong work ethic that would stick with him throughout his life. He worked all through high school and was the first member of his family to attend college. Yet, it wasn't the medical field that originally called him to a higher education.
"I originally went to school at the University of Texas—Pan American to pursue an engineering degree. However, I had a very difficult time finding experience in the field," he said.
"Both my father and my brother experienced medical issues…The effect I saw on them when they did receive care always stuck with me"
After struggling to find enough work experience in engineering, Dr. Gutierrez moved to San Antonio. He decided to attend the University of Texas at San Antonio (UTSA), where he attained a bachelor of science in biology. At UTSA, he volunteered at local hospitals and earned money by cleaning out beakers and test tubes in research labs. He eventually earned a work-study position as an assistant on Vitamin A research in the bovine retina.
Shortly after graduating from UTSA in 1999, Dr. Gutierrez worked as a cytogenetic tech at the University of Texas Health Science Center at San Antonio. He saved up for years to earn enough to take the Medical College Admission Test.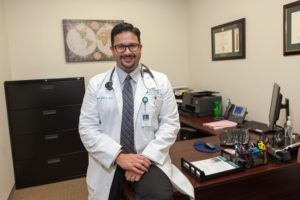 He passed and was accepted to the University of Texas Medical School at Houston, where he graduated in 2006. He entered the Christus Spohn Memorial Family Medicine Residency program in Corpus Christi, where his exemplary delivery of healthcare earned him the Henry F. Harren M.D. award for Excellence in Family Medicine.
After completing his residency in 2009, Dr. Gutierrez worked for several clinics before being hired by WellMed in November 2015. At his previous clinic, he saw an average of 25 to 30 patients per day. He felt as though he was working against the clock, and his experiences with patients were very brief.
He learned about WellMed through several residency classmates who were hired at the healthcare company that focuses on quality senior healthcare. He began asking his classmates questions about the company and became interested in the model of care.
"I looked into WellMed little by little, asking my classmates about their experiences working there," Dr. Gutierrez said. "I really liked that WellMed was more patient and physician centered, allowing more time for physicians to educate patients about their health."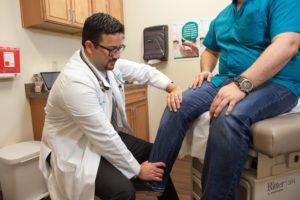 The WellMed clinic that Dr. Gutierrez works at is a homecoming of sorts. WellMed at Weslaco clinic in Weslaco, Texas is less than an hour away from his childhood town of Raymondville. The clinic is brand new, celebrating its grand opening on November 4th, 2015. Dr. Gutierrez joins a team of primary care providers including Dr. Omar Gonzales and Dr. Jaime Hernandez, and nurse practitioners Maria Fuentes and Antonio Garcia.
The building itself is packed with features. Currently housing 6,500-square-feet of space with room to expand to 10,000-square-feet, WellMed at Weslaco has nine exam rooms and a procedure room. Slip-resistant flooring and no-glare lighting throughout the clinic are friendly to the older patient population served at the healthcare facility. Corridors are wide and spacious, and patients will have no issue finding parking.
The equipment is all new and includes an X-ray machine with plans to install a DEXA bone density scanner in the near future. Staff greet patients in a prompt and friendly manner, and that sense of welcome continues throughout an appointment.
"I really liked that WellMed was more patient and physician centered, allowing more time for physicians to educate patients about their health"
The staff and physicians at the clinic embrace the team mentality that they've built over the short time they've been open for business. They get together for afternoon "huddles" to check on how things are going for patients seen that day or who are about to be seen, and address any issues to the patient experience.
"Everyone keeps the patient in mind, and we work as a team to make sure the patient experience is a great one. Being able to coordinate care plans with our patients is helpful for everyone. We're able to build a relationship with our patients," said Dr. Gutierrez.
The WellMed model of care is on full display at the WellMed at Weslaco clinic, and Dr. Gutierrez is excited to bring his experience and work ethic to the team.
For more information about WellMed visit www.Wellmedhealthcare.com or call 1.888.781.9355.