Dr. Christopher J. Busken-Delivering Individualized Special Care to His Patients at Heart Endovascular and Heart Rhythm of Texas
By Jody Joseph Marmel
When Dr. Busken was 13, his older sister died tragically. Since he was in his early teens, this moment defined who he was to become later on in life. He explains, "I had to call 911 and give directions to the EMS crew about how to arrive at our house." After he placed that call, Dr. Busken waited outside in the freezing cold, without a shirt or shoes, until the EMS team arrived so they wouldn't miss his house which was located in a very small farm town in Mid-Missouri. "I remember looking up at the moon on that dark night and I decided at that moment in time that I was going to be a doctor. I didn't want anyone else's family to go through what our family did."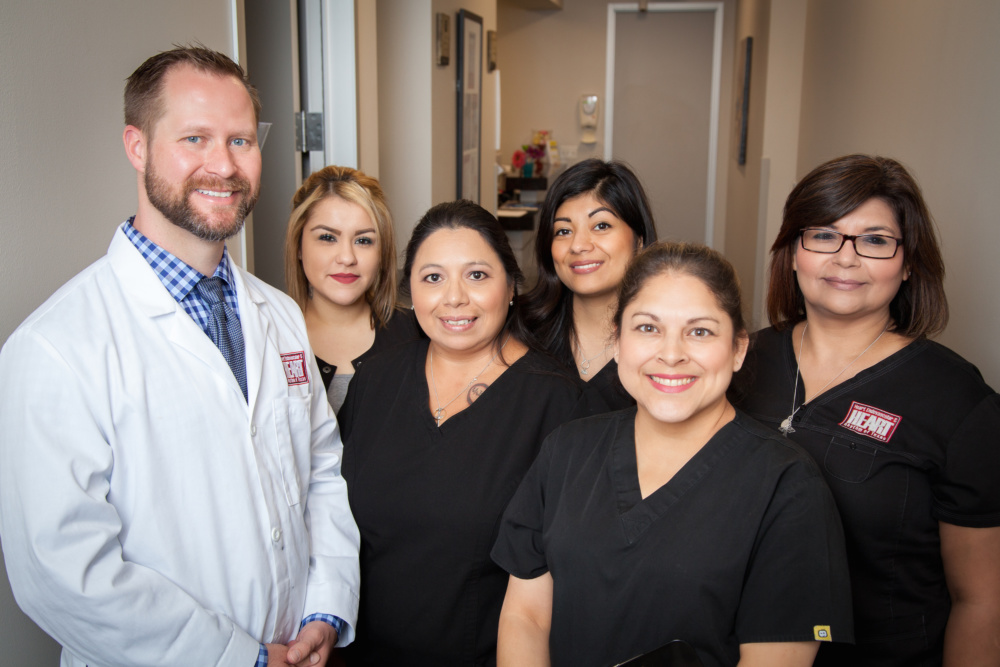 He kept this promise and went to Southeast Missouri State University, then attended the University of Missouri for medical school, and graduated in 2006. For five years, Dr. Busken did his general surgery residency in Savannah, Georgia and he completed his vascular surgery fellowship at Baylor University Medical Center in Dallas in 2013. His first job was at UT Health Science Center San Antonio. He then returned to Savannah for his second job. "Savannah is a beautiful city and if you haven't visited it yet, it should be a must-do on your travel list."
Returning to San Antonio in May of 2017, Dr. Busken joined Heart Endovascular and Heart Rhythm of Texas and is currently the only Vascular Surgeon on the team. Their practice is unique because they combine cardiology and vascular surgery, which at present no one else in the city is doing. Some of the services include open bypasses and minimally invasive vascular work. "I love what I do because I am really able to make a connection with our patients and their families on a one-on-one basis." Dr. Busken also loves the Alamo City because of the culture, diversity, the beautiful Hill Country and, of course, the food.
"I enjoy learning about the Hispanic culture and testing out my Spanish. I am from a part of Missouri where we didn't have diversity. My hometown had a population of about 2,000 people. I always dreamed of being a part of a large city and every day here in San Antonio, I have a chance to learn something new about a culture and people." Dr. Busken also co-owns a barbecue food truck in Austin–Gebby's BBQ– that has three different locations and has won awards. (Visit http://gebbysbbq.com/ to find out about Gebby's.) "I like to consider myself a foodie and I am forever trying out new places."
I wondered why Dr. Busken chose to be a Vascular Surgeon and he went back in time to explain that in medical school he had a wonderful mentor who helped him make that decision. "Between my third and fourth years of medical school I was doing some extra work in the anatomy laboratory, working on a dissection. The vascular surgery fellow at the time, Colleen Johnson, walked in and asked me to do a case with her." He elaborated that Colleen Johnson said, "Hey Busken, do you want to come do a case with me?" He replied, "Absolutely!" He dropped everything he was doing and she took him through a carotid endarterectomy from start to finish. "It was an incredible experience then and it remains one of my favorite cases to this day."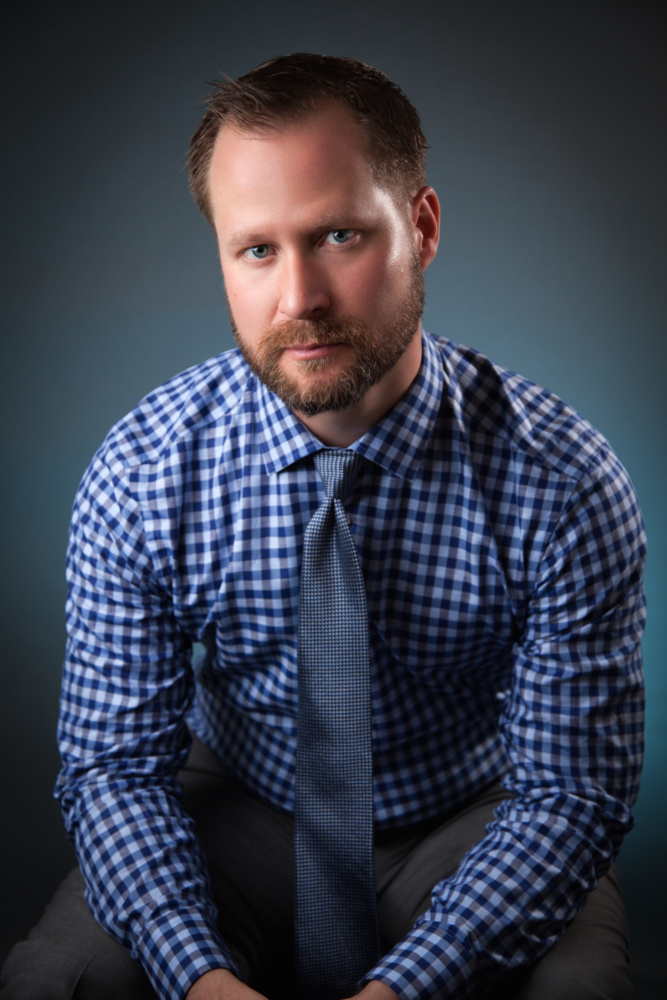 A Vascular Surgeon specializes in the care of the arteries, veins, and the lymphatic system throughout the entire body, excluding the heart and brain. Vascular surgeons are rare in that they can do either traditional open surgery, or the newer minimally invasive endovascular techniques. Dr. Busken performs angiograms, venograms, venous ablations, simple wound debridements, and catheter placements, to name some of the procedures he routinely does. The most challenging procedure he performs is thoracoabdominal aneurysm repairs.
Typically patients who seek out Dr. Busken have leg pain, leg swelling, sores on their legs, problems walking, leg discoloration, varicose veins, or they need access placement for dialysis, or have had signs and symptoms of a stroke. The patient population seen by Dr. Busken is usually chronically ill and he rises to this challenge every day. He wants to make those who are suffering better as quickly as possible so they can attain a better quality of life. "I had a patient come in with a symptomatic abdominal aortic aneurysm, which is a lethal problem. With the help of my surgical team, we were able to go in and fix it in a minimally invasive manner, and the patient ended up leaving the hospital in two days. She went home and is doing great.
He emphasizes that the medical staff in San Antonio is incredibly dedicated and hard-working. "I feel blessed to interact with these people on a daily basis." What Dr. Busken does not say, I will say for him. He is a big part of the medical community in San Antonio and his devotion to his patients, practice, and staff is amazing. His work starts at 6:00 a.m. and usually ends late that night. His life is centered on his medical career, and most importantly, on the patients who need him the most. Dr. Busken spends time explaining procedures to his patients and helping them understand what they need to do to get to a better place. His demeanor and intelligence, as well as his keen sense of humor, make him the type of doctor who is respected and trusted, and can therefore be highly recommend to those who need his services.
Dr. Busken has health tips: Keep walking. Don't smoke, and if you do smoke, quit. Take care of your blood pressure and diabetes. He states, "Listen to your primary care doctor. Your primary care doctor is very smart and is in the best position to help you make positive life changes."
The Heart Endovascular and Heart Rhythm of Texas offers a whole approach to open and endovascular techniques to peripheral vascular disease, carotid disease, aneurisms, and wound care. Dr. Busken explains that this "whole approach" is what he has been looking for. "One of the challenges that I have faced in medicine is the incessant 'turf battles' that various specialties and competing groups routinely engage in. I believe it is petty and self-defeating. A multidisciplinary approach is the most effective in delivering outstanding outcomes to our patients. To that end, I wanted to find a practice where people work together to help the patients. This group is superbly positioned to offer that to the patients of South Texas and Mexico."
Dr. Busken's short term goal is to build his own practice. His long term goals include adding 15-20 more vascular surgeons and double that number of cardiologists. Having had the opportunity to talk with him, I am quite certain that he will reach all of his goals without delay.
Delivering individualized special care to their patients is what this team is all about. Dr. Busken takes this a step further. "I always ask my patients what they like to do and what they want to do with their lives. When they come see me, they are typically very ill. I want to find out what they enjoy in life, and work to get them back to that. I want to help give someone another Christmas with their family, help them go on a vacation that they have always wanted or to see their grandchild graduate from school. Helping my patients attain their goals means the world to me."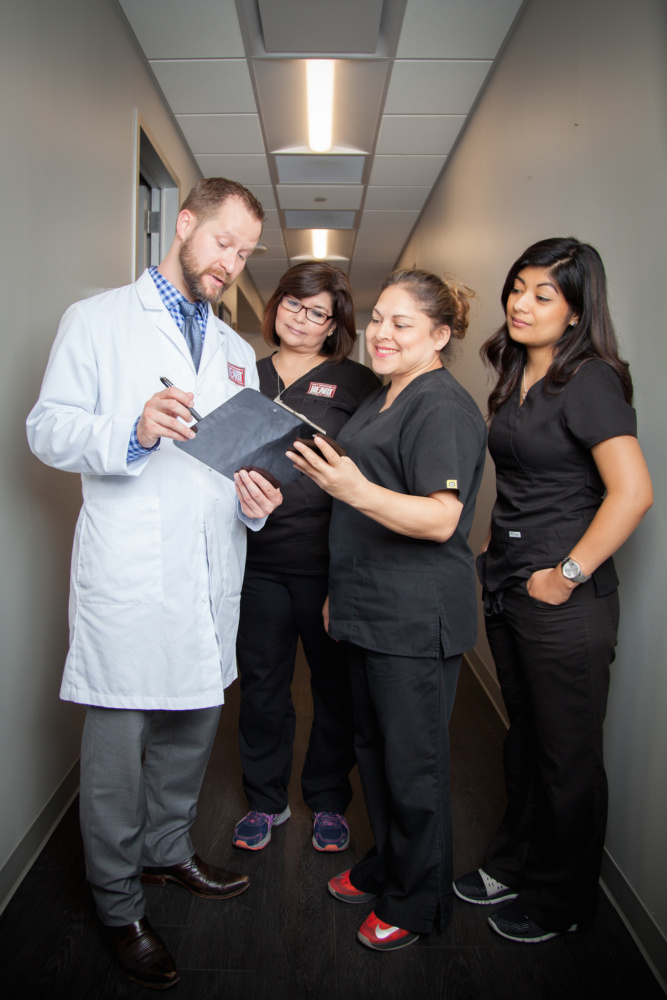 For More Information
Visit www.heartdoc.care
(210)-844-2393
North East Clinic
12602 Toepperwein Road #118
Live Oak, Texas 78233
Stone Oak Clinic
1202 E. Sonterra Blvd.
Building 6
#604
San Antonio, Texas 78258