Helping Women Feel Their Best
Sumedha Mohan, CEO of Veda MedSpa, Encourages Women of a Certain Age to Match Their Look to How They Feel
By Kiko Martinez
When it comes to "aging gracefully," Wendy Whelan, former principal dancer with the New York City Ballet, may have said it best; "Aging gracefully means being flexible, being open, allowing change, enjoying change and loving yourself."
It's an idea Sumedha Mohan, CEO of Veda Medspa, is happy to support. Over the years, the definition of "aging gracefully," she said, has evolved.
"Times have changed," Mohan said. "Aging gracefully doesn't mean that you should let yourself go and accept all the wrinkles. People are living well into their eighties. Most people feel younger than they look. At Veda MedSpa, we try to match the physical being to the mental being."
Veda MedSpa is a medical facility in Live Oak that offers a number of reconstructive, non-surgical and cosmetic treatments. Mohan's husband, Dr. Pradeep S. Mohan, is Veda MedSpa's board-certified plastic and reconstructive surgeon. He has nearly 20 years of experience in the field. The MedSpa celebrated its first anniversary this past December.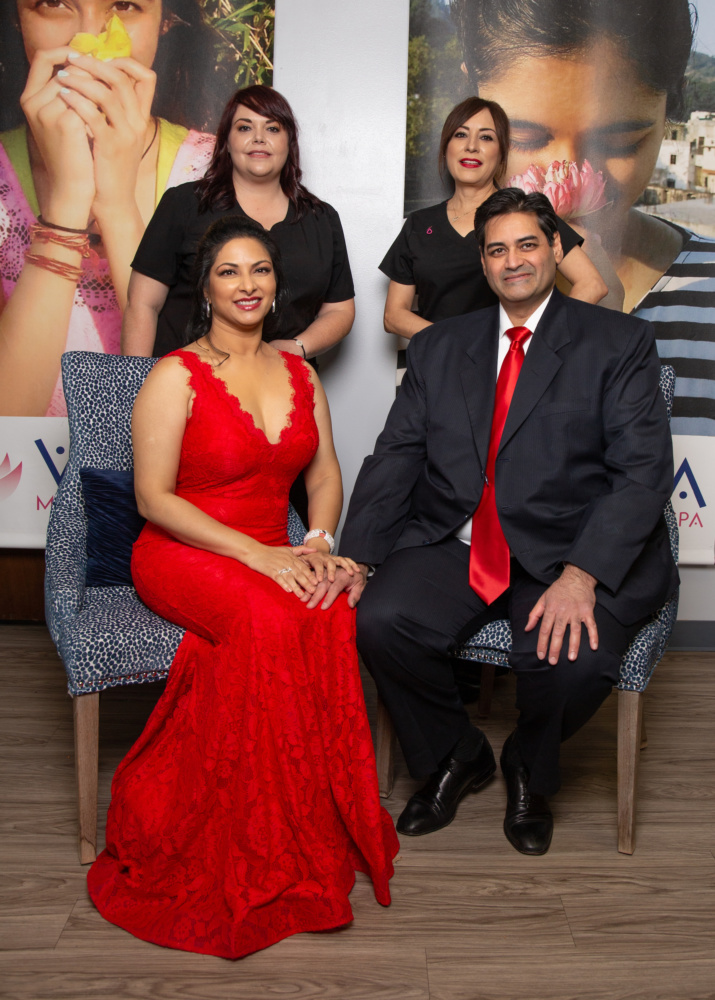 Over the last year, Veda MedSpa has seen hundreds of patients walk through its door in search of treatments that could help them age gracefully. This includes many minimally-invasive procedures such as botox injections, chemical peels, laser hair removal and skin resurfacing. Veda MedSpa treats both men and women at their facility, but CEO Mohan recognizes that it's their female clientele who are more inclined to seek out treatment, especially once they have reached a certain age.
"Women who already have kids and have been married for a while sometimes think, 'This is it. I can let my body go. This is how I look now,'" Mohan said. "They learn to accept their physical being. But, I don't think they have to live with the turbulence of age. Rather than giving up and thinking, 'Oh, well, this is it,' women should start believing that they are in the prime of their lives and can look better."
Rediscovering Themselves
According to the American Society of Plastic Surgeons, women between the ages of 40-54 had more than 7.1 million non-invasive procedures and over 560,000 cosmetic procedures completed in the U.S. in 2017. That same year, more than 3.7 million non-invasive procedures and over 380,000 cosmetic procedures were performed on women 55 years and older.
"Women want to rediscover themselves," Mohan said. "When they're at a certain age, they're at a point where they can take care of themselves. Having kids takes a toll on your body. Women sacrifice a lot, so now it's time for them to focus on feeling better about how they look."
Veda MedSpa offers plenty of options to help women reach their goals. Along with the aforementioned minimally-invasive treatments, other cosmetic procedures include facelifts, neck lifts, eyelid surgery, tummy tucks, Brazilian butt lifts, body contouring, vaginal rejuvenation and more.
No matter which procedure a woman might be interested in, Mohan promises that patients are treated like more than just a number. Mohan wants potential patients to know that Veda MedSpa wants each of them to consider her and her husband as their friends. They start the friendship, Mohan said, by listening to each of them, getting to the root of their concerns, and learning about who they are as people.
"We take the time to learn about them and learn what really bothers them," Mohan said. "A lot of times, there is a little more to them than what you see on the surface."
Mohan said at Veda MedSpa, her husband likes to take baby steps with his patients when it comes to surgery. If a woman comes in wanting a full facelift, the first thing he will do is explore whether a less-invasive procedure would give the patient the results she is looking for.
"We talk about holistic approaches to everything," Mohan said. "We like to start slow. We let patients know that there are ways we can achieve certain results without simply putting you under the knife."
Finding a Caring Doctor
There was no other option for patient Teresa O'Kelley other than to have surgery when she found out she had a rare disorder called gigantomastia. After getting a double mastectomy from a general surgeon, she returned to Mohan to get breast reconstruction.
"Dr. Mohan and his staff have guided me through every step of the resolution and continue to treat me with respect and concern," O'Kelley said. "I didn't know who to turn to when my condition arose. Dr. Mohan has a goal to educate. I am grateful for the work that they do and for literally saving my life."
Although it wasn't a life-saving procedure, patient Maggie Titterington was impressed with the way her facial and microdermabrasion appointment turned out. She said the Veda MedSpa staff took their time to explain the process before it started.
"The staff was simply awesome," Titterington said. "I was so relaxed. When I left, my face felt fresh, dewy and revived. I will definitely be back."
Patient Sonja Koening was losing hope that a doctor could help her. After having spinal surgery, the wound on her back was not healing. She was in incredible pain and the incision became infected. "I was mad at my situation," Koening said. "I felt helpless and wanted to throw in the towel."

Then, Koening walked into Veda MedSpa and everything changed for the better. Dr. Mohan was able to close her wound and she started healing correctly. "Every surgery and journey with Veda MedSpa has been so uplifting," Koening said. "There were days that I felt my wound would never close and my pain would never go away. God always sends me the right people that I need in my life."
Dr. Mohan states, "Right now, there is excellent technology that is out there, so we really don't have to be invasive on the number of treatments. The ability for us to build a practice more so on patient satisfaction and patients being pleased with their outcome is what we are all about."
Finding Confidence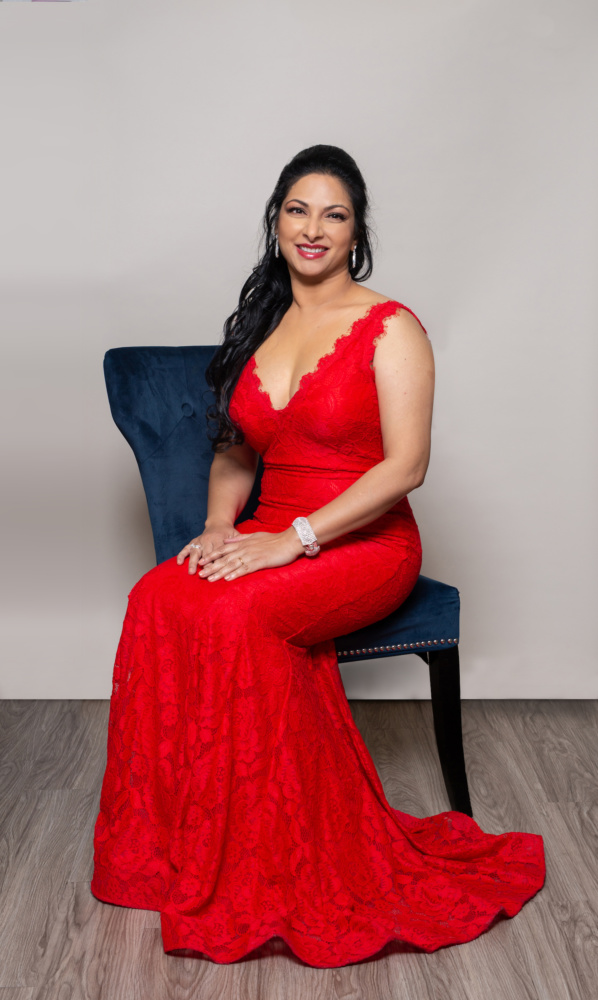 The Mohans have four children who range in age from 8-19. Two of their children are girls, so they know firsthand how much social media and advertisements that focus on female beauty can sometimes go overboard.
"We live in a world that is too commercialized," Mohan said. "There is a certain image of beauty that has been set for years. It says women should look a particular way. As a mother, I try to raise my daughters as confident, young women. We try to teach them that as long as they're healthy, then that's beautiful. A confident young lady is beautiful."
Dr. Mohan believes his wife plays a pivotal role in the establishment of the practice, "My wife really helps personify what we are trying to achieve; we are here for our patients to educate them, and give them the knowledge they need to do better."
Mohan said that is exactly what Veda MedSpa is striving for. They want women to feel confident in their own bodies. That, of course, does not mean they have to conform to society's description of beauty. As plastic surgery becomes more common, women of all types will have the opportunity to add their own definition to the mix.
"Plastic surgery is not just for the rich," Mohan said. "It's a lot more affordable. If we can help women look the way they want and help give them that confidence, then I think we're successful and have done our job."