DHR Health Leading The Way With Their Kidney Transplant Program
By Rudy Arispe
After more than 30 years as a diabetic, Gerardo Hernandez, 57, started dialysis in 2016 to help salvage his kidneys. So three times a week, his daughter, Janett Arambula, took him to the dialysis center for his four-hour treatments.
"It would break my heart to drop him off and see him in pain," said Arambula, a 33-year-old mother of three.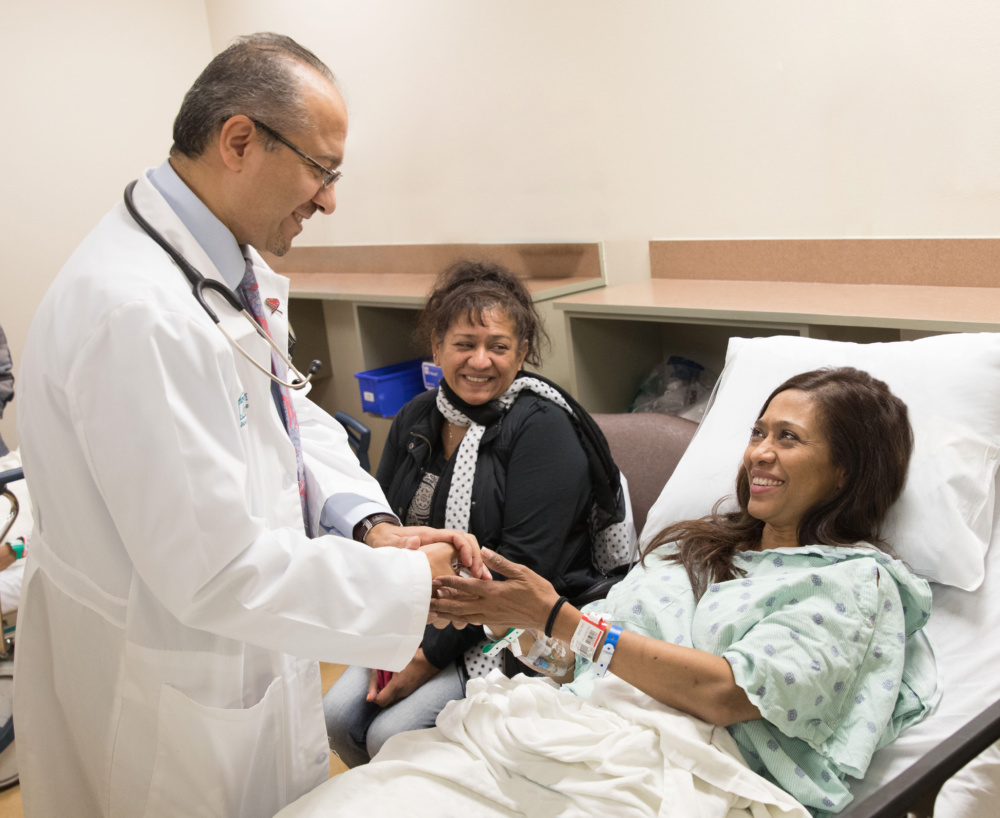 Her heartache turned to hope, however, when her father's cardiologist told them about Doctors Hospital at Renaissance (DHR) Health Transplant Institute and asked if they wanted to register with the hospital's Kidney Transplant Program.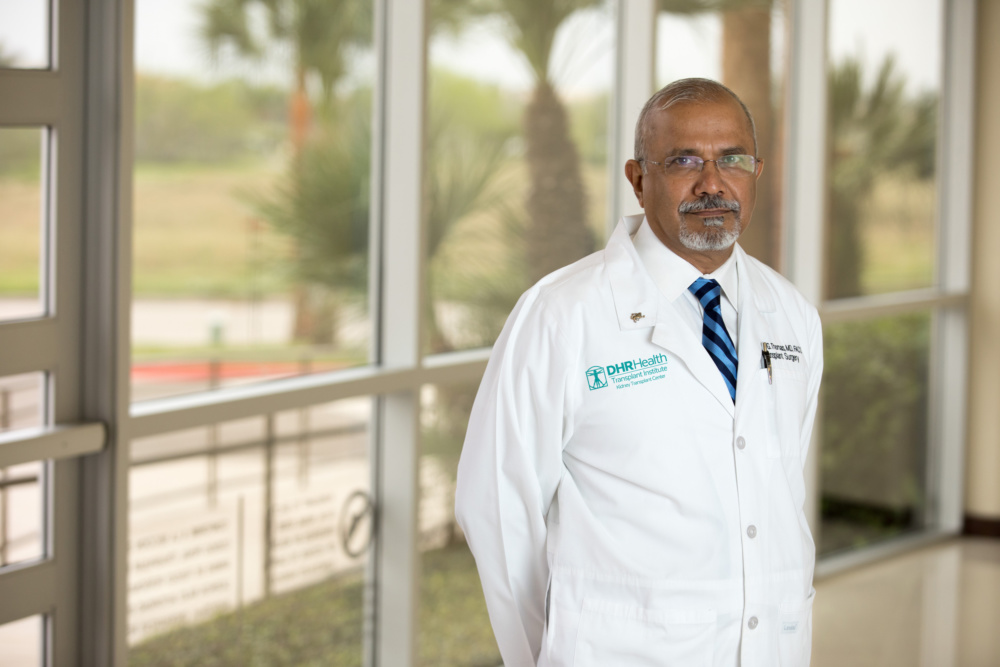 After Arambula learned she was a match for her father, she decided to donate a kidney to her dad. "I was scared," she said. "I wasn't scared of the surgery. I was afraid that my father's body would reject the new kidney."
On March 7, 2017, Hernandez became the first kidney transplant recipient at the DHR Health Transplant Institute in Edinburg headed by the highly skilled transplant team consisting of Dr. Philip Thomas, transplant surgeon; Dr. Jose Almeda, transplant surgeon; Dr. Mourad Alsabbagh, transplant nephrologist; and Dr. Gaudencio Olgin, transplant urologist.
Since establishing the DHR Health Transplant Institute in 2016, DHR has performed seven kidney transplants. Recently, DHR Health was officially certified as an Adult Kidney Transplant Program by the Centers for Medicare and Medicaid (CMS) in recognition of its quality, experience, and excellence in the delivery of kidney transplant medical services.
CMS certification is the highest quality indicator for a transplant program, and DHR is the only health system south of San Antonio to receive this seal of approval. This certification will greatly expand access to life-saving kidney transplants for many patients in the Rio Grande Valley who are Medicare beneficiaries and suffering from end-stage kidney failure, according to DHR Health.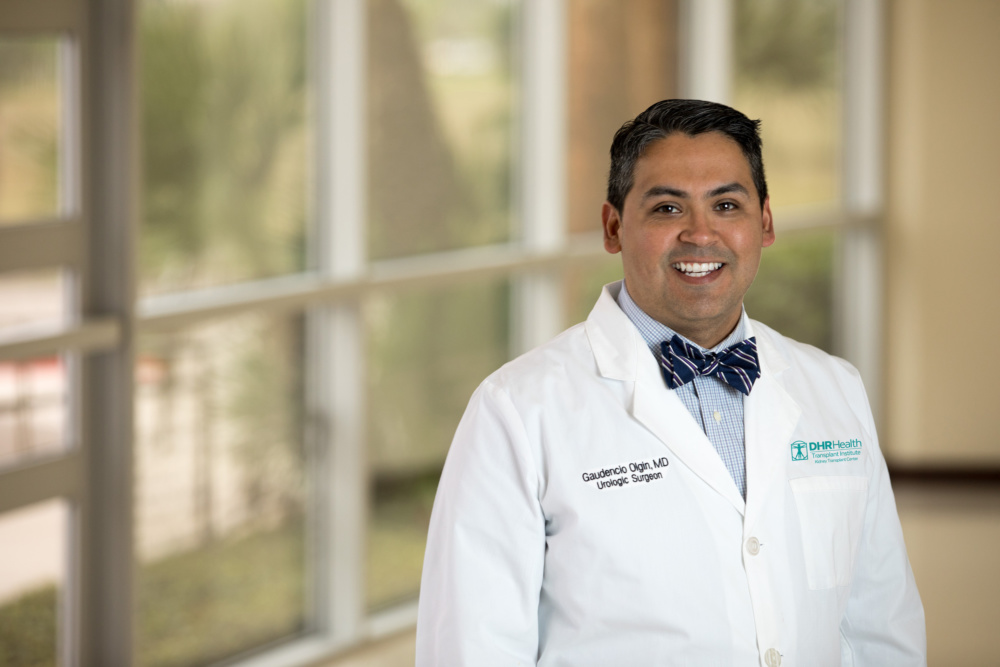 "The CMS certification is in line with the hospital which is to bring a high level of care to the Valley so that patients don't have to leave the Valley to get the kind of specialty services they might require," Dr. Thomas said.
The DHR Health Transplant Institute, Dr. Thomas explained, centers on the team approach during a kidney transplant operation.
"The whole concept of providing medical care is different when it comes to transplants," he said. "For instance, if you go to a plastic surgeon or a cardiac surgeon, it's all up to the surgeon and his operating team. But with transplants, you are using an organ donated by somebody to heal another patient. So we have a very high standard to reach to be good custodians of that precious gift of life."
Dr. Thomas elaborates, "This means the donor is healing the recipient and we're trying to make that happen, so it involves a lot more teamwork apart from doctors, starting with the nurse coordinator, and the social workers who have to evaluate donor and recipient to make sure the whole process is likely to achieve success. And there are very strict standards that CMS enforces to make sure you are meeting those expectations."
Two transplant surgeons are always in the operating room during a kidney transplant, Dr. Almeda added, unlike many other hospitals. "It's our requirement because we want to step up the quality of service," he said. "It adds an extra layer of expertise and safety for patients, and it ensures that everyone is doing their job correctly."
Dr. Almeda said he is proud to be part of the transplant team and believes the DHR Health Transplant Institute is the Rio Grande Valley's "medical gem." And it doesn't just serve patients from Edinburg, McAllen or Brownsville, for instance, but also from San Antonio, Corpus Christi, Laredo, Lubbock, San Angelo and even some from Houston.
"There are almost 1.5 million people in the area," he said. "The hospital is progressive and is dedicated to quality of service and a commitment to our patients."
Being a transplant surgeon and working with the transplant team is especially gratifying, he said, knowing that they are helping someone have a better quality of life. "You're always looking for that moment when you reconnect the kidney from cold to hot," Dr. Almeda said, "and that's why we have a slogan, 'Bringing New Life to the Valley.' It's a pivotal moment when you unclamp the artery and unclamp the vein and let the blood rush into the new kidney and bring new life to the patient. It's a great moment."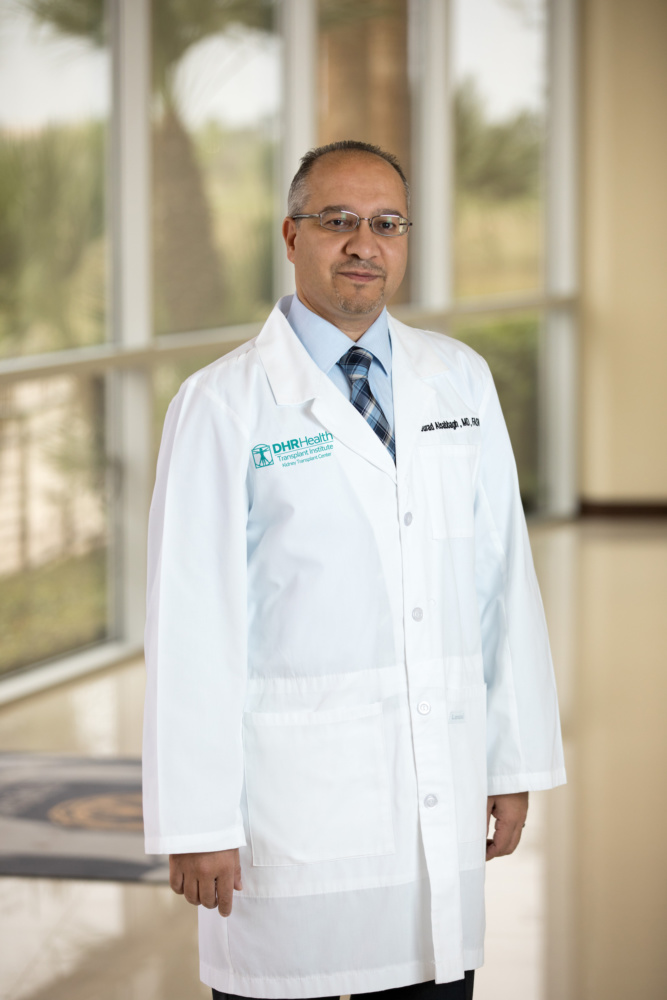 Another critical member of the team is Dr. Alsabbagh, the transplant nephrologist who makes the decision whether a patient is an ideal candidate for a transplant. His role, he said, begins with an initial meeting with a patient, whose kidney function is below 20 percent to discuss available options regarding kidney transplants following a thorough physical examination.
After a full examination, Dr. Alsabbagh makes a preliminary decision whether the patient will be a candidate for a kidney transplant or not. If yes, the patient moves to the next step where they undergo numerous laboratory tests including blood work and CT scans, and an evaluation of the patient's heart to make sure it is strong enough for surgery.
"After the evaluation of laboratory work, we decide if a patient is a good candidate to be put on the kidney transplant list," he said. "If they are a qualified candidate, we send them a letter and we keep them on the list until we get a kidney offer for the patient."
One option that Dr. Alsabbagh discusses with a prospective kidney recipient is a living donor kidney transplant. "This is where the patient has someone like a son, a daughter, a relative or a friend who might be a potential donor. If this is the case, we can evaluate that person, and, if everything works out, we will move forward with the surgery."
Dr. Alsabbagh wants previous kidney transplant recipients in the Valley and throughout South Texas to know the DHR Health Transplant Institute can treat and care for them even if they had a transplant elsewhere.
"A patient who had a transplant in San Antonio or Houston but now lives in the Valley doesn't need to drive six hours every week, or month or two months to see their transplant surgeon. As long as they're stable," he said, "we can see them. On occasion, we have managed even the early surgical and medical problems following transplant done elsewhere for patients returning to the Valley. We have inherited a lot of transplant patients, and they are happy there is someone in the Valley who can take care of them."
Rounding out the transplant team is transplant urologist Dr. Olgin, who also oversees the Living Donor Program. "As a urologist, I do a lot of surgeries on kidneys for cancer or removal of kidney tumors," he said. "Because of that, I know complexities of the anatomy of the kidneys very well. I help the transplant team remove the kidney safely from the donor. That's my main role."
Among his other important responsibilities, Dr. Olgin assists with any medical issues that might arise post-transplant procedure. "I also help evaluate people who are going to receive a kidney, such as those on dialysis, and those who have been on dialysis for a while to see if their bladder function is good enough to accept a new kidney."
Dr. Olgin echoes the sentiment shared by his colleagues that the Kidney Transplant Program will bring the gift of life to people in the Valley and throughout Texas. "We've built a really good group from all aspects, including surgeons, specialists, nutritionists, and pharmacists," he said. "We all focus on the patient because, on one hand, you have patients giving up a part of their body out of the kindness of their heart, and, on the other hand, you have patients who are fairly ill and the only way they are able to live is through artificial means."
Now that the DHR Kidney Transplant Program is firmly established with seven transplants to date with the most recent one being performed in February, along with its highly valued CMS certification, the transplant team already is looking to the future. The hope is that one day the DHR Health Transplant Institute can perform multi-organ transplants that will greatly benefit the Rio Grande Valley community.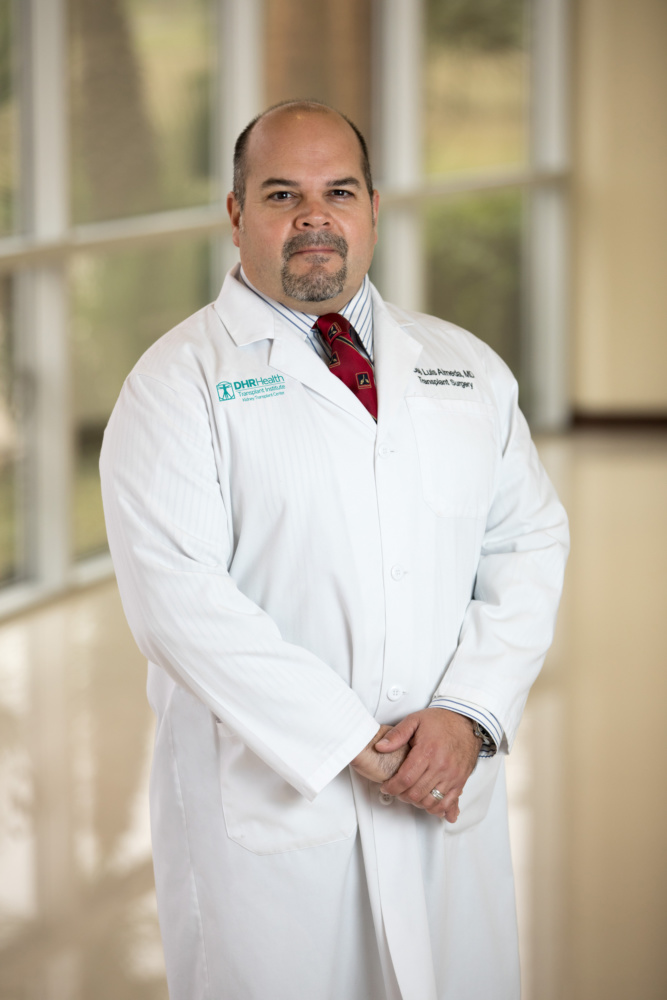 "A major goal is to do different organs," Dr. Almeda said. "Most programs start off with kidneys first. If I had my wish, in the next five years, we would start liver transplants."
For now, the focus of the DHR Health Transplant Institute is kidney transplants, which all began with the first operation between Gerardo Hernandez and his daughter. "That transplant went very well, and they were happy with the care they received," Dr. Thomas said.
It also got the momentum going that would move the Kidney Transplant Program forward with seven successful transplants thus far that eventually led to a major milestone, the CMS certification. The program also first had to be recognized by the Virginia-based United Network for Organ Sharing (UNOS).
"(UNOS) went over the credentials of all the physicians working on transplant patients and the abilities of the hospital before giving us recognition," Dr. Thomas said, adding that the next stage was applying for CMS certification.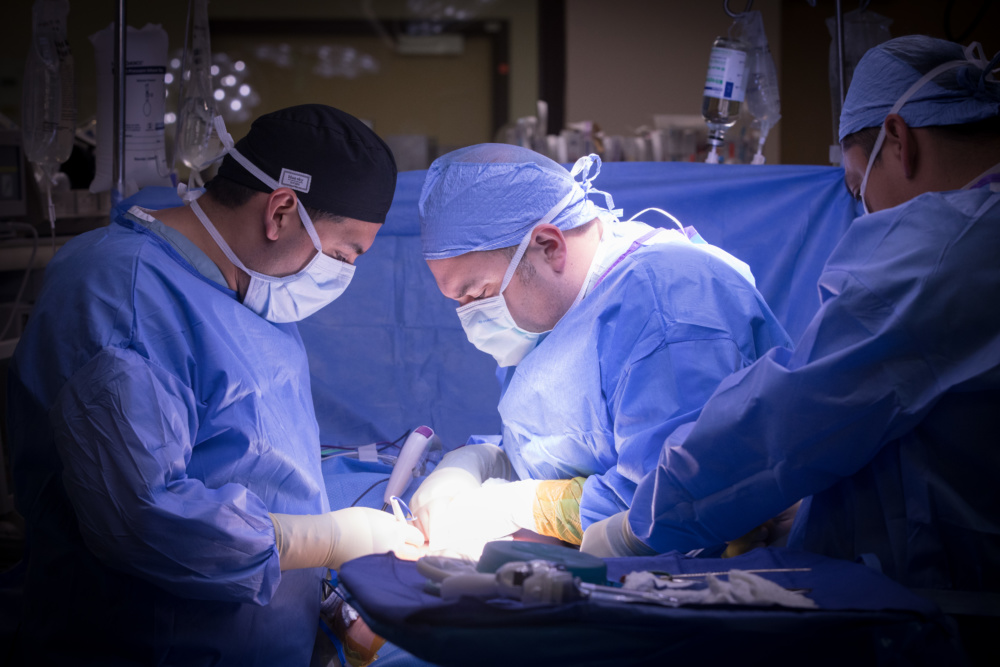 "When (CMS officials) came, they examined in great detail all the records of the transplants we had done, and they were very happy with what had been adhered to," he said.
And just like the rest of the transplant team, Dr. Olgin has high hopes for the DHR Health Transplant Institute. "We've been doing a good job," he said. "I can't wait to see what the future holds being able to help people."
For more information, call (956) 362-8677 or visit www.dhr-rgv.com.