Dr. Carlos Elizondo Continues a Legacy at Primary Care and Wellness in Alice and Corpus Christi
By Rudy Arispe
Like his father before him, Dr. Carlos Elizondo knows the values of family, which is exemplified daily while treating and caring for his patients at his family medicine practice, Primary Care and Wellness. Dr. Elizondo treats his patients just like they are members of his own family.
"I want to grow old with my patients," Dr. Elizondo said, explaining why he chose family medicine. "There's something about being able to treat the whole family, such as delivering a baby or caring for a woman during her pregnancy. I want to be that old school doctor who can do everything, and I want to be there for my patients for everything they will go through."
And, on occasion, that includes offering words of encouragement or a warm embrace. "Sometimes, a patient can be depressed, and I'll tell them that I think you need a hug. It's those little things that go a long way as part of the healing process. We never let anyone leave unless they have a smile on their face."
Dr. Elizondo and his wife of 16 years, Mari, who is the office director at Primary Care and Wellness, recently acquired the Corpus Christi medical office at 5710 Esplanade Drive after purchasing it from the family of the previous owner, Dr. Luis Mackrizz, who passed away in June 2018.
Now, Dr. Elizondo wants to carry on Dr. Mackrizz's legacy of endearing care. The late physician practiced in Corpus Christi for more than 20 years. "He had a very loyal patient base," he said. "We still have his nurse practitioners, Jami Dodson, FNP-C, and Nancy McDowell, FNP-C, whom he trained very well, and we see about 50 to 80 patients a day and added another nurse practitioner to our group, Jeremiah Williams NP-C, to keep up with the high demand of patients needing primary care."
Primary Care and Wellness of Alice
The couple also operates their Primary Care and Wellness practice in Alice, where Dr. Elizondo was raised and where his father, Andres A. Elizondo, M.D. practiced medicine as an internist for 32 years in private practice. Dr. Elizondo is continuing his father's legacy. "Alice was our first office and to us this is the most important, giving back to our community where my husband was raised and taking over his father's long-term patients," Mari said.
Some of the primary care services offered at the Alice clinic range from treatment for fevers, coughs, the common cold, sprained ankles, respiratory and sinus infections and the flu, to name a few. They also diagnose and treat chronic conditions such as diabetes, hypertension, hyperlipidemia, just to name a few. Wellness visits are important to detect and prevent breast, colon or cervical cancer, and to treat people who are diabetic.
"We try to do as much in the office as possible like draining an abscess, injecting knees or shoulders to relieve pain, or removing a cyst, so that patients in Alice don't have to go to Corpus because some patients have transportation issues," Dr. Elizondo said.
Growing up in Alice and later working alongside his father for a short time until he retired in the fall of 2016, Dr. Elizondo quickly realized that rural areas are often underserved, which is why he's committed to caring for patients in his hometown. Because of Alice having a shortage of medical providers, he needed to expand his group to keep up with the high demand.
Veronica A. Martinez, PA-C, joined his practice in May 2018 and Dr. Cara Hartquist joined in January 2019. "As we expanded into Corpus, that's when I realized that all of South Texas is underserved regarding primary care," he said. "That's what motivates me, and in the next few years we hope to grow so that we can serve even more people."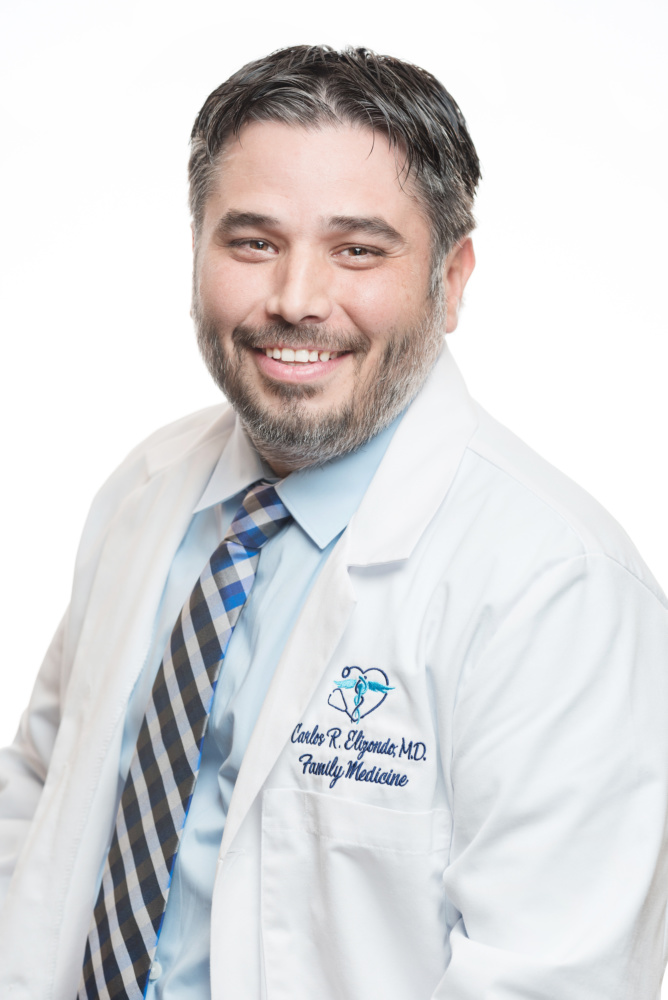 Reflecting on the father-son relationship that he had with his dad, who passed away not long ago, Dr. Elizondo spoke of the "pearls of knowledge" that his father imparted on him, which set the foundation that prepared the family medicine doctor to treat patients.
"They're not something you learn in books or in medical school, but things you learn over time treating patients," he said. "It could be about learning to anticipate things, such as being aware that elderly patients tend to get sick more easily with pneumonia or constipation, for instance, and how to prevent them."
For being so young, one could say that the 37-year-old doctor is indeed old-fashioned in terms of emulating doctors of long ago who used to make house calls. While as a resident in the Christus Spohn Memorial Family Residency Program from 2013 to 2016, that's exactly what Dr. Elizondo did on the side for extra income.
"I saw up to 30 patients doing home visits in Alice and Corpus Christi. It's a great business model. We provide high-quality care to patients who have difficulty leaving home," he said. "It's something I'd like to continue in the future and incorporate house visits back into the practice. My experience has taught me that when you see 85 to 90-year-olds once a month, they're less likely to get ill because of the preventive medicine you provide them."
At the end of the day after seeing patients at the Primary Care and Wellness clinics in Alice or Corpus Christi, Dr. Elizondo is grateful for the sense of family values that both his parents instilled in him. "They come from humble backgrounds," he said. "My mom used to make purses and sell candy apples, but they created their own opportunities. I'm also grateful for the support I've had from my wife, Mari and my sons, Carlos (18) and Diego (13). They have been with me through the whole process of going to medical school, residency, and now being in private practice."
Dr. Elizondo graduated from Universidad Autónoma de Guadalajara Medical School in 2012. He attended residency at Christus Spohn Memorial Family Residency Program in 2013. He is a member of the American Academy of Family Physicians, Texas Academy of Family Physicians, American Medical Academy, and the Texas Medical Association.
To make an appointment at the Primary Care and Wellness clinic in Corpus Christi, call (361) 991-8000 and in Alice at (361) 664-0303.